Book Review: A Pho Love Story by Loan Le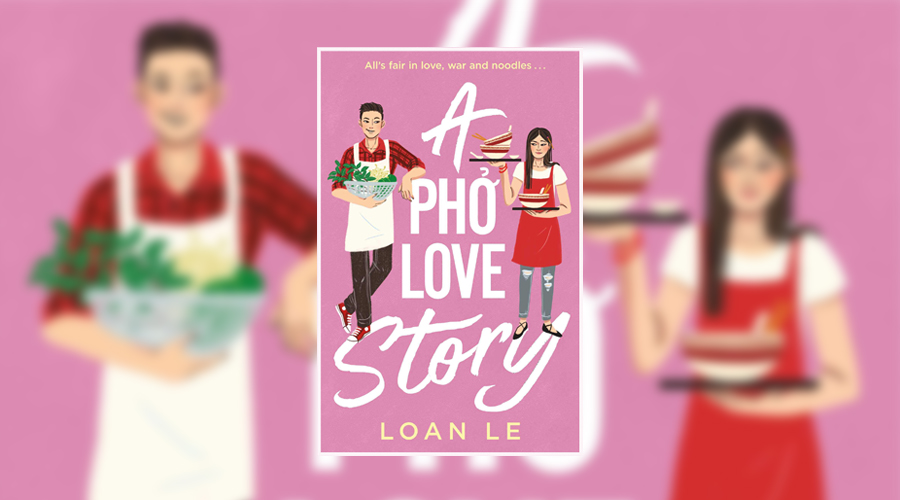 Loan Le's debut novel A Pho Love Story is a solid YA romance novel that feels like it could be 2021's answer to Emma Lord's feel-good YA rom-com Tweet Cute. Both books centre on a pair of star-crossed high schoolers on opposite sides of a restaurant rivalry war and follow the burgeoning romance between them, while also giving a voice to two honest and realistic teen characters who are just getting to grips with who they want to be, and wrestling with their family's expectations for them and their future too. Much like the book that came before it, A Pho Love Story is an uplifting and heartwarming novel that combines family, food and romance in wonderful ways, making for a sweet and, ultimately, powerful novel that explores first loves, painful pasts and looking forward.
Linh Mai and Bao Ngyuen's parents own competing pho restaurants in Little Saigon, which makes any kind of interaction between them completely off-limits – something they learned the hard way when they first met as children. Years later, Linh and Bao are in high school preparing for their futures, with Linh dreaming of becoming an artist even as she worries about what her parents will make of such an unstable career choice, while Bao struggles to find any kind of passion that excites him enough to pursue it as a career.
When a chance encounter brings Linh and Bao together again, it's not long before sparks are flying between the two teens, and they get to know each other as they bond over their similar upbringings and wonder why it took them so long to connect in the first place. But as Linh and Bao get closer, the rivalry between their families is never far from their thoughts, and it casts a cloud over their growing attraction to one another. As Linh and Bao take the steps towards discovering who they are and what they want to do with their lives, both are left questioning whether they really can find love in the midst of their feuding families and the complicated histories they share.
"It's easy, when you're having fun, to forget about matters that seemed important only an hour ago. Or at least pretend that they don't exist."
At its heart, A Pho Love Story is a Romeo and Juliet story – just with more noodles and no murder-suicides. Le has done a wonderful job in modernising those story beats and creating a romance between her main characters that's worth investing in. Linh and Bao are both brilliant, fully fleshed-out characters who each get their own POV, allowing readers to truly get inside their heads. Their voices sound real and their thoughts and behaviours are authentic, but most of all, I really enjoyed the slow fall into a relationship that Linh and Bao go through, which begins with an attraction and was given the room to develop naturally through covert getting-to-know-you talks and a helpful school newspaper assignment from a friend too. As their relationship developed, Bao and Linh both encouraged the other to pursue their passions and were completely supportive of each other, even through the typical miscommunications and third act complications that you'd expect from any romance novel, which was truly heartening to see.
But as much as Linh and Bao anchor this storyline and propel the narrative forward, A Pho Love Story really wouldn't be the book it is without all of the Vietnamese representation, experience and culture it shines a light on in every page. With both the Mais and the Ngyuens owning a Vietnamese restaurant, it's only right that Le devotes a lot of time and attention to her wonderful food descriptions, and they're vivid and detailed enough that this book should come with a warning not to read it on an empty stomach. Beyond that, though, this book is proof that more own voices novels are needed in the publishing industry – and that there are so many more stories ready and waiting to be told. It's clear that Le truly wanted to capture the cultural experience of many Vietnamese-American families; the inclusion of Vietnamese conversations without translations, the music, the histories and the wider community experience all came together to invoke a real sense of place that helped bring this novel completely to life.
As a whole, A Pho Love Story is a cute and an engaging read, but it's also one that packs a lot of emotional depth into its pages. This is primarily a love story, yes, but it's one that's complicated by Linh and Bao's respective families and their shared histories as refugees of the Vietnam war. It's an experience that has unsurprisingly shaped Linh and Bao's parents and had an impact on how they raised their children. Le offers a thoughtful exploration of the generational differences between the parents and their children, and the ways in which they communicate with each other too. These two major narrative threads are balanced well, with the easy, growing attraction between Linh and Bao and their plans for the future providing a hopeful and optimistic counterweight to the struggles and the trauma of their parents' past.
The story may have run on a bit too long, resulting in a couple of lulls in the narrative here and there, but it's so well-written, so vividly brought to life, and so well grounded by its kind and understanding protagonists and the wonderful cast of supporting characters around them that the story as a whole more than makes up for it. Between the delightful romance, the feuding families and the deft handling of both the sweet and the emotional, Le's debut is more or less a pitch-perfect read, and one that all lovers of YA fiction are certain to enjoy.
★★★★★
A Pho Love Story is published by Simon & Schuster Children's on 24 June 2021