8 new books to read this July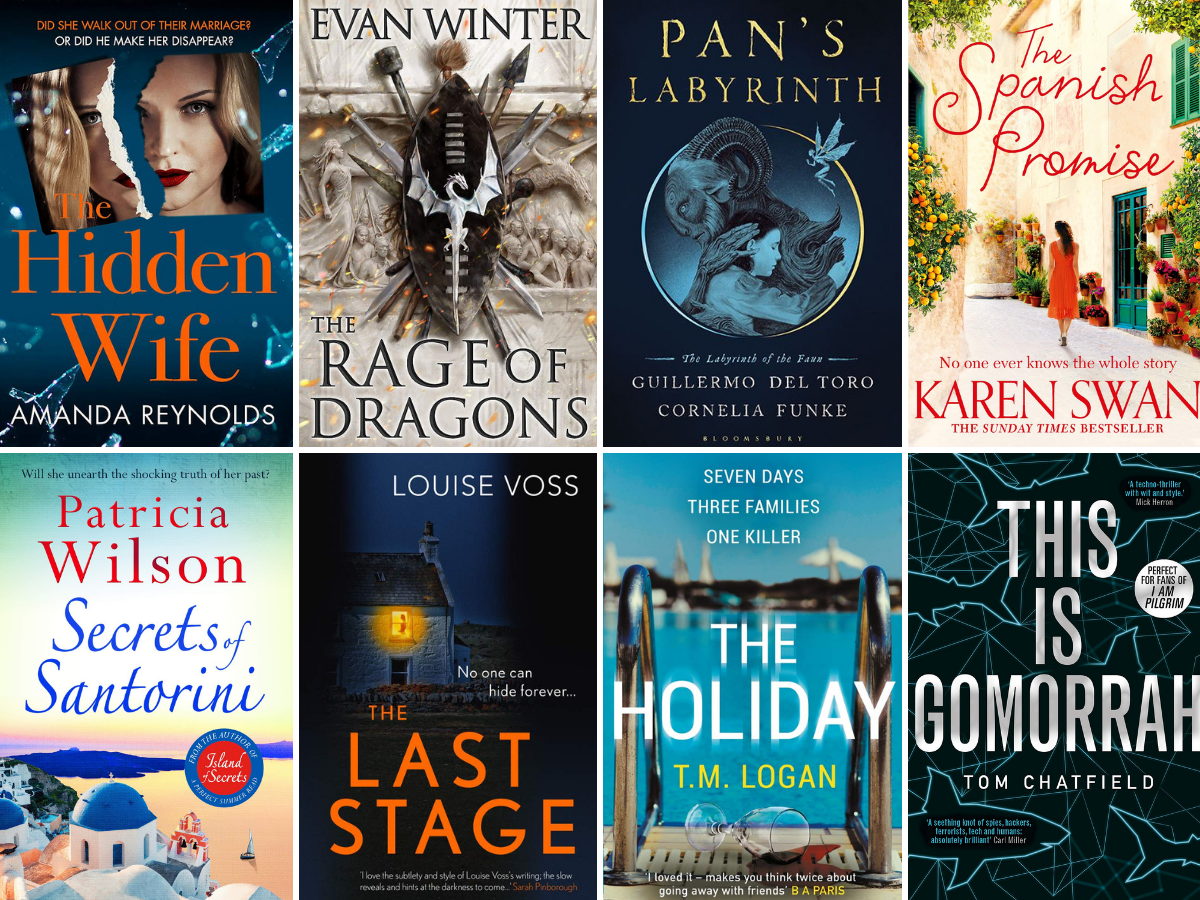 Murder mysteries, dark fantasy and Mediterranean travels feature in our round-up of this month's top books. We've narrowed the selection down to eight. The only choice you have to make is which one to read first.
The dark psychological thriller: The Last Stage by Louise Voss
Working in a gift shop and living incognito in a cottage on the grounds of an old stately home, legendary 80's indie singer Meredith Vincent is happy to forget the past – including the horrific event that sent her into hiding. But when a series of unsettling incidents start happening around her, Meredith's quiet new life comes under threat.
Several perspectives offer bitesize pieces of the mystery surrounding who's tormenting Meredith, and the enjoyment comes from trying to put the puzzle of her past together. Switching effortlessly between the 80's and the present day, Voss' third solo thriller is a dark whodunit that revels in keeping readers guessing. (11 July, Orenda Books)
The epic fantasy: The Rage of Dragons by Evan Winter
If you're looking for an epic fantasy book to fill the Game of Thrones shaped hole in your life, Evan Winter's imaginative African inspired debut will do that and more. Set in a brutal war-fuelled land, the story follows young Tau Tafari, whose plans to escape the endless bloodshed are ruined when those closest to him are viciously murdered.
In a world where powerful mages are gifted with the ability to summon dragons and turn warriors into colossal killing machines, Tau has just one thing on his mind: revenge. Brimming with magic, battles, dragons and vengeance, this is an action-packed introduction to a thrilling new fantasy series. (18 July, Orbit)
The unnerving techno-thriller: This Is Gomorrah by Tom Chatfield
Moving between London, Berlin, Athens and LA, this ultra-modern debut is set in the technological underbelly of the 21st century, where those who know where to look can find anything. Azi Bello is a loner and an idealist. He's also an elite hacker watching as technology obliterates the old world order.
Drawn into a conspiracy with the mysterious Munira, Azi throws himself into uncovering the dangerous secret behind the exclusive online marketplace known as Gomorrah, something that threatens to derail his carefully constructed life. Tech philosopher Tom Chatfield utilises his experience writing about digital culture to bring us an absorbing and intelligent dark net thriller that's just waiting for the big screen treatment. (11 July, Hodder & Stoughton)
The sizzling summer read: The Spanish Promise by Karen Swan
Summer wouldn't be complete without a sizzling story full of sun, secrets and troubled family dynamics, which is exactly what Karen Swan delivers with her latest romance set across Spain. Alternating between the present day and the late 1930's, the story follows wealth counsellor Charlotte as she travels to the home of a prominent family after a dispute arises over a surprising bequest.
As she digs into the Mendoza family's history, Charlotte becomes consumed by their difficult and complicated past which goes back to the Spanish Civil War. Swan has written an evocative and perceptive multigenerational tale that delves into a dark period of European history, exploring the enduring effect it had on families. (11 July, Pan Macmillan)
The slice of island escapism: Secrets of Santorini by Patricia Wilson
For a heart-warming book to pack in your holiday bag, look no further than Secrets of Santorini – a story that will whisk you away to the picturesque Greek island and immerse you in its ancient history. When Irini McGuire receives word that her absent archaeologist mother has been injured at a dig, she travels to the island of her birth where she discovers the injury wasn't an accident.
With her mother's notes to guide her, Irini starts to unravel long-held secrets that hold the key to the mystery surrounding her family's separation. Inspired by the frescoes found on Santorini, Wilson has written another lovely escapist novel combining beautiful scenery, culture, archaeology and complicated relationships. (11 July, Zaffre)
The intriguing mystery: The Hidden Wife by Amanda Reynolds
Why did Julia Blake, a young woman married to a famous author, walk out of her seemingly perfect life and vanish without a trace? That's the question at the heart of Reynolds' third psychological drama, as newspaper reporter Seren lands an exclusive with Julia's brooding, now reclusive husband.
The more time Seren spends at the couple's mansion, the more she begins to wonder if Julia really made the decision to disappear that night, or whether something more sinister happened. The Hidden Wife has everything an intriguing mystery needs: an isolated setting, duplicitous characters, a potential serial killer, and a reporter hell-bent on uncovering the truth. (25 July, Wildfire)
The twisty page-turner: The Holiday by T. M. Logan
Four best friends, their husbands and their children head to a luxurious villa in sunny Provence. What was supposed to be a joyous fortieth birthday celebration turns into a week of betrayal, deceit and lies, as Kate suspects her husband of having an affair with one of her three friends.
Whilst Kate is on a mission to discover which of her best friends is willing to destroy her family, someone else is prepared to kill to stop the truth from coming out. Logan's trouble-in-paradise thriller will keep you on the very edge of your seat, feverishly turning the pages as you race to the tense, expertly plotted end. (25 July, Zaffre)
The poetic modern fairy-tale: Pan's Labyrinth – The Labyrinth of the Faun by Guillermo Del Toro & Cornelia Funke
Inspired by del Toro's Academy Award winning movie, this hauntingly beautiful novel is a modern fairy-tale for adults. It reunites fans of the film with Ofelia as she's sent to stay with her new stepfather – the ruthless Capitán Vidal – in a dark forest. With her mother bedridden, Ofelia becomes enchanted with her eerie surroundings and is drawn deeper into this mythical world.
Staying true to the film's weird and wondrous spirit, beloved children's author Cornelia Funke (who penned the Inkheart trilogy) entwines real world drama and poetic fantasy to create a story that's every bit as captivating as its cinematic source material. Allen Williams' illustrations add an extra layer of magic to the book – making it one you'll want to revisit. (2 July, Bloomsbury)