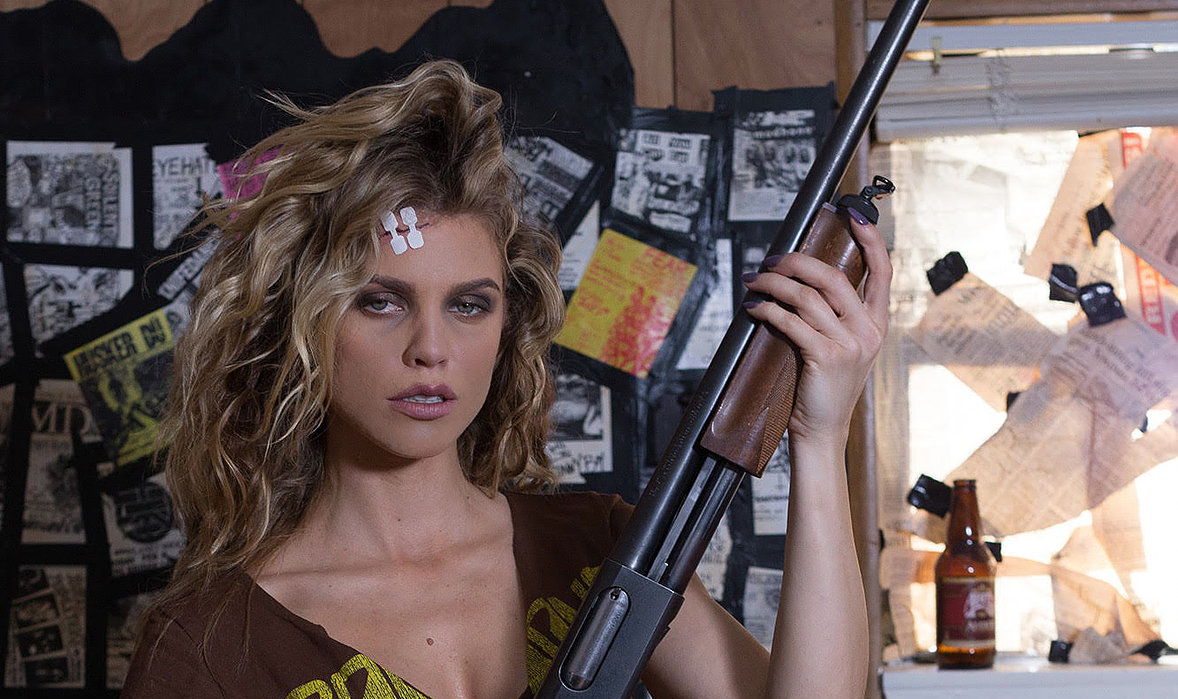 It's easy to fall into the trap of comparing Matthew Gray Gubler's new film 68 Kill to Oliver Stone's 1994 classic Natural Born Killers. There are a number of similarities with the main toxic relationship and the over the top violence but the comparison would be doing Gubler and co a disservice. 68 Kill deserves to be enjoyed on its own merits and takes a number of similar themes featured in Natural Born Killers and shows them in a different light, choosing a more clumsy and comedic route to take. And while Stone's influential film was shrouded in controversy, 68 Kill exists in a different space and aims to be a riotous joyride that you come away from with a smile on your face. It's a fun 95 minutes that you'd be happy to experience again.
The story follows the relationship between Matthew Gray Gubler as Chip and his controlling and slightly crazy girlfriend Liza (AnnaLynne McCord). She likes sex, loves violence and quite often enjoys the two together, while her other half isn't quite as kinky or into the weird as she is. Gubler is the perfect choice to play the shy, quiet type that has to come into his own, much like his Criminal Minds character Spencer. There's a confident man in there somewhere just waiting to come out, but there's an element of self-doubt and fading into the shadows because others around him are so loud and forward. Liza may think she owns him but that's simply not the case and 68 Kill is as much about Chip's development as a person than anything else.
So we spend time following Liza's crazy plan to steal $68,000, which Chip really, really, really isn't sure about. Things don't exactly go how he expects and suddenly he's got a lot more blood on his hands than he anticipated. This craziness spirals out of control and changes his life forever. On the surface it can easily be seen as a meaningless exercise in how much blood someone can throw around in a movie, but look deeper and 68 Kill works really well as a character study too. And importantly nothing seems to drag, so by the end of the film you're almost surprised that it's gone so quickly and you're left wanting more. That's always the sign of a good movie. Throw in some great direction and a catchy soundtrack and it's a ride you're more than happy to take.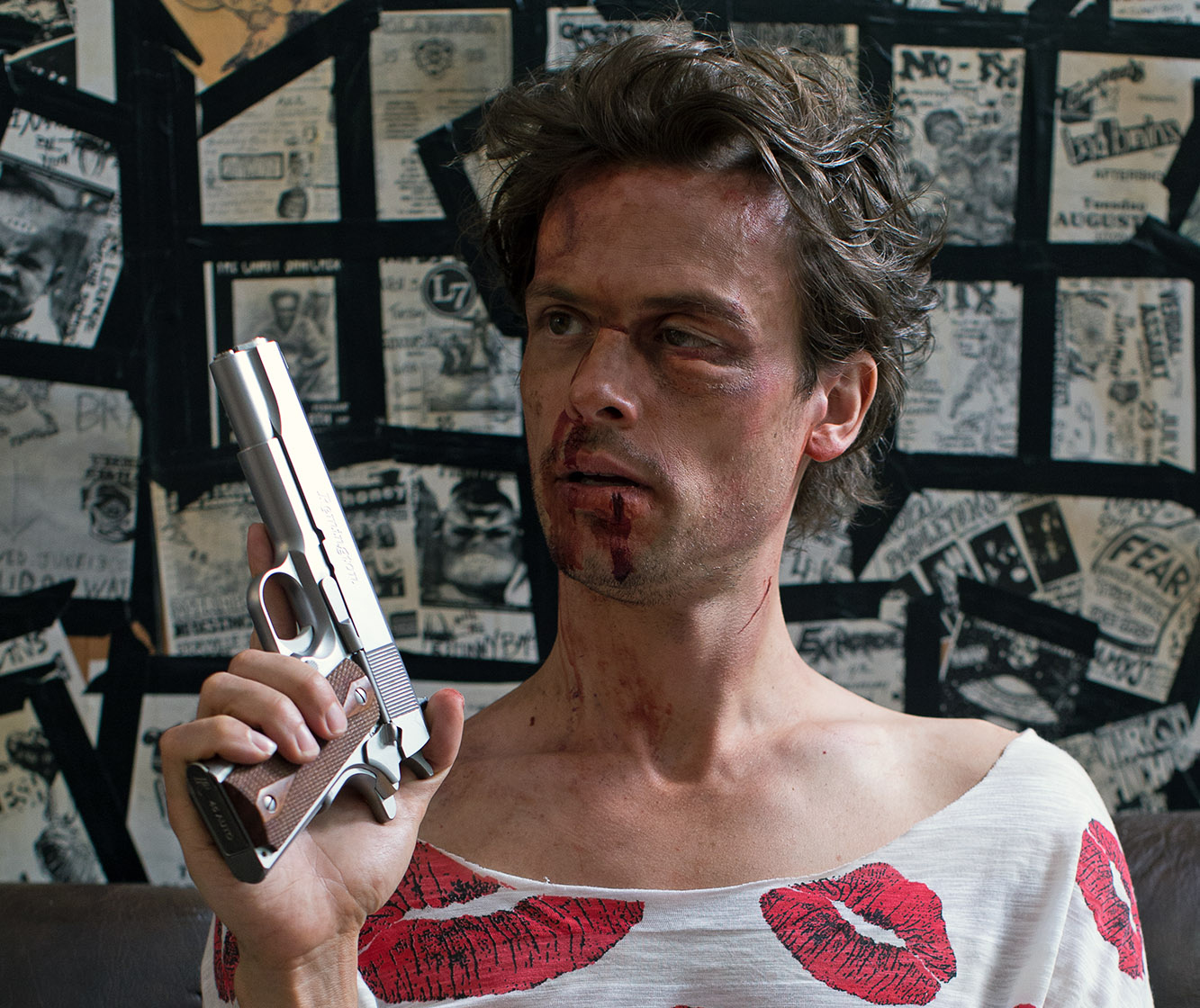 The depth of 68 Kill's cast is also impressive. While McCord's Liza may be introduced as the main female, Chip's interactions with other girls along the way are just as important. When he becomes completely enamoured by a girl at their victim's house it's a hilarious yet heartfelt switch-up that has him questioning his actions and how he truly feels about Liza. Can he really love a girl like that? This lends itself to some really dark humour and much of 68 Kill is absurdly depraved but in such a pleasurable and ridiculous way that you just don't mind. 13 Reasons Why's Alisha Boe is the perfect choice for Violet, the new found focus of Chip's affections, offering a mix of genuine emotion and badass bitchyness. Credit also goes to Sheila Vand who turns it up to 100 and delivers total madness as Monica, a seemingly harmless store worker that comes back into Chip's life in the worst way.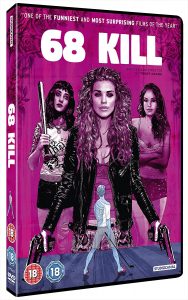 Of course with every movie that focuses on violence comes the debate about the treatment of the characters – both male and female – and how they are represented. You can easily argue that 68 Kill actually gives strength to its women, especially with Liza being so dominating and in control of a lot of the situations and her relationship with Chip. Many violent films do easily fall into that misogynistic trap but here Trent Haaga walks the line well and balances his characters out. There's more than enough blood and gore to go around for everyone involved! This isn't about men or women. No one is perfect here and bad decisions are made across the board.
68 Kill is up there with one of the most entertaining experiences I've had watching a film in quite some time. As a Gubler fan, it's completely rewarding to see him take on such a great role, and if you weren't a fan before then you certainly will be after this. McCord has spent years perfecting the Liza type of role, so it's no surprise that she delivers a fantastic well rounded performance. 68 Kill is one of those movies that just gets all the different elements right and they're brought together to create something the viewer can't get enough of. I can only imagine it was just as fun to make as it is to watch. This is definitely one to go on the 'must watch' pile.
★★★★