18 must-read books for summer 2020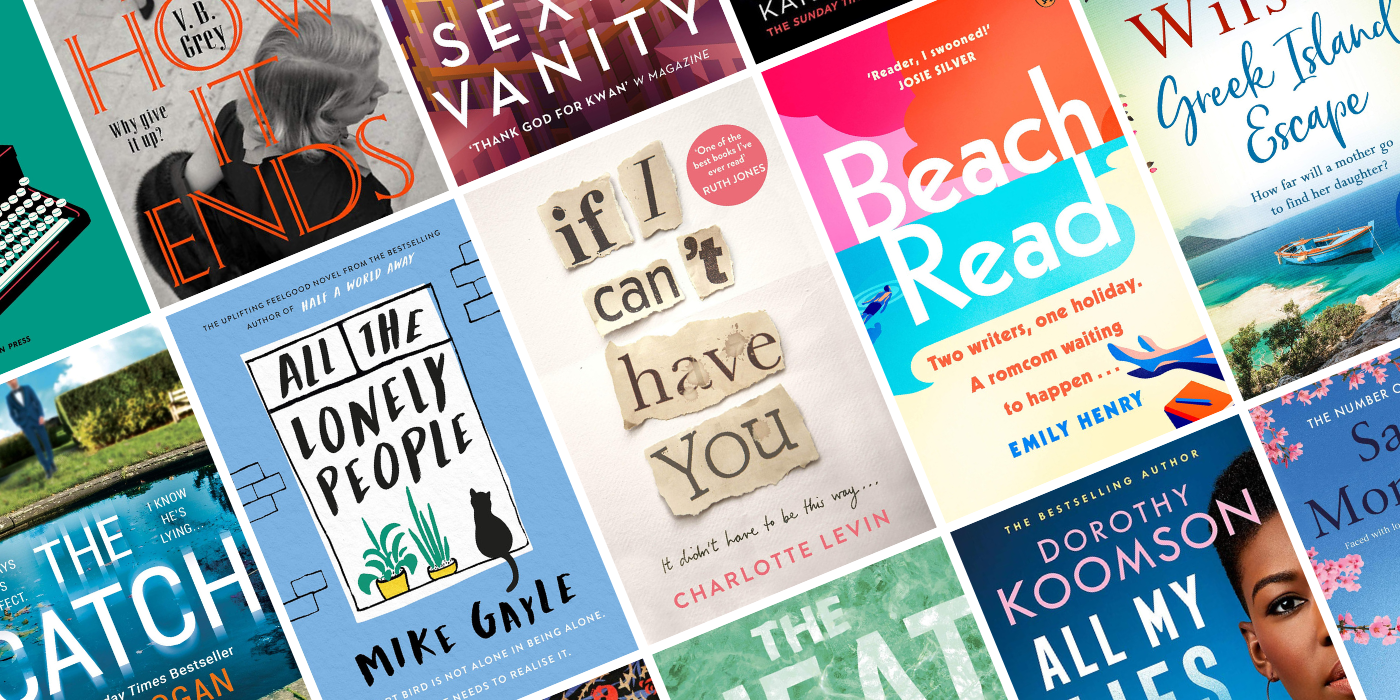 As we all adjust to what's become the 'new normal', summer 2020 is going to be a summer unlike any other. Whether you're tentatively exploring future holiday options or resigned to the reality of a staycation, there's one sure fire way you can travel to other countries, explore diverse cultures and meet interesting people at the same time – and that's through books.
We've rounded up some of our favourite recent and upcoming fiction that will take you to France, Italy, Greece, America and other places in-between. With no stressful travel arrangements, the only decision you have to make is which of these books to read first.
Greek Island Escape by Patricia Wilson
Moving between Crete, Athens, London and Manchester, this story of love, family and tragedy follows three women separated by time and miles as they mourn and search for the things – the daughters, lovers and lives – they've lost. Wilson delves into Greece's war-torn history, weaving the past and present together to create an evocative and emotional drama that tugs at the heartstrings. It's an equally enjoyable novel whether you're hiding inside from the British rain or lounging outside in the sun. (2 April, Zaffre Books)
The Mystery of Henri Pick by David Foenkinos
Whilst on holiday in the small town of Crozon, Brittany, young editor Delphine discovers a rejected manuscript that she's compelled to get published. The book is a sensation and everyone wants to know about the author – a now-deceased pizza chef called Henri Pick. How could this ordinary man create such a literary masterpiece? Journalist Jean-Michel Rouche is determined to find out. The first title in Pushkin's collaboration with Channel 4's Walter Presents is a quirky comic mystery that feels like a love letter to writers, readers, publishers and the art of literature too. (7 May, Pushkin Press)
Where We Belong by Anstey Harris
Cate and her son Leo pack their boxes and leave their home in London, arriving at the 'Hatters Museum of the Wide Wide World' – her late husband's ancestral home – with the intention of staying just for the summer. But as Cate starts to learn the truth about Richard's family history, the house begins to work its way under her skin. Cate needs a lifeline, but she might hold the key to saving Hatters too. The second novel from Anstey Harris – who also wrote last year's wonderful The Truths and Triumphs of Grace Atherton – is a moving and utterly engrossing story that's full of heart and hope. (14 May, Simon & Schuster)
The Strange Adventures of H by Sarah Burton
Set during the 1665 Great Plague of London, Sarah Burton's debut novel for adults centres on H, a young orphan who finds herself pregnant and alone on the streets of London, where she's forced to fend for herself in an increasingly disease ravaged city. Yet H is resilient, with a strong will to not just survive but thrive too, charming, scheming and fighting her way to the independent future she yearns for. Taking place in a period of social upheaval, this atmospheric novel explores life and the experiences of women in the seventeenth century. A must-read for anyone who enjoys historical fiction. (1 June, Legend Press)
The Catch by T. M. Logan
Ed's daughter Abbie is head-over-heels in love with her smart, successful and handsome fiancé Ryan. The problem is, Ed can't shake the feeling that Ryan isn't quite as perfect as everyone thinks he is. In fact, Ed thinks Ryan is a psychopath who's hiding a dark past. With the big day looming, Ed sets out to expose Ryan for the monstrous fraud he believes him to be. The best summer books are those that you simply can't put down and The Catch certainly fits the bill – offering up a tense and gripping thriller that will keep you hooked throughout. (11 June, Zaffre)
The Sight Of You by Holly Miller
A firm contender for the most emotional book of the year, Holly Miller's debut follows Joel, who's frightened of the future, and Callie, who can't let go of the past. When they meet, it feels like the beginning of something truly special. Until Joel has a vision of how it's all going to end that makes him reconsider the future ahead of them both. Alternating between Joel and Callie's perspectives, The Sight Of You is a beautiful, life-affirming novel that burrows straight into your heart, leaving you thinking about it for days, if not weeks, after. (11 June, Hodder & Stoughton)
Liar by Lesley Pearse
Lesley Pearse's 28th novel takes place in West London in the 1970's, where aspiring reporter Amelia White has just started a new job selling advertising space at the local newspaper. Heading into work one morning, she discovers the body of a woman dumped on the street and is further horrified when lies begin to circulate about the victim. This could be the scoop to not only kick-start her career but to stop more killings – if only she can work out who's spreading lies. Like a twisty and suspenseful TV drama, Liar keeps you firmly on the edge of your seat. (25 June, Michael Joseph)
The Last Wife by Karen Hamilton
Before her best friend tragically died, Marie made a promise. She agreed to look after Nina's family when she was gone, which is exactly what she tries to do. But when she discovers a dark secret that Nina had kept hidden, Marie is forced to confront both the past and the future she thought she wanted. The Last Wife is a fast-paced and addictive novel that explores love, friendship and the secrets people keep, even from those they're closest to. Fans of complicated, unreliable characters will love this. (25 June, Wildfire)
Sex and Vanity by Kevin Kwan
The funny and perceptive new novel from Kevin Kwan – the iconic author of the Crazy Rich Asians trilogy – is perfect summer reading material. A homage to A Room With A View, it's a modern love story about a woman torn between two men and two cultures. Like Kwan's previous novels, it's filled with obscene wealth, privilege, decadent lifestyles and delicious satire. Transporting readers from lavish Capri to the equally opulent Hamptons, Sex and Vanity is light-hearted, unadulterated entertainment – ideal for lifting any lingering lockdown blues. (30 June, Hutchinson)
The Constant Rabbit by Jasper Fforde
Fuelled by Fforde's trademark wit, imagination and brilliantly bizarre world-building, The Constant Rabbit takes place in the wake of an Inexplicable Anthropomorphising Event. There are 1.2 million human-sized rabbits living in the UK, walking, talking and driving cars. In this story, you can be an ally of rabbits or humans, but never both – as the central characters soon learn when they come up against the full power of the ruling United Kingdom Anti Rabbit Party. You won't read anything quite like this in 2020 – or beyond that too. (2 July, Hodder & Stoughton)
All My Lies Are True by Dorothy Koomson
The eagerly anticipated sequel to The Ice Cream Girls reunites readers with Poppy Carlisle and Serena Gorringe ten years later. Following the murder trial that saw Poppy convicted and Serena go free, the two teenagers are now women with families of their own. They've tried to move on but they can never truly forget. All My Lies Are True deals with the repercussions of Poppy and Serena's past as it continues to affect not just the two of them but their loved ones too. Dorothy Koomson's sixteenth novel is an unputdownable and tense psychological thriller about secrets, lies, obsession and coercive control. (9 July, Headline)
Tell Me How It Ends by V. B. Grey
V. B. Grey's stylish drama is set in the London showbiz scene of the 1960's and follows international singing sensation Delia Maxwell and her ambitious assistant cum protégée Lily, who's spent her life idolising the woman she now works for. With Lily basking in Delia's spotlight, private investigator Frank suspects her of having ulterior motives but his own feelings towards Delia threaten to get in the way. Inspired by women-centred narratives and the noir thrillers of the 40s and 50s, Grey invites readers into a glamorous, dark world of ambition, manipulation and revenge. (9 July, Quercus)
If I Can't Have You by Charlotte Levin
Lonely, adrift and desperate for someone to love, twenty-something Constance Little develops a crush on the handsome new doctor at work. When their brief yet passionate affair ends, Constance's infatuation morphs into an all-consuming obsession. She can't accept that it's over and she's about to discover just how far she's willing to go to get what she desires most. Levin's debut novel captures the loneliness so many young people feel and turns it into a gripping, devastating and compulsively readable story that explores how people are shaped by their pasts. (9 July, Mantle)
Here and Now by Santa Montefiore
Marigold has always taken care of those around her but now that she's forgetting things, it's her family's turn to repay a lifetime's worth of love and kindness. Desperate to show their support for the woman who never failed to show hers, the local community band together to help Marigold remember what's important. We can all find something to relate to in Santa Montefiore's Here and Now – a wonderfully poignant and thought-provoking novel that celebrates family, friendship, memories and – most importantly – life. (9 July, Simon & Schuster)
All The Lonely People by Mike Gayle
Mike Gayle's books are always worth waiting for and All The Lonely People – a novel about love, friendship, race and growing old – is no exception. It centres on Windrush-generation widower Hubert Bird, who has created the idyllic retirement full of fun, friendship and wish fulfilment. It's also a complete fiction, designed to keep his daughter Rose, who lives in Australia, off his back when she calls. But when Rose announces that she's coming to visit, Hubert faces the seemingly impossible task of making his brilliant fake life a reality. A lovely uplifting and heartening read that feels incredibly relevant to our current times. (23 July, Hodder & Stoughton)
Don't Turn Around by Jessica Barry
Two strangers are driving from Texas to New Mexico at night. Rebecca is trying to escape something but Cait– whose job is to safely transport women – doesn't ask any questions. There's a reason Cait chooses to live her life on the road, looking out for other women. She knows what it's like to be pursued and need protection, which is just as well, because someone is following them and it's clear that they're out for blood. Taut, suspenseful and intriguing from the off, Don't Turn Around is the kind of psychological thriller you want to read in one sitting. (30 July, Harvill Secker)
Beach Read by Emily Henry
With a title like Beach Read, Emily Henry's debut adult novel was destined to make it on to all the summer reading lists. Set over the course of a sweltering summer, it invites readers into the witty world of January and Gus – two very different writers who need to pen a bestseller by the end of summer. The only problem, they're both suffering with crippling writer's block. The two make a bet to swap genres and see who gets published, with hilarious, romantic results. If you're looking for the rom-com of summer 2020, this is it. (20 August, Penguin)
The Heatwave by Kate Riordan
Sylvie returns to her crumbling family home with her youngest daughter Emma, but the house is haunted by memories of her first child, Elodie, whose death still disturbs the village. Sylvie has tried to forget what happened all those years ago but the past has a way of creeping up on you, and Sylvie's secrets are about to unravel. Set under the warm Provence sun, Kate Riordan's unnerving and engrossing psychological suspense novel doesn't hit shelves in paperback until September but it's out in ebook now – making it the perfect poolside or garden read. (ebook – 23 April / paperback – 3 September, Penguin)