'Enemy Lines' & 'Blood Harvest'
There's a strange sense of déjà vu going into the second season of Wayward Pines, an apt feeling for a series that's partial to trapping its characters in an inescapable loop of bizarre activities. Ethan Burke (Matt Dillon) may be dead and gone but his replacement, Jason Patric's Dr. Theo Yedlin, is experiencing many of the same fears that the former Secret Service agent did too. Theo has woken up in a very strange environment, he doesn't know how he got to Wayward Pines or where his wife is, and there are people saying and doing cryptic things. So far, so familiar.
However, cut through the too-polite conversations and seemingly serene streets, and there's one thing that's noticeably different about the picture perfect town: nobody is in the dark anymore (well, except Yedlin). The uprising at the end of the first season is still raging and the town isn't the peaceful haven it once was. The knowledge of the dangers that lurk behind the electric fence has everyone on edge, and the town has fallen under a battle between two factions: those who still abide by Pilcher's original vision – headed by the severe First Generation leader Jason Higgins (Tom Stevens) – and a group of underground insurgents led by Ethan's son, Ben (Charlie Tahan).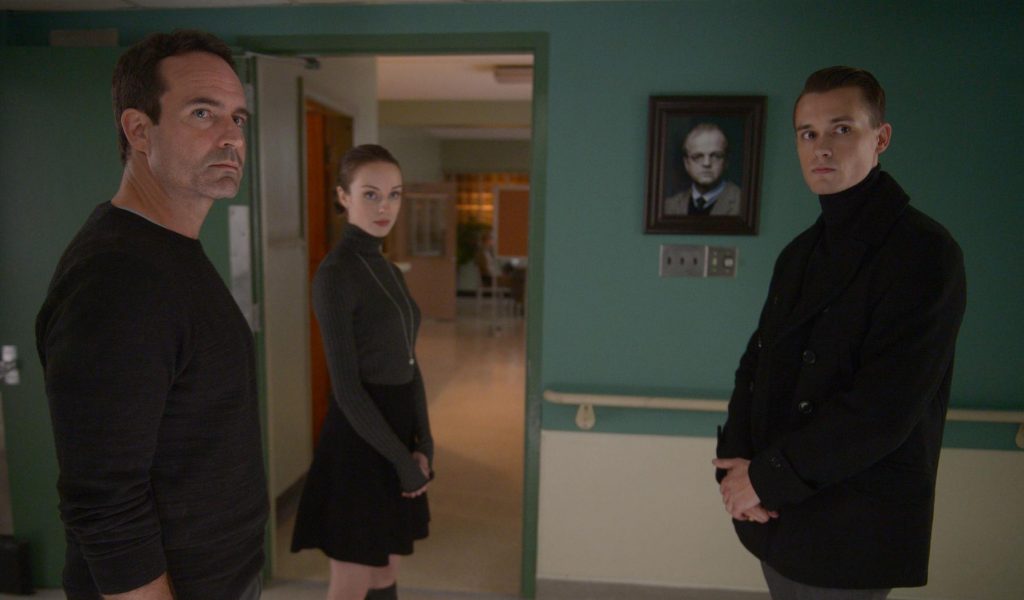 Tensions are high and the First Gen's tactics are no less extreme than those previously enforced by Pilcher and the former town Sheriff (Terrence Howard, who makes a brief but welcome appearance at the beginning in a flashback to 2000 years previously). In fact, Higgins is perhaps worse than his predecessors because he doesn't understand, and has never experienced, any other way. He's another one perfectly willing to murder people to draw out the rebels, which he does very successfully – meaning we end the first episode with Ben surrendering to his past allies, now mortal enemies, and being hand-delivered to the Abbies along with Yedlin.
As well as establishing what's happened since Ethan's sacrifice, 'Enemy Lines' introduces a number of new faces. Along with Yedlin and his wife, we also meet Josh Helman's Xander Beck, who's attempting to break the regime from the inside. Then there's Kerry Campbell (Kacey Rohl), a tough First Generation resident who's Yedlin's first point of contact in this not-so brave new world. They might not hold the same gravitas that the likes of Dillon, Howard and Juliette Lewis brought to the table in season one, but these characters have room to grow and develop.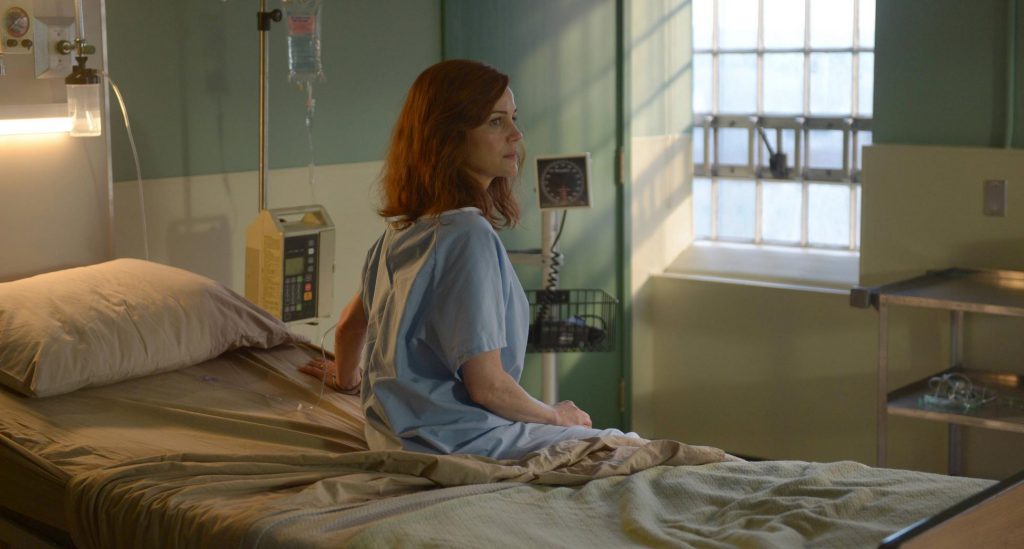 We never really got to grieve for Ethan, but we're given the opportunity to say a sad farewell to Carla Gugino's Kate Hewson, as she makes the decision to end her own life, rather than stay chained to a hospital bed and remain a Wayward Pines prisoner. It's an end that's fitting for a character who was one of the first season's most resilient residents, though Gugino's exit is a blow to the series. Here's hoping the likes of the tremendous Djimon Hounsou can fill the hole left by the main characters no longer with us.
In episode two, titled 'Blood Harvest', Higgins' impulsive decision to send the town's only experienced doctor to his death beyond the fence poses a problem when Kerry is attacked by the Abbies and requires urgent medical attention. A search team is sent out to retrieve the doc, who has no intention of helping Kerry until he gets some answers, having witnessed the Abbies for the first time. "I want to know how an underage cretin gets to be in charge of all this", Yedlin shouts at Higgins, who shows genuine panic at the thought of Kerry dying. It's nice to see the young leader in a vulnerable position, but it also makes him more unstable. Of course, even when Higgins tells Yedlin what's happened to the world, to humanity, the baffled doctor can't fathom the harsh reality, much like Ethan couldn't when he first came to Wayward Pines.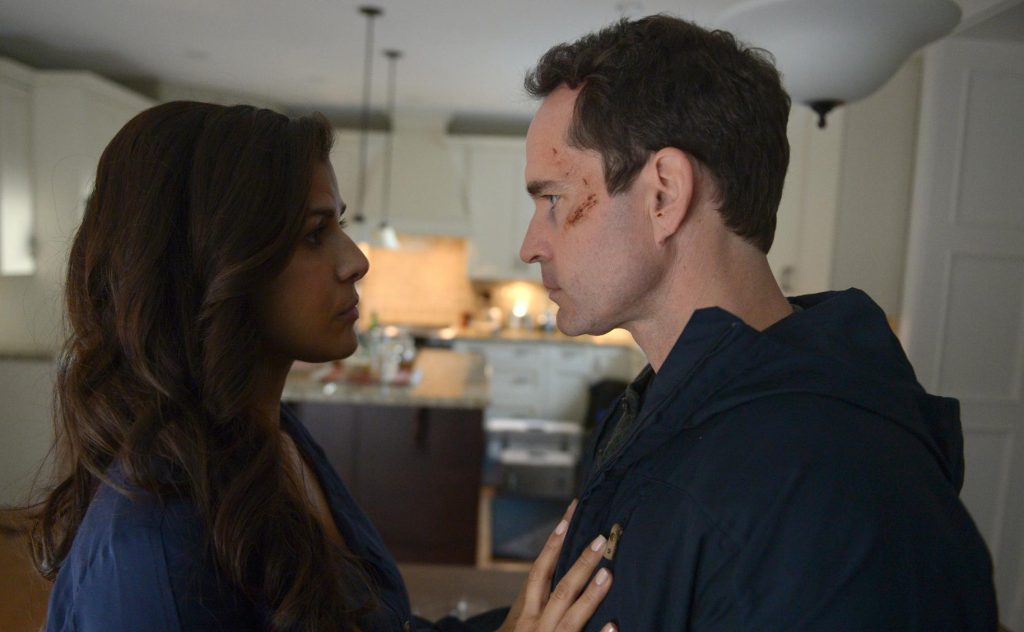 Yedlin isn't a fan of dictatorship, another thing he and Ethan share in common, and Higgins isn't a fan of being undermined, so the tension between the two is only going to get worse as the season progresses. Yedlin's irritation is further amplified by his wife, Rebecca, who has been in the town for 3 years and seems to be hiding something. By trying to placate her husband, she's only making him more suspicious and resistant. Looking at how rebellion turned out for Ben – we see him at the end of episode two pleading to a security camera before being pounced on by Abbies – it might be best for Yedlin to settle into his new position without a fuss.
Wayward Pines has always been in danger of getting lost in it's own strange little world, though season one managed to successfully strike a balance between mystery, science-fiction and mutated monster thrills. Season two seems to be following that trusted formula, which could go one of two ways: it could evolve into something even weirder and, as a result, more wonderful, or it could become a rehash of what we've seen before, alienating viewers with its monotony. Only the rest of the season will tell which way Pines is going to fall, but I'm hoping it's the former; this is one show that's all the better when it's throwing wildly bizarre curveballs.
★★★★