Theatre Review: Original Death Rabbit at the Jermyn Street Theatre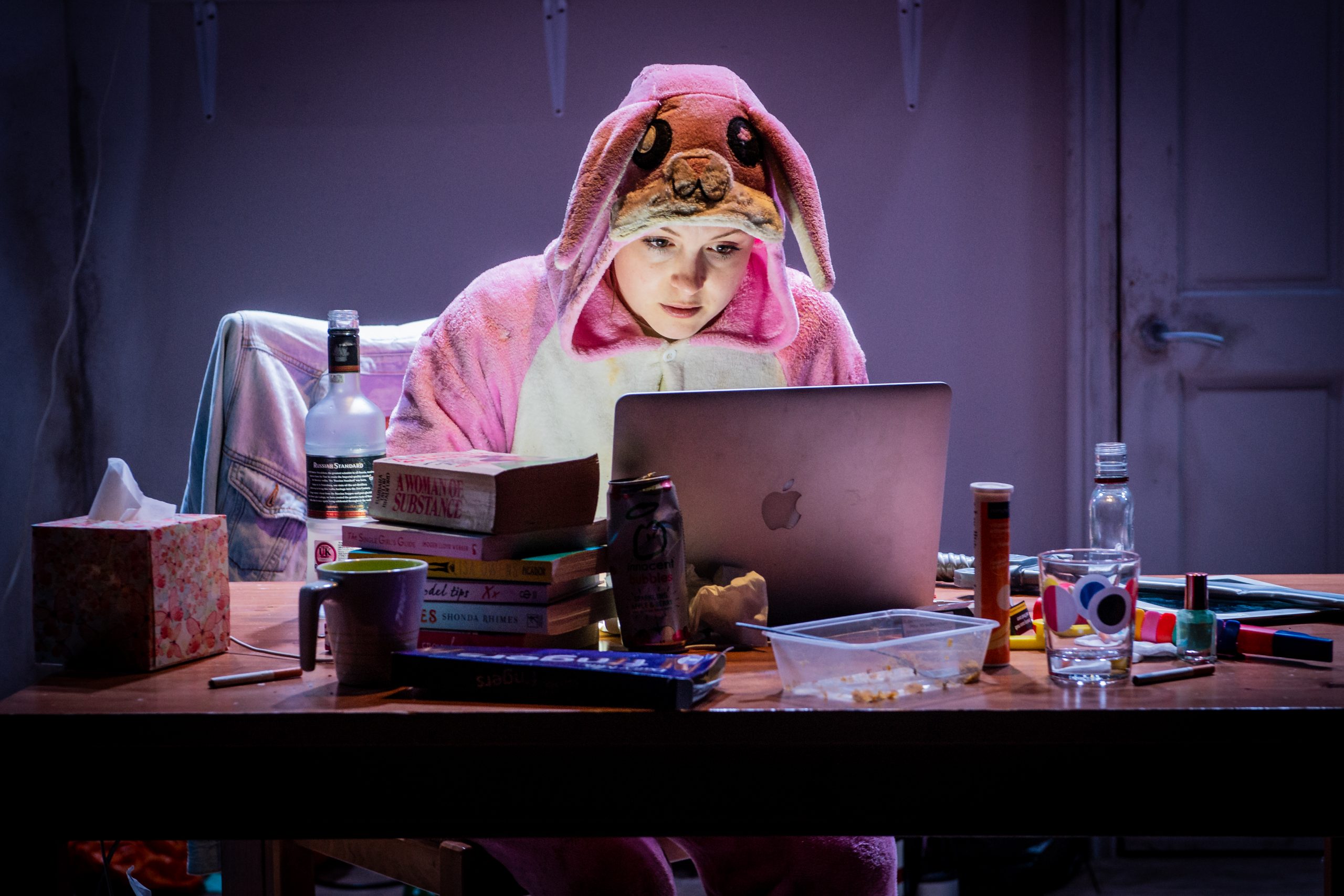 The rough and tumble of the internet age is dissected in a ninety minute monologue as the meme bites back. With Original Death Rabbit, Rose Heiney has written a darkly funny and sometimes moving tale of public shaming that shows every headline has another side behind it and there's usually another side underneath that.
On a stage filled with studentish detritus Kimberley Nixon is the Original Death Rabbit, radiating thirty something angst in a grubby pink bunny onesie. She recalls key events from a lost decade starting with university, moving through fleeting internet fame, awkward Google histories and the power of Twitter to lift people up and break them down. This bout of snarky self-reflection suggests things have come to a head tonight and her mental health is crumbling before our very eyes. A running thread of Richard Curtis rom-com appreciation alongside a clear understanding of her own privilege keeps the evening well balanced.
Using the benefit of hindsight, the Original Death Rabbit makes self-deprecating barbs an art form. Nixon also displays vulnerability as she steers through the patriarchy, learns the complications of feminism and navigates around difficult family relationships. Voicing retorts from a perfectly prim classmate and stay at home sister further showcases the range of her performance and allows sympathy for a sharp protagonist. However, as she finds dark power in the anonymity of trolling, the overriding feeling of loneliness intensifies.
This piece digs into the here and now with clever cultural references and slick millennial language, finding little room for romance even amidst speeches from Love Actually. There is a funny kind of freedom in the frustration of lashing out, swigging vodka and hopping around a mouldy flat. Hope and fear mingle into something deeper than a meme.
★★★★
Original Death Rabbit is on at the Jermyn Street Theatre until 9 February 2019