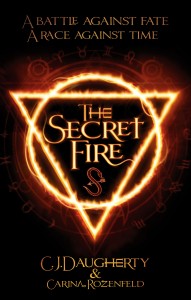 Released: September 2015
What would you do if you knew the exact day that you were going to die but until that moment you literally couldn't be killed? Would knowing that you only have so many weeks until death comes knocking make you more or less careful with the time you have left? This is the conundrum 17-year-old Sacha Winters faces in The Secret Fire, the stellar new YA fantasy novel from CJ Daugherty and Carina Rozenfeld.
Sacha suffers from a centuries old curse inflicted on the first-born sons in his family. He knows that his days are numbered and he's adopted a reckless attitude towards his hopeless situation, getting caught up in high stakes gambling and scraps with low-life criminals in Paris. In other words, he's given up on life.
Hundreds of miles away in England, Taylor Montclair thinks her only problem is how exactly she's going to break up with her boyfriend. That is until she's tasked with tutoring Sacha over the Internet, though he has no interest in, or indeed any need for, English tuition. And so Taylor and Sacha are unwittingly thrust together, and what starts as a fraught online interaction – with a sardonic Sacha purposely riling the prim Taylor – soon develops into the two becoming friends and allies.
As Sacha silently struggles with the side effects of his condition, Taylor discovers she also has a curse, or rather a gift, of her own. Taylor is the descendant of a long line of alchemists, people who can pull energy from surroundings to manipulate and control objects and people. The two teenagers soon realise that they didn't meet by chance and their respective abilities are linked, making Taylor the only one on earth who might be able to break Sacha's curse before dark forces known as Bringers capture him.
The Secret Fire is an addictive novel from two authors whose styles, approaches and ideas merge seamlessly. The story is filled with incredible magic but it never feels far-fetched, and that's half the charm of the book – you can believe in the plot, the characters, the picturesque settings (the parts with Taylor in Oxford are particularly evocative).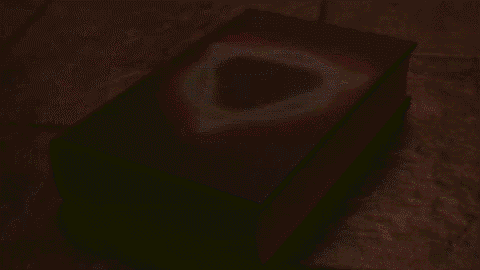 So many YA books get carried away with the angst of transitioning from teen to adult, but Daugherty and Rozenfeld don't let the story get bogged down with weighty adolescent issues or eye-rolling shallowness. There's plenty of heart to be found in the story's two central characters; Sacha's devotion to his family in the face of untimely death is heart-warming, whilst Taylor's burgeoning friendship with the fiercely cool Louisa is one of the highlights of the second half of the novel.
Having the story set in England (Woodbury & Oxford) and France (Paris) is a welcome change of pace from the US set novels that dominate the bestseller lists. There's deep-rooted culture in these places and the descriptions will make the reader want to jump on the Eurostar and experience the Parisian lights at night – or, if you're an international reader, experience Oxford's medieval architecture.
It's difficult enough becoming an adult, but throw in ancient alchemy, deadly curses and creepy skeletal hunters and it's a literal nightmare. Add to the mix a budding romance, a secret Oxford society and breathless cross-border adventures, and the result is the best YA fantasy you'll read this September. Who else is already looking forward to round two of Bringer bashing in The Alchemist Chronicles?
★★★★