The Golden Age of TV are an up-and-coming indie art-rock quintet from Leeds. They make dreamy, spacey tunes with classic riffs and gorgeous vocals. They've played Reading and Leeds fests, they've had airplay from the BBC and as far as anyone can tell, this is only the beginning for them. So what's life like for a new indie band on the scene in 2018? Bassist Andrew Edwards spoke to us about their grand plan to make it in 2018… 
Culturefly: How did the band get together? 
Andrew Edwards, bassist: We all met while studying in Leeds, just over a year ago. I got sort of matey with Sam and started inviting him over to help write and record some stuff I was working on, mostly because I couldn't play guitar. We'd kept up a routine of sharing ideas with each other over a couple years, until it came to the point where we decided to actually start a band.
We drafted up a 'dream team' of people we knew and wanted to work with, sent out a few invites to jam, and along came Ryan, Josh and Bea. Everything fell into place really naturally, we all just clicked so well.
A lot of bands nowadays are starting out on their careers with only a handful of songs to their name – which you've also done. How did you get the attention of big boys like the BBC with only a couple of songs out? How did you stand out from the crowd? There's a lot of music out there on the internet…
BBC Introducing Uploader innit! I'm not too sure on the finer details of how things get to where they are, but that's the beauty of it. As soon as you've uploaded the track, it's like a message in a bottle, it can end up absolutely anywhere. You are right, there is a scary amount of music out there, but tools like the BBC Introducing Uploader help all the Radio People sift through all of it to create a consistent and exciting weekly radio show. Still, I think there is a certain style the BBC do lean towards – I can't see Merzbow sitting in with Steve Lamacq anytime soon.
Do you have a whole album's worth of material that you play at gigs that you're waiting to record? If so, any plans to put a debut LP together in the near future?
We've got a whole gig's worth of material, maybe even an EP if you want. An album is a whole other beef though. We're still such a young band, we're always trying something different every time we get together to write tunes. I'd say it's too soon for us to try and nail down a consistent and cohesive sound. We've found it best to work with just singles for now as it allows us to pace ourselves.
We'd love to get a record done though. We've got a serious passion for good albums and really dedicate ourselves to listening to them. I think when we're ready to do an album, we're really going to do our best to make sure it's as special as possible.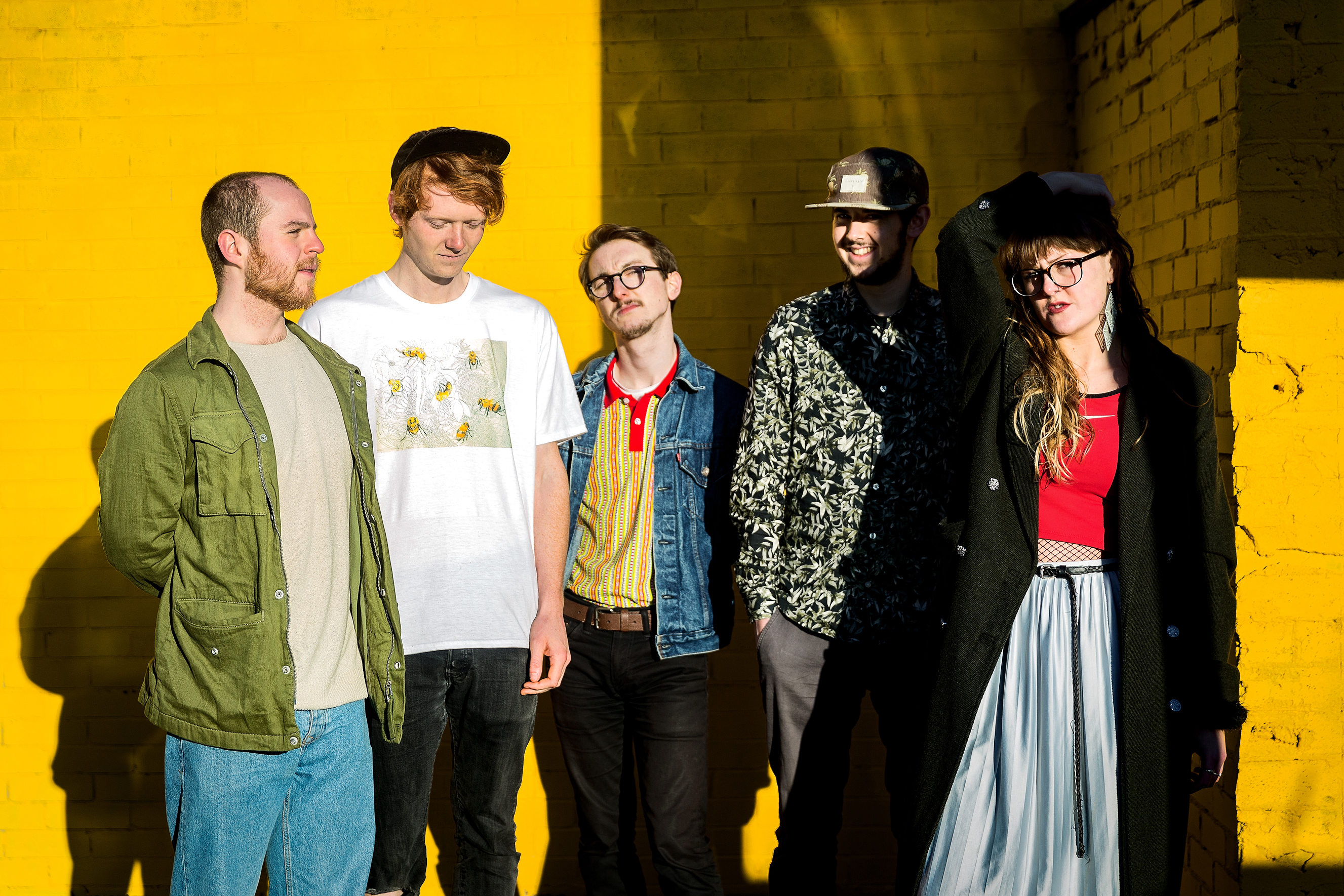 What's the music scene like in Leeds?
Leeds has got such an eclectic scene – there's no point trying to claim to be a part of an 'underground' here, because there's at least six or seven different tribes rolling about. Hyde Park is full of bedroom producers and Burial fanatics, and to counter that there's a really strong jazz/hedonist scene coming out of there in the form of Tight Lines. Then there's places like Chunk, which is always frothing with really ferocious guitar, and then there's this floating alt-pop sort of scene where bands like Marsicans are carrying the flag forward. It's impossible to be a hipster here, I think it's great.
Do you think it's easier or harder to make it in music now compared to, say, the 1980s? You can get your music out easily online, but there's nowhere near as much money to be made in albums as there used to be. Are you able to make a steady living off the band yet? If not, do you plan to go full-time pro with it?
Bit of a funny one, innit. My mate's got a 4 track tape recorder or something, and we were chatting about how easy it is. All you have to bump around with is the faders, and make sure it is actually recording.
It all depends on what you're trying to make, but I'd say it's way easier to make music at the moment. You've got producers like Steve Lacy making music for guys like Kendrick Lamar using nothing but Garageband on their iPhones! There's no excuse to not try and make music anymore, the hardest part is just getting to grips with whatever instrument or DAW you're using
As for making a living, there are so many resources available to keep a musician paid. I think people really underestimate services like PRS and PPL! Really, if you're making music of ANY sort and you haven't looked into joining PRS yet – WHAT ARE YOU DOING? It is definitely doable, it just depends how far you're willing to go. If you chose to do music full-time, what does that mean to you? Does that mean you're going to busk in your spare time, join a function band, or what?
I'd really recommend watching this video on YouTube called 'A Week In The Life Of A Musician In New York City' by Adam Neely. It's a really crazy amount of work, but our own drummer Josh isn't doing anything too different!
I noticed you define yourselves as an indie art-rock band on SoundCloud. What does 'art rock' mean to you? Why did you choose that label?
To be honest, I think we chose that because that was the sound we wanted to be when we first started. Since then, we've still been trying to develop what and who we are. You've got bits of shoegaze, dance, 00s indie, Britpop and 80s pop in our sound. I don't think we're an easy one to pin down other than calling it 'indie', but 'indie' alone is a bit beige, isn't it?
I'd say the art-rock label is more applicable to our aesthetic. We really try to go for as vibrant and colourful an image as we can by decorating the stage, mucking about with images. When and if the day comes where we've got the resources and means to go all out, I think then you'll really see what we mean.
In the age of the Spotify playlist, do you think genre labels are still important to people? Lots of the great pop music of the 20th century was associated with movements (punk, new wave, grunge, NWOBHM) – is that still true? Would you like to be seen as part of a wider late-decade indie movement, for example?
Yeah see this is a great follow up to the last question, because in my opinion using genre and labels only serve as a means to compartmentalise music in HMV, or on Spotify or wherever. We as people love nice, neat and organised lines like that. However, it's the self-attachment to genres that is really faltering. There are no mods, there are no punks, and I don't know what happened to the Scene Kids. I think people are finding themselves able to listen to and relate to anything they choose to without having an overwhelming bias because something is hip-hop, metal or whatever. There's so much music accessible now that it'd be impossible to escape hearing something outside of your comfort zone.
There is definitely an indie resurgence going on right now with artists like The Big Moon, Rex Orange County and more carrying the flag. Right now, I'd say we fit in great with those dudes, but we're still way too young as a project to cement ourselves as anything other than whatever we choose to play.
What other bands on the scene at the moment excite you? Who do you think is the next great white hope for British music (yourselves excluded, of course)?
Mad question. I can't tell you – if I could, I'd be a millionaire. Music has become so international over the last decade, and the lines between underground and mainstream have become so blurred in the digital age. I think about young artists that the US have got going for them at the moment such as Lorde and Brockhampton, and I think we're just waiting for the UK's own breakout underground star that everyone can get really excited over. I think back to when Foals and The xx were up against each other for the Mercury Prize in 2010, or when Alt-J released An Awesome Wave. Those were some pivotal moments for UK music, and I'm sure they'll come around again. Skepta in 2016 comes pretty close.
With a gun to my head, I would say that Caro are going to be the most exciting act in the UK within the next couple years. They've got a real electricity to them that is incredibly rare, and I think the rest of the country are going to see that soon enough.
What are the band's plans for 2018?
What we really want to do now is keep fuelling the fire while keeping ourselves steady. We've got a few exciting announcements coming out over spring, all wrapped around the show with Marsicans at Church on the 10th of March. That's going to be an incredible show – we really want that gig to be extra special because it's supporting bloody Marsicans in one of my favourite venues in the country!
2017 is a difficult year for us to top, we really were gigging all over the place while trying to get on with things like graduating and nailing down jobs to support the band. We are now all in the mindset of writing as many tunes as possible, improving our live set and really focusing in on what 'The Golden Age of TV' is.
SaveSave