There are few things in this life that are as satisfying to watch as a well-conducted interview. Mike Wallace Is Here gives you ninety glorious minutes of just that. Solely using archival footage of interviews Wallace both conducted and gave, Avi Berman's documentary charts the life and work of one of America's greatest ever reporters.
Mike Wallace was a radio announcer, a game-show host, a pitchman for cigarettes, and an actor. Then he was given the show Night Beat, and the powers that be spotted the potential he had as an interviewer. As opposed to the general pandering style of the time, Wallace's interview technique was searing and merciless. He got straight to the point without wasting any time on small talk. Those skills would serve him well when he moved on to hosting the newly created magazine news show 60 Minutes, a role he would occupy for thirty-eight years.
Fittingly for such an avowed workaholic, Mike Wallace Is Here privileges Wallace's career over his personal life. When he is interviewed about his four marriages, he gets cagey. The tragic death of his son, who – aged nineteen – fell off a mountain in Greece, is an understandable sore point. There is more coverage of Wallace's battle with depression, however. In a show of smart editing, we see him deny to various news anchors over the years that he ever tried to take his own life. Finally, to his old friend Morley Safer, at the grand age of eighty-eight, he admits it. The look on his face as he divulges that that's the first time he's ever publicly acknowledged the darkest time in his life is tremendously moving.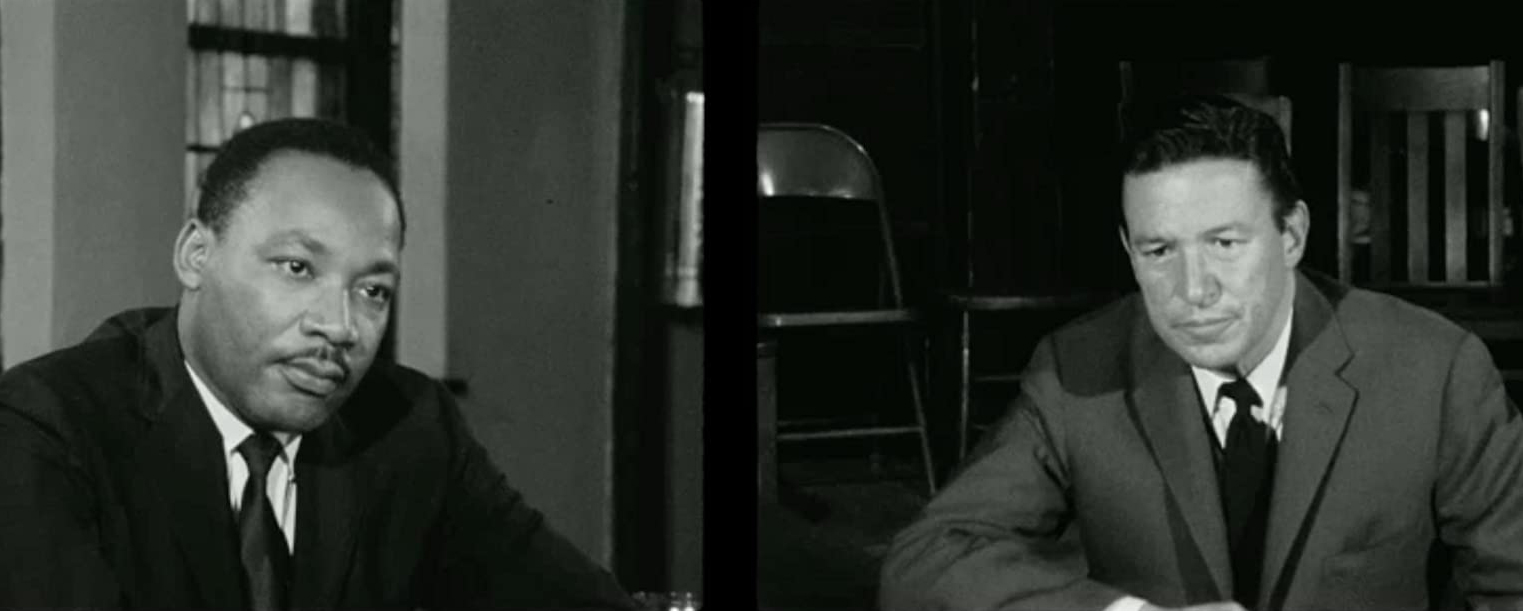 Personal revelations aside, the real selling point of Berman's excellent film is all the opportunities it gives us to see Wallace do what he did best. The host of names he interviewed – Martin Luther King, Malcom X, Richard Nixon, Barbra Streisand, Imam Khomeini, Kirk Douglas, and hundreds more – beggars belief. His best interviews, though, were with his fellow journalists. With Oprah, Johnny Carson, Larry King and many others, Wallace was even more combative than usual, and yet it seemed to come from a place of respect and professional curiosity rather than any real antipathy. It was when he questioned his fellow questioners that he was at his most alive. When, at a panel, a Wall Street Journal reporter says of Wallace's work, 'I don't think it's journalism, I think it's showbusiness,' the hurt on Wallace's face is painful to watch.
Whilst Mike Wallace Is Here appears firmly in the corner of its subject, the documentary doesn't shy away from the sad fact that Wallace has inspired as much – if not more – bad journalism than good. The film opens with Bill O'Reilly proudly stating that he's been called 'the most feared interviewer since Mike Wallace,' a statement that makes Wallace looks sad and a little disgusted. All too many haven't learned from the rigour and the research that went into his reporting, only the showmanship. Fox News owes a lot to his influence, and not just because that's where his son Chris has worked for the last seventeen years.
Allowing you to watch a master at work, without intrusion from talking heads or any other over-used documentary conventions, Mike Wallace Is Here is a thrilling look at a reporting legend and his complicated legacy.
★★★★★