There are good gigs, and then there are musicianly gigs. There are wig-outs and happenings, and then there are virtuoso displays. Tonight's show at The O2, billed as An Evening With Mark Knopfler & Band, definitely falls into the latter category. On an unfussy stage, ten men with the greatest songwriter of the 1980s at their head make such music as would cause the heavens (and this writer) to weep.
When you have a legacy as thickly gold-plated as Knopfler's, there are two options open to you: the Rod Stewart and the David Bowie. Greatest hits or new voyages. Again, there's little doubt tonight about which path Knopfler has taken. In a show that lasts well over two hours, we only get six and a bit Dire Straits songs, the remainder of the time taken up with new new ones, old new ones and old forgotten ones. Aged 69, it's a bold move. Dire Straits is the reason we're in this 'great big barn', as Knopfler calls it – fail to give the people what they want and you risk a riot.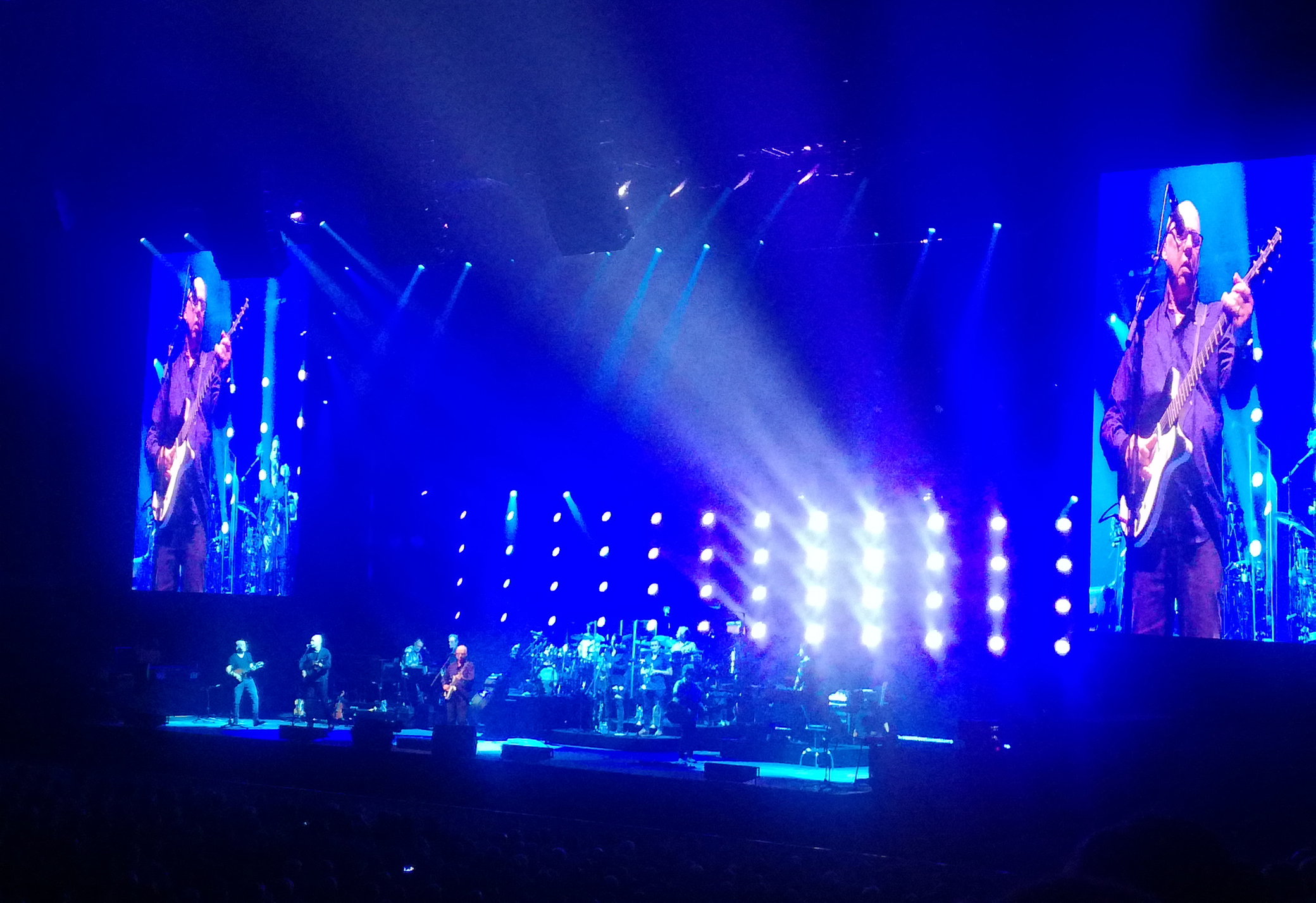 In the event, that thought never even crosses my mind. The band are spellbinding, the songs are almost all good (with the exception of the irritating faux-salsa of 'Postcards from Paraguay') and it's nothing short of a privilege to watch Mark Knopfler wail on that red Stratocaster. Like B.B. King with Lucille or John Lennon with his Rickenbacker, the sound that Knopfler's fingers make on a Fender is era-defining, and hearing it live tonight sends shivers down the spine.
His gruff-around-the-edges voice has deepened and matured with age like a fine whiskey, growing in character rather than thinning out. On the upbeat numbers it still has the crack and on the slow tunes it has a heart-rending closeness and weariness. He stands motionless in the eye of his enormous band, glasses on his nose, wearing black jeans and a dark blue shirt, never twitching so much as an eyebrow, looking for all the world like the feller who reads the paper in the local, and from his hands and his vocal cords the most gorgeous music pours forth. The man is still a wonder.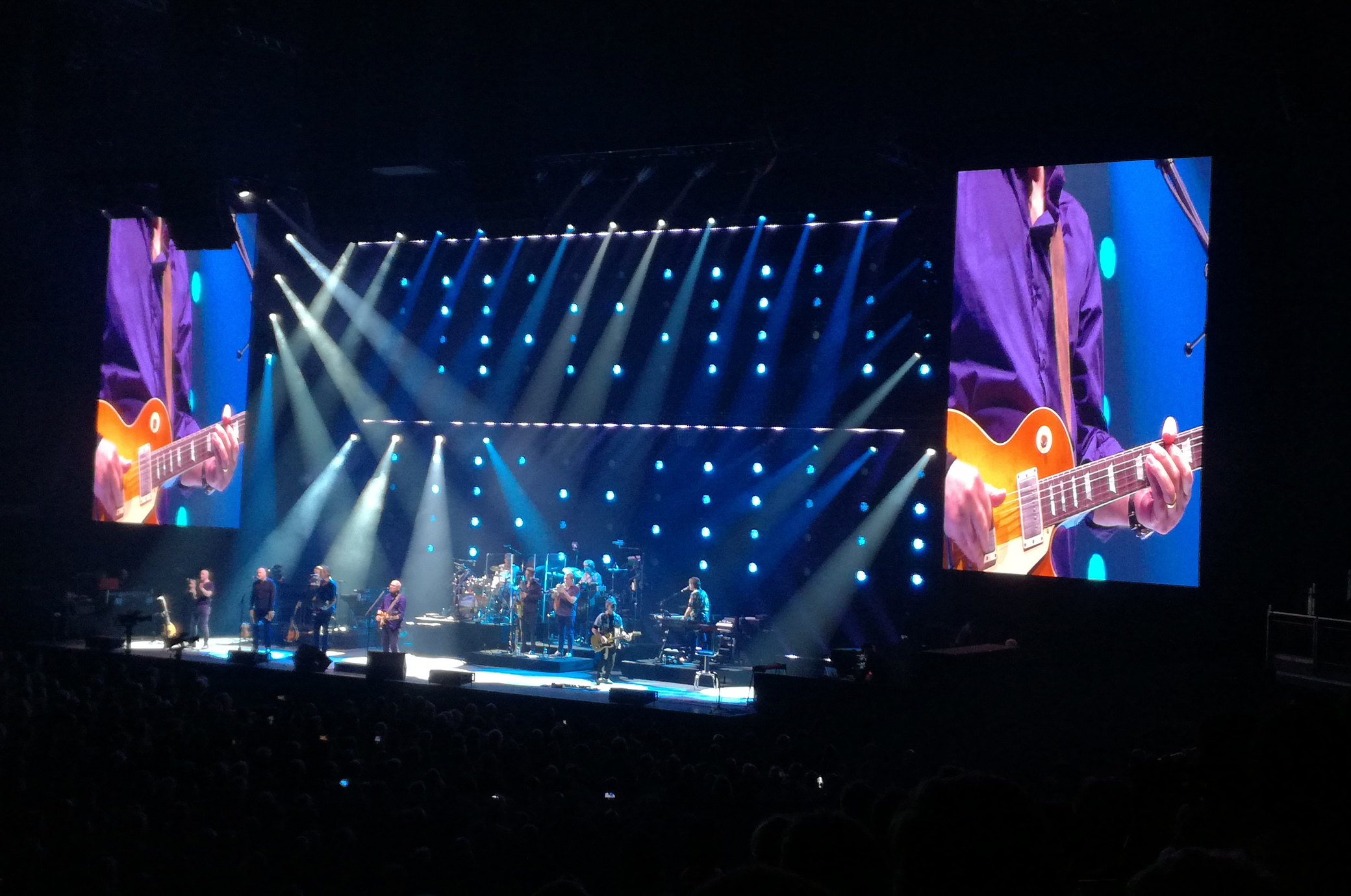 Knopfler's music has always sat cannily on the line between pop and prog, and that twin spirit is very much in evidence tonight. One benefit of having a ten-piece band, all of whom are apparently polymaths, is that you can stretch out the instrumental sections and give each their own virtuoso turn. So straight-ahead rockers like 'Why Aye Man' and 'Speedway in Nazareth' get extended bridges, Knopfler conducting his sidemen with his headstock, switching from trumpet to accordion to keys to saxophone as he feels. Celtic numbers like 'Heart Full of Holes' get a bittersweet treatment with pipes and whistle, and in every detail, on every new musical plane, the expertise and joy are clear to see.
And the Dire Straits material? Well, it's every bit as wonderful as you'd hope. We get a barnstorming rendition of 'Once Upon A Time In The West', a truly tear-jerking 'Romeo & Juliet', complete with none-more-80s sax solo, and a suitably glossy 'Your Latest Trick'. Predictably, though, it's in the encore that the real magic lurks. As the band return to the stage, skittering synths break out and the words that haunted 1985 ring out over the room: 'I want my MTVeeeee….' The music builds and builds, and then Knopfler, now sporting yer genuine sweatband, unleashes The Riff to 'Money For Nothing'. What a noise. What a man. What a moment.
Then it's 'Local Hero' to close, and all 12,000 of us have nothing left to do but beam foolishly. As the last drum-thumps ring out, Knopfler's face finally cracks into a smile, his head rolls back and he roars, Alchemy-style: 'thank yooooooooooooo….!'
An honour.