The director D Smith has a movie-worthy origin story herself. She spent years working as an in demand record producer, even garnering a Grammy nomination along the way. Then in 2014, she came out as trans, and it all went away. No-one would work with her anymore. She had to swap her Mercedes Benz for the couches of her friends. Broke and betrayed, she struggled for years working on her next project: a documentary about Black transgender sex workers. That film, Kokomo City, has been sweeping the awards on the festival circuit. And deservedly so.
Shot in luscious monochrome, Smith's directorial debut focuses on Daniella Carter, Liyah Mitchell, Koko Da Doll, and Dominique Silver. Conversing with the camera as they would a friend, the four talk with disarming frankness about what their lives are really like.
Although the trials faced by Black trans sex workers are enormous and daunting and often life-or-death dangerous (this was tragically underlined by the murder of Koko Da Doll, just a few months after the film premiered at Sundance), Kokomo City is admirable for its defiant, resolute optimism. Whilst the women certainly don't mince their words about the various travails they face, those travails are not their whole story. Every sexual interaction they have is not a trauma. Sometimes they start to sound more like psychologists than sex workers, each seeming almost fascinated by the reactions their transness elicits in their often intensely macho clients. Whatever topic the four are discussing, they remain thoughtful, honest, and often laugh-out-loud funny – you could easily imagine them as charismatic co-hosts on a TV talk show.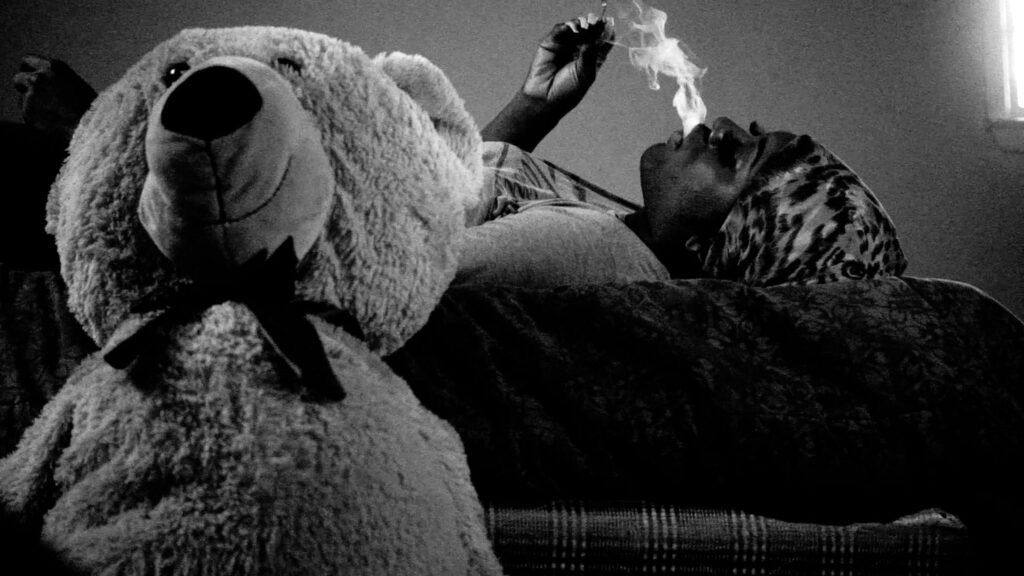 The only real disappointment here is that an unfathomably large portion of Kokomo City is dedicated to the perspective of songwriter Michael Carlos Jones. Because so much of the film becomes about the relationship between trans women and cis men, the inclusion of several of the latter as talking heads makes sense and is valuable; and for the most part, Smith keeps them peripheral. She knows who her stars are – except when it comes to Jones, who is gifted as much screen time as the four protagonists, and uses it to talk at puzzling length about how he's very attracted to a trans woman he's never met and feels conflicted about his attraction. That's all he has to say, and for some reason, Smith keeps returning to him throughout her movie just so he can say it again with slightly different wording. In a documentary that's only 73 minutes long, with such compelling women at its centre, to waste so much of that limited screen time on a cis man not saying anything of value feels both frustrating and counterintuitive.
Whilst there are few societal groups more maligned and endangered than Black transgender sex workers, the four at the centre of Kokomo City are not asking for pity, just for plain old respect. After spending 73 minutes in their company, listening to them speak their unvarnished truths, the likelihood is you'll be compelled to something else too: admiration.
★★★★
Kokomo City – In UK & Irish cinemas 4 August 2023