Are You There God? It's Me, Margaret Review

When 11-year-old Margaret (Abby Ryder Fortson) returns home from a fun summer at camp, she's blindsided by the news that she and her parents will be moving from New York City to the New Jersey suburbs, thanks to her Dad, Herbert's (Benny Safdie) promotion. It's also a big adjustment for her mother, Barbara (Rachel McAdams), who will be giving up her job as an art teacher to be a stay-at-home mum. Are You There God? It's Me, Margaret – based on the iconic 1970 book by Judy Blume – follows the family through their first year in their new home.
Although this is only the second directorial effort from Kelly Fremon Craig, she's already establishing a name for herself as a modern-day master of the coming-of-age comedy/drama. Whereas her first movie, Edge of Seventeen, focused on a girl on the cusp of adulthood, Margaret's main preoccupations are the onset of puberty: she and her new friends are obsessed by the idea of getting their periods and something to put in their newly bought bras (they chant that old classic 'We must! We must! We must improve our bust!' with an almost-feverish desperation). Their naivety is often played for laughs, but Craig always approaches Margaret's tentative first steps towards womanhood with affection and sensitivity; and of course, it helps that she's working from source material by the queen of the coming-of-age novel.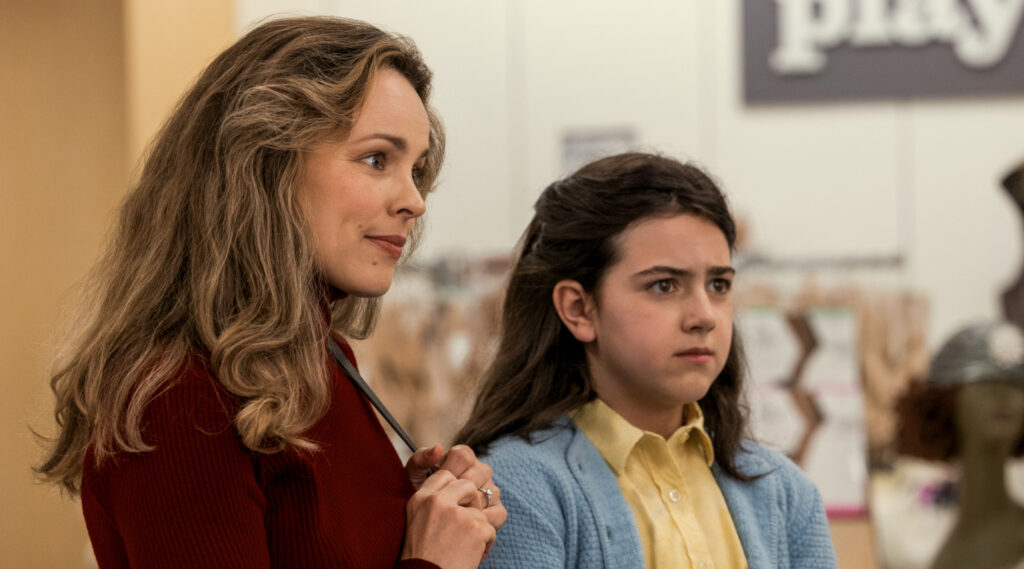 Whilst Margaret is the movie's titular heroine, the film is just as concerned with Barbara. She never talks down to her daughter, or tries to overly control her life. When she sees Margaret making a mistake – like heading off to school with shoes and no socks, an entry requirement for a secret club that leaves her with three friends but horrible blisters – she tries to nudge her in the right direction, but won't force the issue. She's there with the band-aids when Margaret needs her. And when we meet her parents, conservative Christians who disowned their daughter for marrying her Jewish husband, Barbara's gentle kindness gains an extra level of poignancy; she knows what it feels like to have a void in the parental department, and is quietly determined her own daughter never experience it.
Much of the reason Margaret works so beautifully is the rapport between the mother-daughter duo, as played by Abby Ryder Fortson and Rachel McAdams. Fortson (best known for playing Cassie in the first two Ant-Man films) is a truly prodigious talent, able to telegraph several different conflicting emotions at once on her silent-movie expressive face. And it's just wonderful to see McAdams in such a textured role for the first time in a long time; throughout the whole movie, she's positively luminescent. Adding to the multi-generational crew is the legendary Kathy Bates as Margaret's theatrical paternal grandmother. Though she's often profoundly unhelpful to Herb and Barbara – when she announces to Margaret the news about moving to the neighbouring state, she wails with overdramatic fervour 'I'm never going to see you again!" – she loves her granddaughter abundantly.
Warm, funny, and full of life, Are You There God? It's Me, Margaret is a wonderful adaptation of Judy Blume's seminal novel.
★★★★★
Lionsgate UK presents Are You There God? It's Me, Margaret – out on digital, Blu-ray and DVD now.