Drive My Car – BFI London Film Festival Review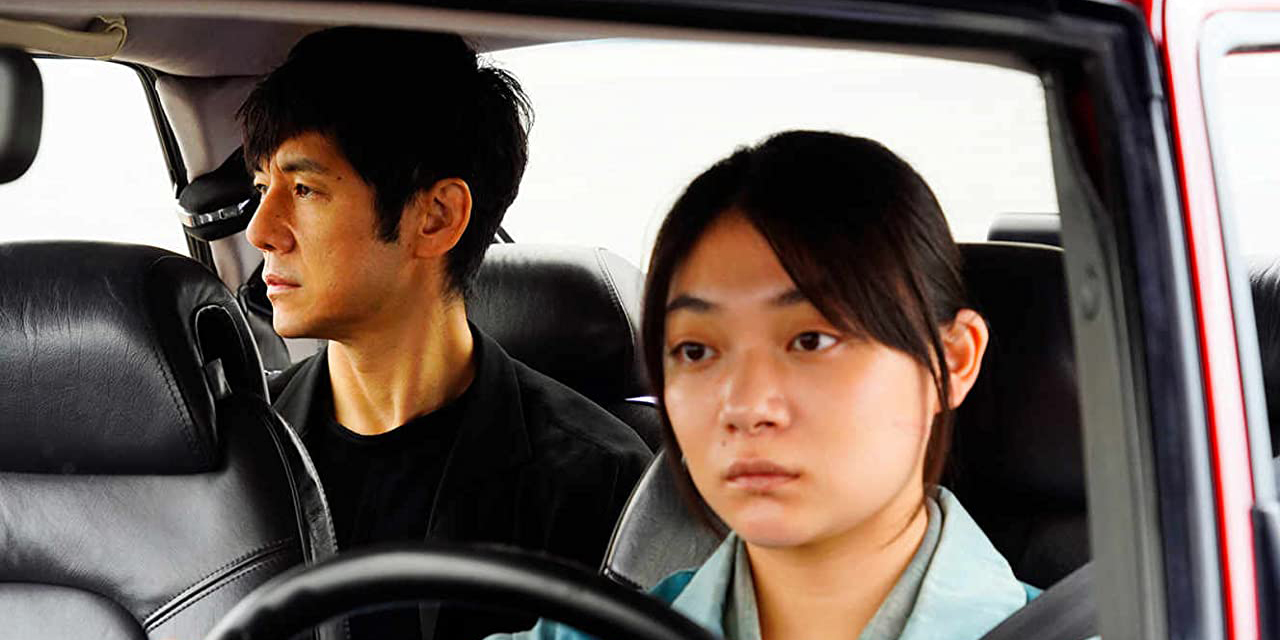 Actor-director Yusuke (Hidetoshi Nishijima) and his screenwriter wife Oto (Reika Kirishima) have been together for over two decades. Although the death of their four-year-old daughter near the beginning of their marriage took its toll, Yusuke and Oto are still in love, and are friends. They have a strong partnership. Then Yusuke sees Oto having sex with an actor from one of her projects. He doesn't say anything to her, and carries on like before. A week or so later, as he's leaving the house for the day, Oto asks if they can talk when he gets back. He agrees, but when he returns, he finds her dead from a cerebral haemorrhage.
All of this happens before the opening credits. The rest of Ryûsuke Hamaguchi's Drive My Car occurs two years later, when Yusuke is directing a multi-lingual theatre production of Uncle Vanya in Hiroshima. As Vanya, he casts the man he saw with his wife; a painful, almost masochistic decision. Whilst he's working on the play, he's driven around by the quiet young woman Misaki (Toko Miura), at the producer's insistence. At first, Yusuke resents not being allowed to do his own driving, but soon he forms a bond with Misaki that proves healing for both of them.
Drive My Car, based on a short story by Haruki Murakami, is a seemingly daunting three hours long. And yet that length never becomes an issue. There's so much going on here, numerous wounded people and complex themes, that any shorter a duration might well have risked a film that felt overly claustrophobic. At three hours, Hamaguchi has the necessary space to let the characters progress through the stages of their individual-but-linked journeys in a manner that feels organic, and involving. We learn what we need to learn when we need to learn it. It helps that the cast are uniformly exquisite; Hidetoshi Nishijima's lead performance – heavy with sadness, gentle, painfully vulnerable – buries itself into your soul.
Trying to capture the film's richness in a handful of paragraphs is impossible to do. Drive My Car is about so many things; grief, loneliness, creative partnerships, remembering, forgetting. A major theme is the difficulty and necessity and sheer beauty of communication. It's fascinating to watch Yusuke's Uncle Vanya, performed by actors who speak different languages, and yet are able to create a mesmerising production. Offstage, even though they do share a common tongue, the main characters have to work harder to achieve that level of connection – but when they manage it, the result is extraordinarily powerful.
Perhaps more than anything else, Drive My Car is about the deep well of sadness that sits inside everyone, and the way that sadness is destined to remain a little bit mysterious to all but the one that possesses it. We can't single-handedly fix the personal burdens of the ones we hold dear, just as we can't know for sure how heavy they weigh upon their shoulders; all we can do is sit beside them, listen to them, and continue to live together as best we can.
★★★★★