Dissecting: Phil Elverum (Part I – Introduction / The Microphones)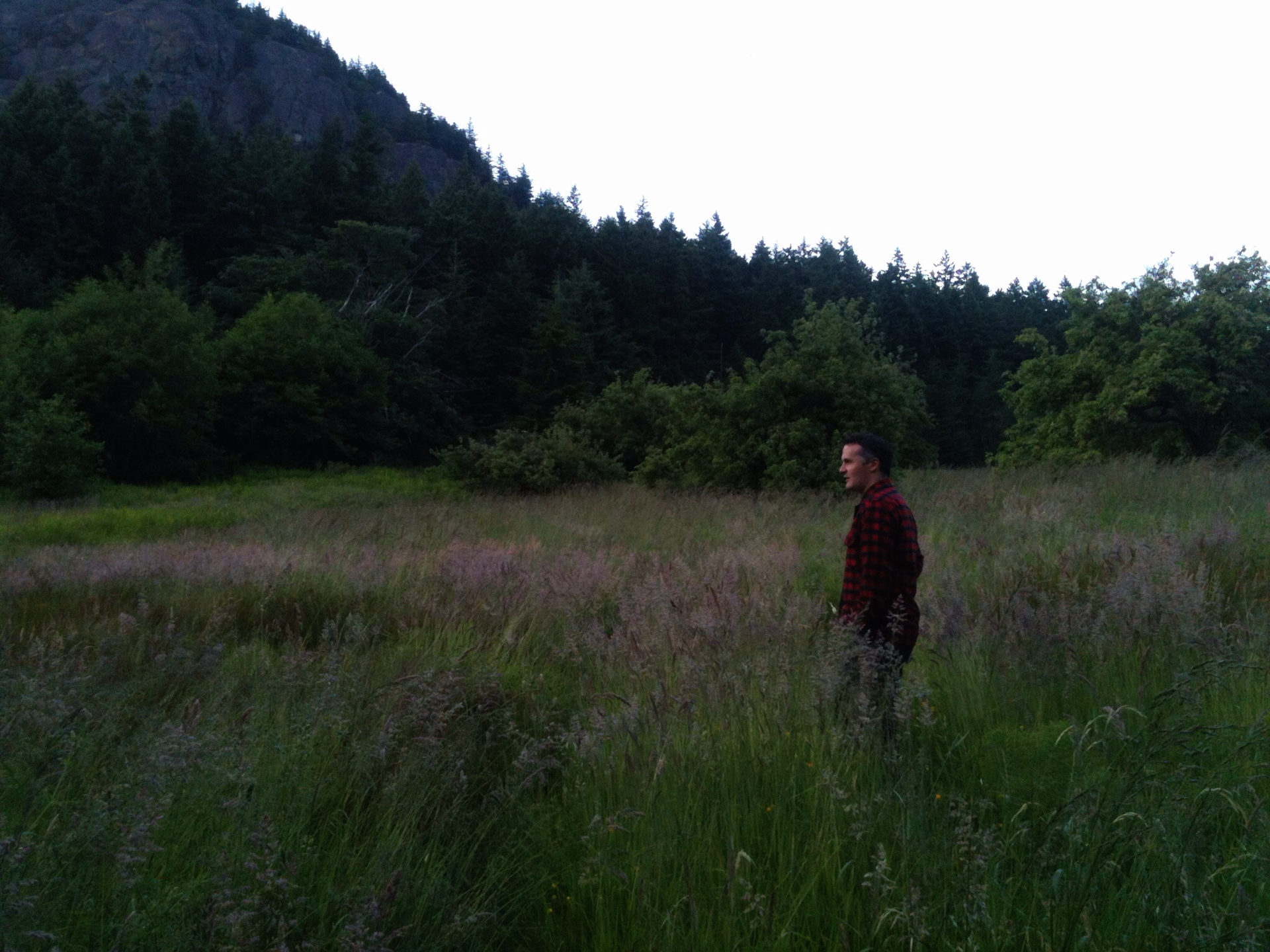 [divider]Introduction[/divider]
Phil Elverum has been making significant music for onwards of 20 years. Under the guises of The Microphones and Mount Eerie, amongst a few other fleeting carnations, Elverum's work has continuously enchanted his followers. The bulk of that impression stemming as a result of the man's often mysterious and melancholic aura.
It would be difficult to disagree, however, that the general image and understanding Elverum's fans have of him isn't articulated by his own design. The majority of his music tends to occupy a dreary and reserved tone, dressed with words evoking harsh contemplation or existentialism. Yet venturing farther past that is the Phil we see or hear from away from the stage or what's put on tape; a humble but deeply conflicted human being, very serious both over what he portrays of himself and of his privacy. Making the shadows his friends away from the music, Elverum had no flaw, no Achilles heel; his fans conjuring enough myth and superstition just from the lyrics of the songs themselves to fester any possible obsession with the artist behind them.
But last summer something changed. On July 9th 2016 Genevieve Elverum, Phil's wife of 13 years, sadly passed away following a short battle with pancreatic cancer. The tragic news forced Phil to remove the veil he'd kept over his family life up until that point, commencing with the unimaginable task of requesting monetary aid from fans to help meet medical bills as treatments extended further than anticipated. As donations increased to overwhelming heights out of deep respect for his struggling young family – the Elverum's have a young daughter, currently aged 2 – Phil, it appears, discovered the immense catharsis that accompanies the act of sharing.
Following his wife's death Phil has gravitated more toward remaining outstretched than retreating into any kind of hiding, seemingly at peace with the release it provides him. In March of this year he shared his eighth studio album as Mount Eerie. Titled A Crow Looked at Me, the record is comprised of eleven songs, each written and recorded at the family's home in tiny Anacortes, Washington in the US, from the very bedroom where Genevieve worked, fought and eventually succumbed. Crow occupies the DNA of a very different destination compared to Elverum's previous material, not stylistically as such, but both in focus and temperament. Here he is more lyrically direct than ever before, reliving his wife's decline out loud in hopes to placate his internal grieving. In death Elverum met his Achilles heel, and learnt, against all odds, to somehow embrace it.
Still the question beckons: who is Phil Elverum, really? We may have established that, due to his inclination to seldom accept interviews or reveal all that much about himself in instances when he does, any guesses are as valid as the next. Fortunate for us, then, there's a vast catalogue of his music readily available to indulge upon. Enough, at least, to land adequate insight.
[divider]The Microphones[/divider]
Born Phillip Whitman Elvrum in May of '78, Elverum (he annexed the second 'e' to match the name of a kindred Norwegian town much later on) became involved in music as early as his years in high school. Though long an avid fan of the arts, it was via his relationship with Bret Lunsford (founding member of iconic Washington Indie-pop trio, Beat Happening) that his more practical interactions with music initiated. Lunsford happened to run an independent record store in Anacortes – where Phil, at that point, was still living – and took Phil in as a Clerk for a period during the mid-90s. Elverum would return to the store after hours daily to toy and experiment with the instruments and recording equipment stowed out back, presumably hoarded there by Lunsford.
The results of these sessions would ultimately amount to a series of cassettes afforded by Lunsford's label, KNW-YR-OWN, and made available throughout 1997. Microphone and Wires & Cords both, much like their titles suggest, maintain their focus predominantly set on/around experiments with their affiliate equipment. However, even at such an early stage, predating any serious commitment, obvious within Elverum's material were the blueprints for an exceptionally expressive and articulate artist. His initial recordings, while utilising very little in the way of frequency of instruments or production expertise, were still home to some strangely touching, if somewhat innocent, songs.
---
Come 1997 and Elverum, drawn by the scent of its blossoming DIY scene and connections to friends he'd made, found himself living in Olympia. Because Phil was already acquainted with and releasing music with Lunsford, it didn't take long to attract the attention of Brett's fellow Beat Happening band member and K Records owner, Calvin Johnson. K Records, at that time (and still today in fact), was a noble grassroots institution, hugely influential on the global discourse of local punk and indie rock. Understandably, then, mirroring a victory akin to hitting jackpot for Elverum when Johnson later offered to sign him.
With access to the famous Dub Narcotic studio – a space converted by Johnson in the early 90s for himself, his roster and, in Elverum's case, anybody close at the time (FYI: early Modest Mouse albums, as well as Beck's One Foot in the Grave, were made here) – Phil was quickly able to polish up his work, re-releasing improved takes of the majority of early material via the compilation Tests, put out by Lunsford in '98.
Within another year Phil had his first release for Johnson and the K Records family, and was now operating under The Microphones. In what is also his first official studio album, Don't Wake Me Up exemplifies the sound of an artist who, recognising the boundless opportunity begging his embrace, wisely opted to take his work more seriously. In fact, the album jumpstarted a pattern to Elverum's techniques that, for the most part of his career, have remained relatively intact, with the focus generally more on honing concept than composition. Microphones recordings tend to be both unpredictable and abstract: nimble acoustic guitars, tape hiss, found sounds and swathes of distorted bass notes all find space to roam, often spliced together, somehow seamlessly, in the same one recording.
The pinnacle of Phil's collagist experiments, however, is surely best exhibited on 2001s Blood, a record constructed from various miscellany, as well as multiple song alternates and bare reprisals that draw heavily from Elverum's then forthcoming record, The Glow, Pt.2. Here, listeners can ingest tracks solely dedicated to horn solos, humming and manipulated hand-clapping, not to mention Phil casually addressing a live audience over the probable difficulty of cleaning up another humans' blood post-murder. Yikes.
Furthermore, with the bulk of the material minimal and intimate – at least on ideas that have the contents to qualify as "songs" – Phil's voice is naturally panned a yard further into view. Pairing him with lone piano or acoustic guitar, we're easily able to decipher his self-revered "smooth yet shaky" delivery as he runs through unequivocally morbid takes on relativity and coming-of-age. As heavy as that may propose, it marks the first obvious occasion where Phil opted to really let his listeners in (Little Bird Flies into a Big Black Cloud, that followed just a short year later, explored that avenue much further), and, in doing so, opened up an additional context with which to merit his work. Newly accustomed to the depths of its creator, better still one who appeals to the inner-strife and displacement of those brave enough to question a thing such as purpose, Microphones fans quickly escalated in numbers. Elverum, on the other hand, did the only thing he knew how: he went further into himself.
---
In so far as Elverum's album material goes, the overriding themes – as well as the lyrics themselves – show great concern in utilising active descriptions of our planets' elements to dictate metaphors for personal struggle and perspective. Where his fascination for the natural world stems has never been formally explained. However, given that Anacortes is a relatively isolated fishing town on the collar of Washington state, surrounded by gulf sea's, islands, and spotted mountain ranges, it's more than probable that it was born simply from familiarity. In retreating to that which is raw and foundational he evokes a greater sense of heaviness in what exists at the heart of his messages; for example, we identify the greatest definition of brightness in our sun, coldest isolation in our moon, and that upon witnessing grand peaks or landscapes we're most susceptible to pondering notions of insignificance. Whilst not matter-of-factual, that he allows his feelings and experiences to be judged by forces we all know and understand, renders the effect just as powerful.
Fast-forward a few short months after Blood to the fall of 2001 and Elverum is releasing his third, and arguably still his most talked about album, The Glow Pt. 2. Arriving less than a year on from his sophomore full-length, It Was Hot, We Stayed in the Water (omitted from greater analysis not because it isn't a phenomenal effort in its own right, it is, but because in the context of the feature it's considered more a stepping stone than anything definitive), The Glow Pt. 2 is peak Microphones, so in that it presents itself as embodying everything you felt Elverum had been working toward hitherto that point. And then some.
First and foremost, the song writing and performances exhibit incredible development. Creatively he's far more refined yet ruthless, enabling the songs to not only identify and meet their individual ends, but to flourish in the journey. Speaking to Free Williamsburg shortly after its release, Elverum commented on his decision to learn to embrace, rather than replace, the weary resources at hand to him for the album: "It's not like I am into having crappy instruments and making crappy sounding records. I just have crappy instruments and I find ways to make the "crappiness" so huge and impressive that it sounds more rich and beautiful than "non-crappy" instruments".
Just as impressive is the renewed production which, both innovative and meticulously sculptured, illuminates Elverum's rapid development as a sound artist and engineer. His love for the process has never exactly been a secret, mind you, given that he went so far as to name his band after it. On review of comments he made to press during its (unsurprisingly) limited promotional cycle, The Glow Pt.2 proved that opinion to be no different, with Elverum frequently explaining his intention to craft its design to benefit quality headphone users. Through private, attentive sittings of the album listeners are more adept at identifying – and no doubt appreciating – its vast sonic landscape in firmer detail. Present techniques involve eschewing the traditional practice of overdubbing in few instances, choosing instead to generate a surround environment by compartmentalising individual notes or phrases to separate tracks, then arranging them serially to perform the melody. The effect on the music itself is oddly tasteful, not to mention new, with a similar body fulfilled via other trials such as call-and-response panning ("Instrumental") and desynchronised multi-tracking ("I'll Not Contain You").
The Glow Pt. 2 also features the first formal introductions to the black metal, ambient and avant-garde influences that would become increasingly familiar with Elverum's music as time went on.
The latter of those influences happened to be particularly vested in Elverum's subsequent project, and final entry as The Microphones, the Mount Eerie LP. Following the form of its predecessor, Mount Eerie found Phil again verging on a further creative peak, this time tackling the ambitious aim of scripting his new work to run more like a dramatization than a simple collection of music.
Played out across five acts, the album's narrative follows a fictional Phil on an unsettling journey from birth through to death and, subsequently, the afterlife. On passage Elverum finds himself subjected to extensive internal questioning, analysing his decision to favour isolation from mankind in the first instance, particularly given his inferiority when paired against the unrestrained powers of his new home in the remote wilderness.
As far as execution goes, it's evident that Phil not only put great faith in himself to pull off an industriously composed, allegorical concept, but ultimately made sure to have great fun in doing it. The music is purpose-built to imitate the personality of its events, shifting in both volume and dynamic as and when it demands, arousing notions of theatrical intent. The vocals, unsurprisingly then, are equally blasé. Not content with the presupposed lack of conviction his own impersonations might have mustered, Elverum sought the assistance of a number of friends to pitch in, either as harmonisers to his own parts or to assume entire characters/entities of their own – highlights include K Records founder Calvin Johnson as the voice of the Universe, and Kyle Field as "The Big Black Death" that sends Phil to his mortal end.
Mount Eerie culminates with Phil's spirit recognising the face of the Universe to be identical to that of his own and, in turn, learning to accept that he – and we all, in fact – are masters of our own fate. It tells us that the summit of our own potential be only as high as we choose to build it. Our protagonist, it would seem, had decided he still had a lot more steps to plot.
Part II of Dissecting: Phil Elverum will follow soon.