Campari For Breakfast – Sara Crowe Review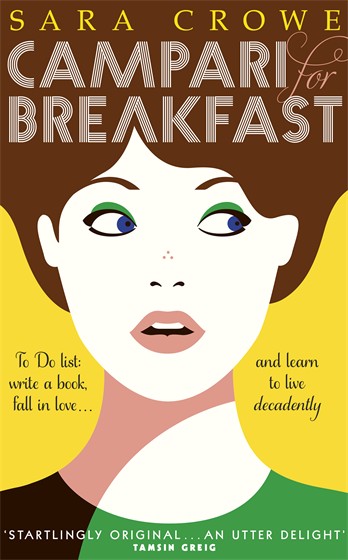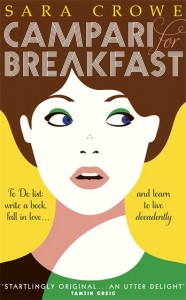 Released: April 2014
Television, film and stage actress Sara Crowe has many an accolade to her name, most notably an Olivier Award for Best Supporting Actress. Crowe's most recent accomplishment, however, comes in the form of her terrific debut novel, Campari for Breakfast, a heart-warming and funny coming of age story that guarantees to secure a smile on the reader's face by the end.
Just about as quirky and British as a novel could be, Campari for Breakfast is wonderfully original and much deeper than the cover and title let on.  It centres on teenager Sue Bowl, whose world changes forever when her mother commits suicide, leaving Sue with a deep sense of loss and confusion. Rather than stay with her father and his dreadful new girlfriend Ivana, Sue decides to go and live with her eccentric and much older Aunt at her crumbling ancestral home, Green Place.
Sue dreams of becoming a writer and falling in love, not necessarily in that order, as she struggles under the sadness of her mother's death. With the help of a loveable bunch of oddballs, a mysterious 'tramp' and the backdrop of a once beautiful now rickety house, Sue learns the true meaning of friendship, the importance of family and the significance of the phrase, 'things aren't always as they seem'.
The charm of Campari for Breakfast comes in the form of Crowe's warm and exceptionally ordinary protagonist, Sue. This could be your next-door neighbour, your best-friend, perhaps even you when you were younger. Sue has all the mundane, over-dramatic and over-imaginative thoughts of a teenager who's trying to make her mark on the world but doesn't fully know who she is as a person yet.
Sue's outlook is often very funny because everything feels so immediate and important to her – particularly when she falls in 'love' with the beautiful but rather stupid Icarus, who she sees as her everything. Sue's love affair with a photo of Icarus' eye makes for real belly laughs because that's what girls do. They fall in love with pictures of boys, believing they really know the person looking back at them. He feels the same, he just doesn't know it yet, right girls? This is the mind-set of a teenage girl and Crowe has captured the urgency and bittersweet hopefulness of youth perfectly.
Running parallel to the comedy of Sue's situation at Green Place is her on-going struggle to accept the tragic circumstances of her mother's death, in particular the finality of it. As Sue notes, life doesn't just stop when someone dies, it continues as it always did. Birds keep singing, the world keeps spinning, it's almost as if nothing happened. Sue's resentment towards her father for moving on so quickly is like an open wound, seeping with every fresh blow that comes as they make plans for a life her mother will never have. The subject is handled delicately and Sue's desperation to find a suicide note from her mother is genuinely moving.
At the heart of Campari for Breakfast is a message about the importance of family – whoever they may be – whether blood-relatives or a merry band of oddballs who come into your life rather unexpectedly. Finding people who accept your faults and imperfections, who trust your words and push you to be great – this is what life is about. Sue's relationship with her Aunt Coral, who's also morning the loss of Sue's mother, develops into a very touching friendship over the course of the book. These are two women at very different stages in their lives, who find comfort in each other's company and who find a common interest in writing and use it as an outlet for their frustrations and unspoken thoughts.
Aside from Sue and Aunt Coral, the novel is full of memorable characters – some you fall in love with and some you instantly hate. Need I mention finishing-school educated Loudolle, whose name says it all? Including extracts from Aunt Coral's Commonplace Book is a clever way of taking us back through past events without constantly switching time-lines in the conventional way. It's much easier to absorb and allows the story to flow.
Intelligent, elevating and witty, Campari for Breakfast is a real treat for readers old and young. It's not at all what you might expect and that's the best thing about it. Described as a cross between I Capture the Castle and Love Nina, Sara Crowe's novel leaves you with a feeling of optimism, a yearning to join a writing group and a need to visit the fictional Green Place with all its eccentricities.
★★★★