Book Review: Vintage 1954 by Antoine Laurain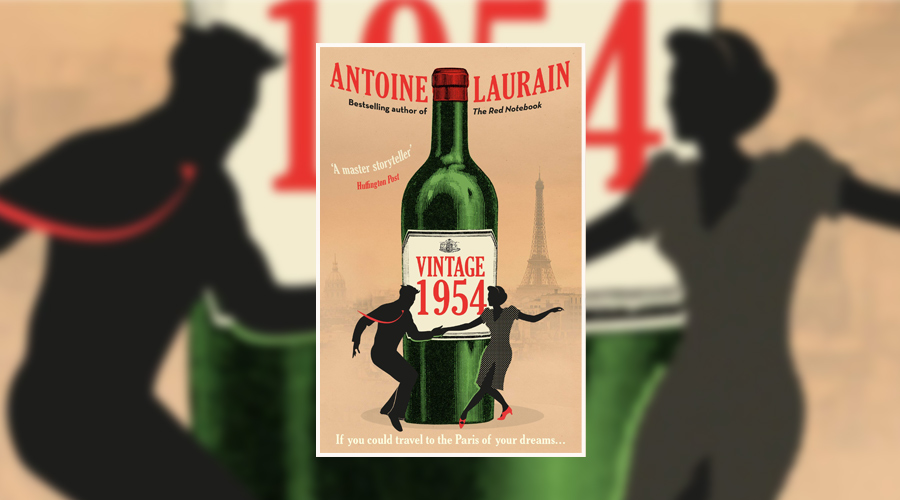 Antoine Laurain's Vintage 1954 is the very definition of a short and sweet book. At just 208 pages, it's a warm-hearted and witty novel that manages to be both effortlessly readable and charmingly profound at the same time. Combining time travel and romance with a retro setting and a cast of eccentric characters, Vintage 1954 throws four residents of a Parisian apartment building together and sends them on a nostalgic journey back to the mid-50's.
When Hubert Larnaudie finds himself locked in his cellar during a robbery, he's rescued by Airbnb tenant Bob from Milwaukee, who's embarking on the trip of a lifetime whilst his wife lies in a coma across the pond. Along with fellow residents Magalie and Julien, Hubert invites Bob back to his apartment for a celebratory drink. The four disparate characters innocently enjoy a bottle of vintage Beaujolais, toasting to "France, good wine and friendship". However, when they wake up the next day, Hubert, Bob, Magalie and Julien very quickly realise they've gone back in time to the exact year the wine was made; a year without smart phones, euros, Wi-Fi or, thankfully, Brexit.
After the initial shock wears off, the four begin to enjoy the bygone era they've been transported to, delighting in the simple charm of the French capital without the stresses of modern technology. They visit historic landmarks, meet future celebrities before they became famous, and interact with relatives in their younger years. There's even a long-lost treasure side plot to keep Hubert busy as the quartet try to figure out how to get back to the present day. Their adventure takes them from cafes and bars to markets and quaint shops, eventually landing in the vineyards of Chateau Saint-Antoine.
Laurain is an author known for his 'signature charm' and Vintage 1954 is a little piece of literary escapism filled with subtle humour, wistfulness and perceptiveness. As our four characters experience the 50's, they're given the opportunity to meet icons of the past. Antiques restorer Magalie gains the attention of François Truffaut as he discusses film with his associates in a cafe, whilst mixologist Julien converses with Audrey Hepburn as she tastes one of his new cocktail creations in a bar. But the most entertaining joint cameo is Jean Gabin and Édith Piaf, who play cupid with Magalie and Julien over a chic Parisian dinner. These scenes are underplayed and as a result, entirely believable.
As the central foursome, Hubert, Magalie, Julien and Bob couldn't be more different. Hubert is straight-laced and old-fashioned. Magalie is nicknamed Abby for her likeness to Pauley Perrette's forensic scientist Goth in NCIS. Julien is shy around women and has a secret passion for UFO sightings, something he's reluctant to share with anyone for fear of them labelling him weird. Then there's Bob, an engine designer for Harley Davidson and the most unassuming of the four, who's voyaged across the world on his own, praying all the while for a miracle cure for his wife. Yet despite their differences, these four characters form a friendship that instantly feels natural.
If sci-fi isn't your genre, don't be put off by the time travel element of this story. It actually plays a fairly minor part in the plot, despite being the vehicle to get the characters from one place and time to another. The science of how it happens is less important than what the characters learn from their shared journey into the past. In the end there are many words to describe Vintage 1954 but ultimately just three to sum it up: an utter delight.
★★★★
Vintage 1954 is published by Gallic Books on 20 June 2019