Book Review: Very Nice by Marcy Dermansky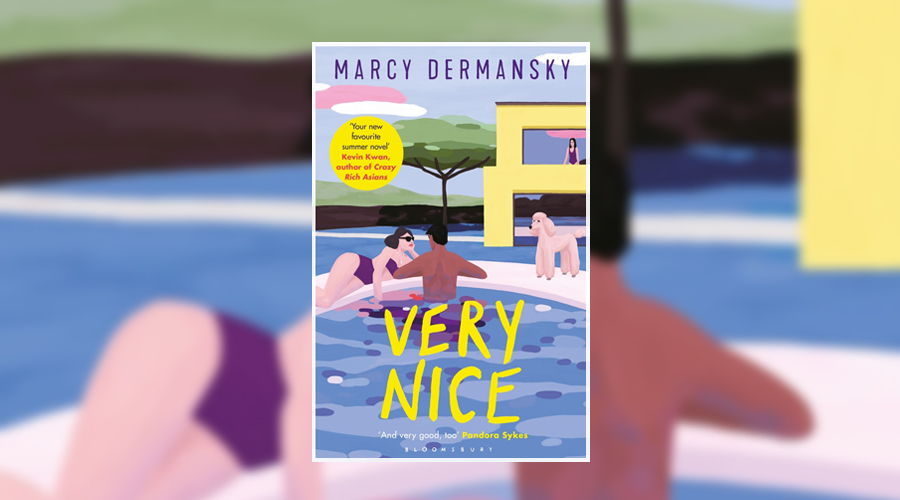 Looking at the cover of Very Nice, you could easily be fooled into thinking it's just another glamorous summer book full of sun, swimming pools and romance. Whilst it does feature all three of those elements, Marcy Dermansky's latest is a cut above your average poolside read. Smart, stylish and sizzling with sharp wit, it's the story of what happens when a student falls for her professor, he falls for her mother, and everything gets – as you can imagine – just a little bit complicated.
Set against the backdrop of a sweltering summer, Very Nice is primary told from three main perspectives. Rachel is in love with her creative writing professor, Zahid. She never intended to kiss him but he didn't rebuke her when she did, which leaves her with the all-consuming notion that he shares her feelings. With his exotic looks, his broken personal life and his failure to pen a follow-up to his lauded debut novel, Zahid's star power is on the decline. He never meant to lead Rachel on but he was sad and lonely and she was pretty.
Then there's Rachel's mum, Becca, who's struggling to adjust to life as a middle-aged singleton after her husband left her for a younger woman. In actuality, she's more upset about her beloved poodle dying than her husband leaving, which is why she feels a mix of bemusement and joy when Rachel returns for the summer with her professor's eerily similar poodle in tow. Becca and Rachel have a strained, awkward relationship, which is only made worse when Zahid arrives in their affluent town to check on his dog and instantly makes himself at home.
Two additional perspectives add another layer of complexity to the uncomfortable central triangle. The fourth perspective is Rachel's father, Jonathan, who's suffering with a painful STD and realising too late that the grass isn't greener on the other side. Whilst the fifth viewpoint is Khloe, Jonathan's whip-smart, take-no-prisoners employee, who's obsessed with trying to get her childhood babysitter – who also happens to be Zahid's new editor – into bed. It's a complicated, twisted recipe for disaster and it plays out deliciously.
Very Nice is an addictive tale of complex family dynamics, entitlement, money, race, sex and secrets. It's also a story of betrayal – between husband and wife, between mother and daughter, between people in positions of power and between lovers. It's subtly written, so you don't realise just how cleverly and tautly the various plot strands are weaved together until much later in the book when all the different players in the tale begin to collide. Split between Connecticut and New York City, it slowly draws you into the drama and within no time you're embedded in the characters' salacious relations.
What's so impressive about Dermansky's writing is how vibrantly her characters jump off the page. They all have distinct voices, so there's never any confusion over whose perspective you're reading from – a recurring problem with multi-narrative novels. Yet the one thing each of the characters have in common is how self-absorbed they are in their own desires and rejections. Zahid is selfish and narcissistic, a thoroughly unlikeable man who somehow manages to enchant intelligent women. It's staggering how highly he thinks of himself and his disregard for other people makes him more and more ugly as the story goes on. By the end you're practically begging Dermansky to give this vain parasite his comeuppance.
Slightly more likeable are the women of the story, who allow Zahid to take advantage of their wealth and loneliness. Still suffering the naivety of youth, Rachel is sulky and silent. She yearns for male affection, rebuffs her mother's love and doesn't have any real friends. Becca has an inkling that her daughter might have a crush on Zahid but she chases the hunch away because she needs the morale boost of a younger man finding her attractive. It's not the best mum move but none of the characters in this book think with their heads. They're flawed, led selfishly by lust and longing, and their decisions have ripple effects.
Racy, darkly funny and compulsively readable, Very Nice is an intelligent beach read with a difference. Don't let the summer pass by without indulging in Demansky's dry humour and satirical take on modern life in America.
★★★★
Very Nice was published by Bloomsbury on 2 July 2019