Book Review: The Setup by Lizzy Dent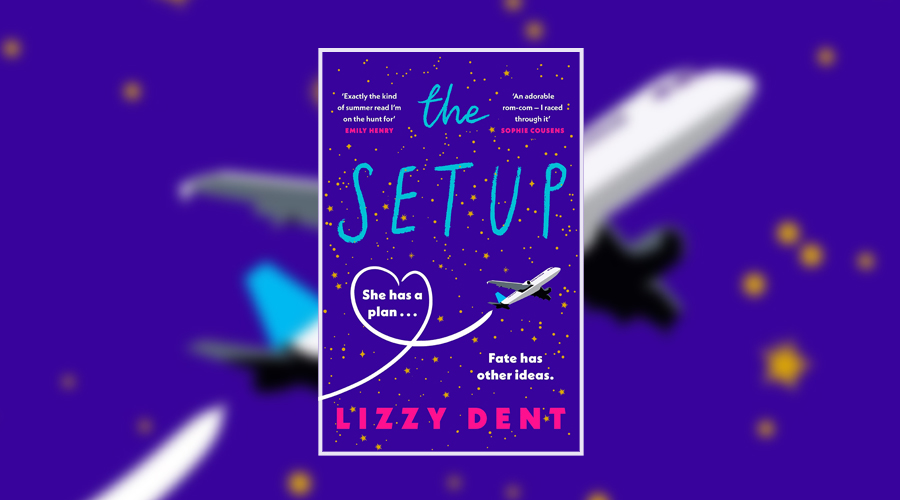 When it comes to romcom novels about transformative summers, Lizzy Dent is fast cornering the market. Her first adult novel, The Summer Job, unfolded over a summer spent at a Scottish hotel as Birdy figured out life, love and mistakes in the Highlands, and now The Setup has arrived with another entirely relatable lead in Mara, who has three months to get herself ready for a date with destiny.
If it's a bit of a niche, then it's definitely one that works. Dent uses the uninterrupted stretch of time that the summer months offer to really dig down into her main character's life, relationships and desires and carefully builds up a narrative worth investing in.
In The Setup, that narrative comes in the form of an astrology-loving main character who's lost her way in life and Mara's story begins in Budapest where she's found herself on an accidental solo holiday. Feeling adrift, lonely and a little out of her depth, Mara jumps at the chance to get her future told by a real clairvoyant and is overjoyed when she's told that she will meet the love of her life "imminently" – so you can imagine Mara's surprise and delight when the exact man that has just been described walks through the door the very next moment.
For Mara, this is undoubtedly fate intervening. But the fortune teller also said Mara needs to fix a few things in her life first, so Mara gives fate a push in the right direction and, impersonating the fortune teller, tells the man that his destiny will be waiting for him in a pub in the English seaside town of Broadgate on the last Friday in August. The fib gives Mara time to turn herself into the confident, stylish woman she's always wanted to be while also giving her the chance to address a few other things that aren't perfect in her life too, like the crumbling Lido where she works, her fractured relationships and her growing feelings for her handsome new flatmate. Mara has just three months to pull off the transformation of a lifetime, but what if her destiny is sending Mara in a different direction?
I get a rush of pleasure at the thought of it, which is replaced almost as quickly by worry. This idea is tempting the wrong fate. And yet I want to do it."
As with many romantic comedy conceits, the premise here is a bit far-fetched. Fortunately, Dent uses this slightly out-there set up as a worthy starting point to explore all the depths of Mara's character, establishing her as a character that seeks comfort in horoscopes and fortune tellers as a way of helping her make decisions. It's right, then, that Mara chooses to believe in fate and destiny so resolutely that she took such a wild chance in the opening chapters and it's her sincere belief that she has indeed found 'The One' in Austrian cellist Josef that gives credence to the idea that it would become the driving force of the novel, even as the characters around her gently cast doubt on the idea.
With these pieces in place, Dent is able to convey the image of Mara as a thirty-something woman who lacks confidence and self-belief, creating a highly realistic character that many readers are sure to relate to. Throughout the novel, Dent slowly strips back Mara's defences until it becomes clear that she's been plagued by insecurities, anxiety and the tendency to overthink through most of her adult life, becoming so wrapped up in how others see her that she's afraid to make new friends, open up to her family and speak out in favour of her own good ideas. Considering this, Mara's growth throughout the novel is a joy to see and inspiring in and of itself. Even if you find Mara's character to be unlikeable, flighty and scattered in the first instance, there's no doubt that you'll be caught up in her story anyway, shaking your head when she falls into old habits and cheering her along when she starts to believe in the courage of her own convictions too.
As well-earned as this character development is, however, it does mean that The Setup gets off to a slow start and the momentum doesn't really pick up until over halfway through. Mara spends a lot of time in her head and repeats herself often, making for a frustrating narrative and an uneven structure too, with the quieter, more introspective first half feeling at odds with the much more quick-paced final few chapters. In fact, the entire ending feels a bit rushed in general; major narrative points and conflicts are resolved much too quickly, and it would have been nice to see the novel go a bit deeper into showing those resolutions or providing a bit more closure.
For the most part though, The Setup is an easy summer read with a colourful (and brilliant!) cast of supporting characters, lots of fantastic movie references and an uplifting story at its heart. Once again Dent brings her story to life with warmth and humour, and Mara's growing relationship with her kind, funny and sexy flatmate Ash is beautifully told too, serving as a firm reminder of why falling in love in the summer time is such a time-honoured romance story tradition.
If you're looking for a fun read with a sweet romance and a unique and playful look at destiny, fate and whether love can be written in the stars, then The Setup is a novel that's sure to put a smile on your face.
★★★
The Setup is published by Viking on 9 June 2022