Book Review: The Minute I Saw You by Paige Toon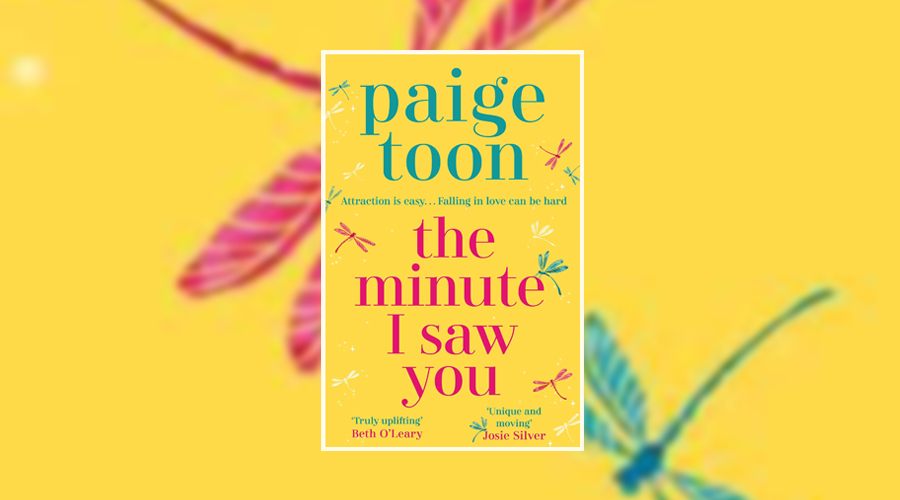 Picking up a new Paige Toon novel is like catching up with an old friend, and her latest book was certainly no different. The Minute I Saw You is an engaging, uplifting and emotional read that sizzles with chemistry and warmth from the very first page – and Hannah and Sonny's story is definitely one that you won't easily forget.
From the moment Hannah and Sonny meet, there's an instant attraction and when she finds out that the sexy and confident man that she's irresistibly drawn to is only in town on a holiday and doesn't do long-term relationships, relationship-shy Hannah is more than happy to enjoy nothing more than a brief fling. But before they even get a chance to kiss, Sonny is rocked by a life-changing event and is committed to making some big changes in his own life – ones that mean he's definitely not interested in romance.
As Hannah and Sonny decide to carry on as just friends, they soon settle into a warm and easy friendship that plays out over a summer filled with lazy days on the River Cam, trips to the beer garden with their wonderful group of friends and nights in bingeing the latest Netflix sensation. But as summer heats up, it's clear that the chemistry between the pair isn't going to go away any time soon. Soon Hannah and Sonny are both left questioning their reasons for keeping the other at arm's length, but if they open up and break through each other's barriers, will they still like what they see on the other side?
From the first sparks of their attraction in the opening chapter, Hannah and Sonny's love story is the driving force of this novel and every delightful, frustrating and honest stage of its development is documented in beautiful, heart-wrenching detail. This is a slow-burn story at its finest and it's in this book, more than perhaps any of her others, that Toon takes great pleasure in unfolding the will-they-wont-they romance of it all in all of its deliciously tense moments, with page after page of charged situations, casual flirtations and heightened emotions that the reader lives, breathes and feels right alongside the couple themselves.
"I'm certain the warning he gave me earlier was genuine, so this feels a whole lot like playing with fire. If we get burnt, the blame is squarely in his corner."
And, of course, one of the reasons it's so easy to get swept up in Hannah and Sonny's story is because of Hannah herself, the calm, easy-going and affable voice guiding us through every page. Hannah's character is one you connect with immediately; she's at a period in her life where she feels adrift and is figuring out what she wants to do next, and it's hard not to relate to at least some element of Hannah's friendly nature, especially her desire to have a good time and frequent trips to the pubs to enjoy a Prosecco or two in the sun.
Thankfully, Hannah's fleshed-out character is a trait that's realised in all of the novel's major players, who all feel like completely real people with their own lives and motivations, rather than just popping up to serve the needs of the main couple. Matilda and Archie soon become the close friends you wish were your own who are always there when you need them – whether that's for a heart-to-heart or a good time – and Sonny is also a strong, solid character within his own right, with frustrations, desires and a drive to do better. Even Bertie the dog feels like he could jump off the page and into your lap at a moment's notice.
For all the fun, friendships and romance, though, Toon has never been afraid to embrace the messier aspects of life in her novels, and The Minute I Saw You is built on the exploration of some difficult subjects too. To say too much would be to ruin the story, but suffice it to say that Toon addresses the trauma, mental health and counselling aspects of the novel with sensitivity, and it's in this careful storytelling that Toon's brilliant, vivid and complex characters truly come to life. Toon masterfully intertwines the heavy with the light here, and wanting to learn more about Sonny's life and background right alongside Hannah is a key part of enjoying the unfolding of this relationship as it moves forward. Hannah, too, slowly peels back some of the walls she keeps up and shines a light on some unexpected and genuinely surprising secrets of her own as the novel goes on – which, again, is enjoyed all the more within the twists and turns of the narrative.
The Minute I Saw You is the perfect summer read, offering a book that's as smart, funny and sexy as it is tender, heartfelt and poignant. With its glorious summer setting, warm and engaging characters and a well-developed romance you can root for, Paige Toon's latest novel is the perfect dose of escapism – and the fact that it also delivers a moving and uplifting story about love, happiness and trust just means you'll love it all the more.
★★★★★
The Minute I Saw You is published by Simon & Schuster on 6 August 2020