Book Review: No Good Deed by John Niven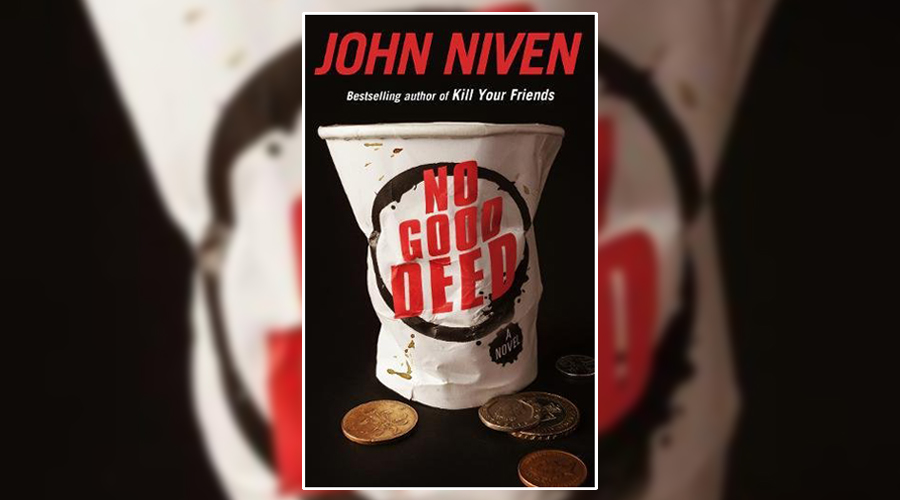 I'll come out with it straight away, no preamble. No Good Deed is one of the most entertaining books I have read this year. The high-concept premise goes like this: Alan is an affluent journalist and restaurant reviewer with a perfect family and career. One day he runs into his old school friend, ex-rockstar Craig, in the unlikeliest of places – a seedy street near Soho. Craig is destitute and homeless which compels Alan to help him out by offering a place to stay and monetary help. Tables are turned quickly when Alan realizes, a little too late, that Craig is intent on settling old scores. Simmering resentments between the old friends soon break the surface and mayhem ensues.
A certain je ne sais quoi is needed to make such a simple plot work and thankfully this book has it in heaps. The writing is consistently engaging and whip-smart. I havn't read Niven's books before but I've been told that few people write about men as well as he does and going by this book, I will have to vehemently agree. The male narration is pitch-perfect truthful and self-deprecating with an irreverence seldom seen in books written by male authors. Society regards men who have ambition and drive as positive role models but Niven shows the flip side of that often revered trait – unbridled one-upmanship and jealousy among men.
"Alan looked through the glass wall and across the office to the news section of the paper, where serious men of his age were doubtless debating the hot, breaking political stories. And here he was – up to his teats in pure monkey tennis. He looked around the room and guessed that, collectively, the money spent on the secondary-school educations alone of the five twenty- and thirty-somethings in here – the fees to Westminster and St Paul's and Wycombe Abbey and God knows where else – probably totalled well over a million pounds…it had taken a few million quid – and a whole bunch of nepotism – to put this room together, a room that was now focusing its discursive powers on "The Best Music Festivals for Food with Hugh Fearnley Whittingstall".
There is always an undercurrent of leverage and competition in every long-term friendship but while books on the complexities of female friendship are all the rage nowadays, friendships amongst men are rarely explored. Niven incisively observes their competitive streak and grudge-bearing tendencies. While men might show nonchalance towards the success of their contemporaries, they are viciously spiteful behind close doors, something that this book depicts while pulling no punches.
Niven tears into the extravagant and preposterous lifestyle of the middle class and the blind ambition of the upwardly mobile. Although a three-dimensional story about a man grappling to come to terms with looming middle age is at the heart of this book, the narrative is laced with biting social commentary on contemporary culture and British elitist society. Rip-roaringly funny anecdotes with characters maliciously indulging in schadenfreude are great fun to read.
A slight niggle I had was with the characterisation of women in the story who 'trill' (why?) when they talk. Most of the female characters are based on stereotypes. Alan's wife, Katie, is the snobby daughter of a Duke and a catty journalist, and Melissa is a typical sulky teenager, the likes of which parents' nightmares are made of. Their characters could have been better sketched out to add another dimension to this over-simplistic story.
A high point of No Good Deed was how it explored Alan's struggles with acclimating to high society and his residual anxiety about his humble Scottish roots. He conceals his accent but still feels inadequate and puts on a complacent facade, particularly while mingling with his upper class in-laws. Despite his self-assured exterior and notable success, he can't get rid of the under-confident, deprived boy he used to be. This is also reflective in his relationship with Craig. Even though now he has the upper hand when it comes to his social stature, Alan's feelings of being intimidated by Craig resurface after their reunion.
No Good Deed is a misanthropic look at modern life, providing perceptive insight into the challenges of tackling middle age, marriage and parenting. A thoroughly enjoyable dark comedy about social desire, male insecurity and the meaning of success.
★★★★★
No Good Deed was published by William Heinemann on 29 June 2017