Book Review: Just For Today by Nell Hudson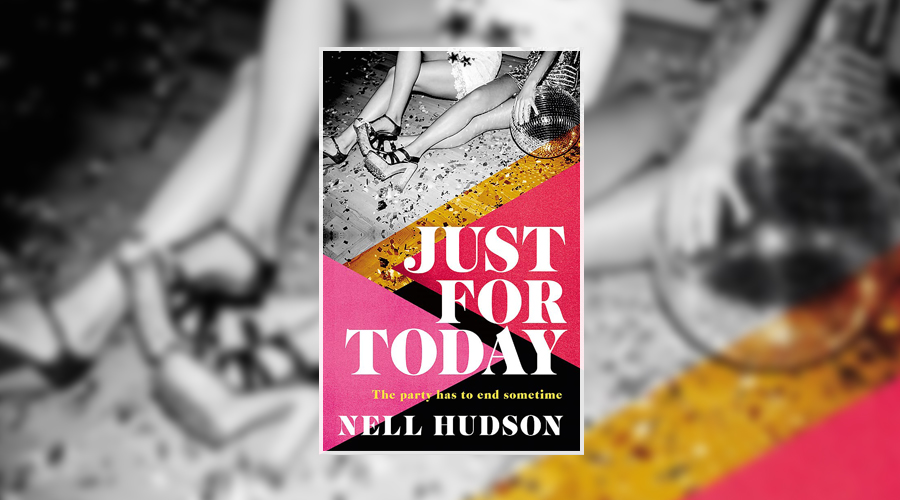 Just For Today, the debut from actor Nell Hudson, is a novel that touches on some bittersweet themes, chiefly the blitheness of youth and the inevitable end of innocence we all have to live through – whether it's with grudging reluctance or a liberating sense of relief. Joni, the central character in Hudson's book, is very much in the former camp – her inability to move forward and acknowledge that some things in life can't go on forever propelling the story towards its achingly sad but ultimately inevitable end.
It starts on New Year's Eve. Joni and her friends live a frivolous life of drinking, drugs, sex and a brazen lack of responsibility. This final evening of the year should be the same as all the others – yet another night where the booze flows freely and the party ends with messy hair, smudged mascara and a tangle of limbs. Only it's not the same. When Joni wakes up the next day in the bed of the object of her desire, everything has changed. Someone has died and, though Joni doesn't yet realise it, she's standing on the precipice of a downhill slope.
The last twelve months come to me in dreams of salty water and the smell of sun on skin. In flashes: a constellation, my head on unfamiliar pillows, a stage, a warm body upright against my own. I ricochet between landscapes: fields and cliffs give way to the glimmering of city lights at dusk. All the houses. All the rooms. The fun we had."
Despite the sudden death that preludes everything else that happens in the novel, Just For Today is actually a very unembellished story; uneventful in the same way that daily life often is. It follows Joni as she stumbles from one day to another, navigating her job as a nanny, her complicated relationship with her best friend Dylan, her whirlwind romance with the much-longed-for Henry, and the endless cycle of party behaviour with her slightly louche circle of friends. It explores the minutiae of life for a certain set of twenty-somethings living in London, and how the decisions and acts of an individual can reverberate through the lives of those closest to them.
Joni and her friends might go through life as if they have nothing to lose, their attitudes one of unadulterated self-indulgent revelry, but there's an unavoidable darkness to Hudson's debut too. Against the backdrop of lazy days and reckless nights, the story deftly deals with mental health, grief, guilt, addiction and the feeling of lethargy that many young people suffer with in a world that's constantly threatening to leave them behind. We might not all have the lifestyle that Joni and her friends share, but we've all surely experienced moments of loss, hopelessness and disillusionment – three things that Joni grapples with as the threads of her life slowly unravel.
Its release in June positions Just For Today as a summer read, and in many ways it is – the chapters of Joni and her friends whiling the days away in Cornwall are particularly evocative of indulgent summers spent by the coast with friends. But there's a weight to the underlying themes that brings it back down to earth, rooting the story in the fragile hearts and minds of its characters. You don't have to identify with them, or even like them, to feel their pain. And it's that resonance that makes this such an accomplished, thought-provoking debut.
★★★★
Just For Today is published by Tinder Press on 9 June 2022