Book Review: If You Could Go Anywhere by Paige Toon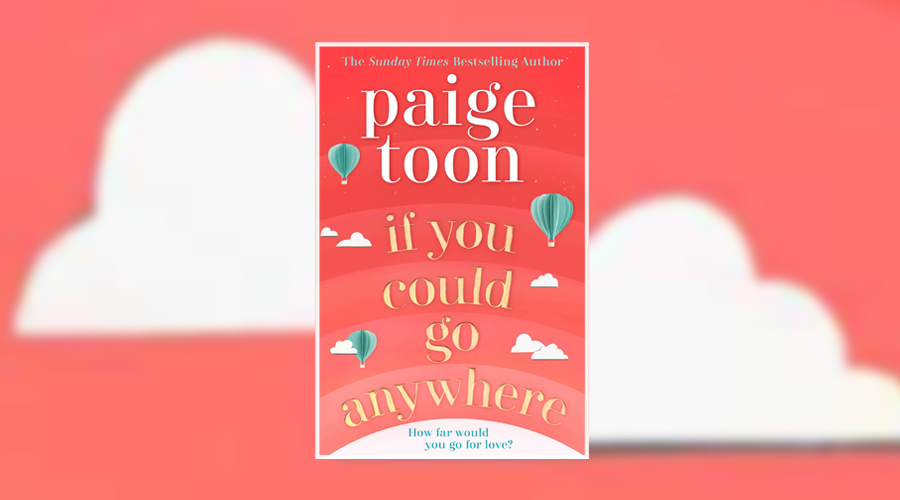 With her latest novel, Paige Toon has proven once again that she is one Sunday Times bestselling author who has lost absolutely none of her magic over the years. If You Could Go Anywhere offers readers a hearty dose of escapism, combining sun-drenched locations with a truly likeable lead character and a heartening, engaging narrative as 27-year-old Angie sets off on a life-changing adventure that takes her everywhere from the scorching deserts of South Australia to the historic streets of Rome.
After years spent caring for her sick nan, who raised her after her own mother died when she was a baby, it's only after her death that Angie discovers that she was keeping a big secret. Armed with a handful of precious opals and the well-wishes of her close-knit community, Angie soon finds herself on a flight to Italy to meet the father she's only just found out about – a big moment for the girl who grew up dreaming of travelling the world and getting by on the stories of all the passing travellers she meets.
But even a lifetime of dreaming about adventures can't prepare Angie for the heart-stopping beauty of Rome, the family she finds there and the truths she'll learn about herself and her history – not to mention her feelings for the mysterious and reckless Alessandro, who's grappling with his own conflicted emotions over his past.
"Giulio covers my hand with his and squeezes it hard, and then Alessandro takes my other hand and brings it to his lips, giving my fingers a brief kiss.

'Put your seatbelt back on, Angel,' he says in a husky voice. 'We don't want to lose you too.'"
What follows is more than your typical contemporary romance. As much as If You Can Go Anywhere explores the chemistry, growing feelings and complicated dynamics between Angie and Alessandro – and it does, very well – it's not the only driving force of this novel. Angie's newfound freedom and the first scratches of her wanderlust itch very much provide a grounding for this novel, with her experience of Italy and her trips to Pompeii, Tivoli, Venice and more rendered in such glorious detail that the sights and sounds of the country come to life on the pages. Angie's growing relationship with her father, Giulio, is thankfully also given a lot of time to unfold, tracking them through awkward first meetings, growing understanding and genuine affection as Angie begins to learn more about where she came from and the side of the family that's been lost to her for so long.
But by far the biggest joy for readers of this novel will no doubt be Angie herself. She's a character you can't help but warm to immediately, as well as a genuinely kind-hearted, selfless and charming person who's relishing in these early days of freedom that is her new life. It's with Angie's wide-eyed wonder that we experience Rome in such splendour, helped along by Toon's documenting of every careful cobblestoned detail, and it's with Angie's cautious optimism that we meet the Italian side of her family, feeling every ounce of anxiety, hope, gratitude and familial love that she feels right alongside her. It's with the help of Angie's natural caregiver instincts, too, that we slowly breach the wall Alessandro has built around himself and begin to understand his own troubled past and the guilt he holds, with Angie's fierce determination to get through to him quickly becoming a main concern of the readers' too.
Over the years Toon has given readers an array of novels, with endings that range from happy to sad to bittersweet, and all of them have proven to be life-affirming, heart-warming and completely engrossing in varying measures. If You Could Go Anywhere certainly delivers more of the same, but it also feels just a little bit different, exploring themes like love, family and forgiveness with more depth than ever before. In terms of the plot, sometimes readers are expected to suspend their disbelief just a bit in order to push it onwards – plenty of hunches, guesses and last minute trips across Europe set the scene for the big denouement – but once you get there, there's no denying the care and sensitivity Toon has put into writing these characters and telling their sometimes heart-breaking, yet always important stories.
Between its touching subject matter, globe-trotting premise and, yes, a deliciously simmering, slow-burn of a romance too, If You Could Go Anywhere is a novel that will not leave you disappointed.
★★★★
If You Could Go Anywhere was published by Simon & Schuster on 16 May 2019