Book Review: Don't Be A Dick, Pete by Stuart Heritage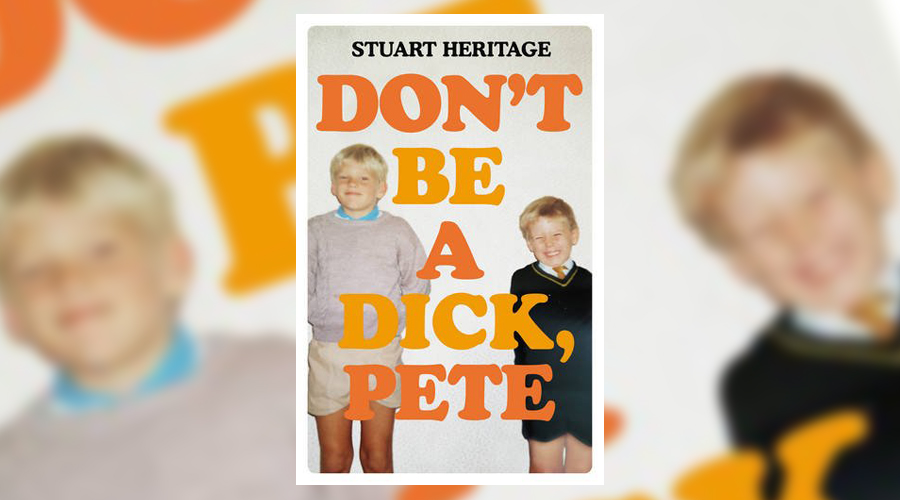 You may be familiar with Stuart Heritage's column in The Guardian, in which he mentions his younger brother Pete from time to time. Don't Be a Dick, Pete is a witty, self-consciously silly biography exploring the trials and tribulations of brotherhood, masculinity and family life.
Stuart has always seen himself as the favourite son: he was a well-behaved child, he went to university and made a life for himself away from the suffocating town of Ashford. Pete couldn't be more different: he's always been the alpha male who disregards the rules and answers to no one. Trying to reconcile their clashing personality traits has been a lifelong challenge for both of them.
The book takes us on a trip down memory lane, and Stuart reflects on some of Pete's less flattering moments. We're given detailed (and undoubtedly exaggerated) accounts of Pete's bad behaviours, including his attempt to stab Stuart when they were kids.
There are more poignant moments weaved into the memoir, taking it beyond nostalgia and humorous sibling rivalry. From Stuart's deep-seated fear that he's not really the favourite son, family disputes and caring for ageing parents, the book touches on some deeper topics that give it more substance. Although the title sounds like a very unflattering portrait of Pete, it's clear that the brothers care about each other (and perhaps even admire each other).
Pete's no-nonsense approach to life and Stuart's tongue-in-cheek self-righteousness make hilarious reading, and it's relatable for anyone who has a tough love relationship with their siblings. Don't Be a Dick, Pete adds an entertaining twist to the genre and serves as a reminder that families need to stick together.
★★★★
Don't Be A Dick, Pete was published by Square Peg on 4 May 2017