Book Review: Aphrodite's Tears by Hannah Fielding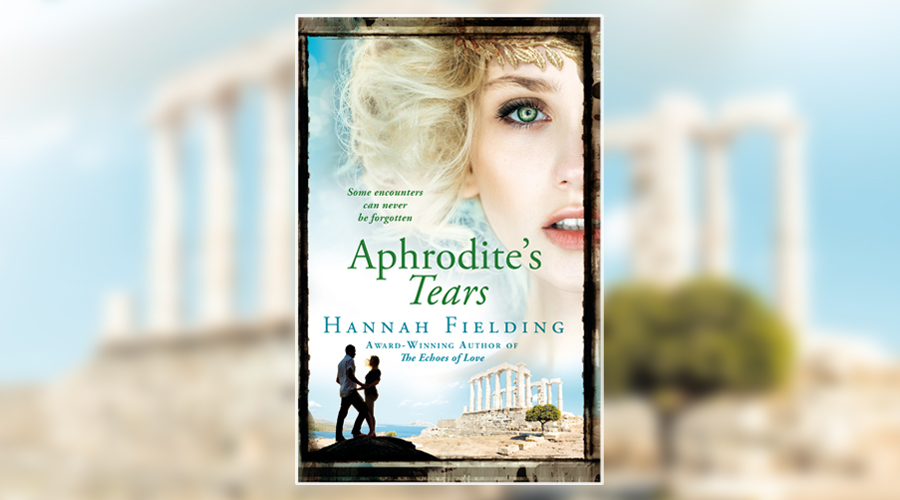 Greek islands, scorching summer, steamy romance… from its opening pages, Hannah Fielding's sixth novel, Aphrodite's Tears, establishes itself as escapism at its finest, and continues to do so as the smouldering interactions of the two leads and the lavish descriptions of life in rural Greece have you wishing away the winter for your own taste of sun-soaked life at the edge of the Ionian Sea. 
The novel kicks off when archaeologist Oriel Anderson comes across the opportunity of a lifetime in excavating a submerged shipwreck off the coast of a small, remote Greek island called Helios, owned by the dark, brooding and oh-so-devilishly-charming Damian Lekkas. Before Oriel gets a chance to meet him, she hears rumours of Drakón Damian, the fearless, feared ruler of the island whose family has been wrecked by tragedy after tragedy. After meeting him, however, she realises she has met Damian before, one night six years ago when he appeared to have walked out of the sea and they spent one passion-filled night together.
Their meeting again sets the stage for the cat-and-mouse game to follow as Damian and Oriel wrestle with fighting their attraction to one another or giving into it completely – but there are still dangers to overcome on the idyllic island of Helios, where the superstitious locals still perform ancient rituals to appease the gods and Oriel's presence in the Lekkas' estate appears to stir up past tragedies and bad spirits.
"Every part of our land has a myth attached to it. Sometimes I can't help feeling that they repeat themselves in an uncanny way, even today. It makes you wonder if some of us aren't marked by the gods to keep these legends alive." 
As far as romance novels go, Aphrodite's Tears has everything you could ask for; simmering romantic tension, entanglements, estrangements, misunderstandings and, yes, a lot of passion too – meaning it's so far, so Mills & Boon. But where this novel differs is in Fielding's invoking of the passions, trials and tribulations of the gods and goddesses of Greek mythology, making their stories just as much part of the action as Oriel and Damian's. In fact, Aphrodite's Tears is just as much a love letter to Greece – and its history, its mythology, its culture – as it is to love, which makes it a more gratifying read overall.
Unfortunately, the pleasure of the story itself is bogged down in its telling, which features a few too many superfluous descriptions of moments that just didn't need the extra detail – one in-depth perusal of Oriel's travelling wardrobe builds character, three or four more and it just becomes unnecessary. Oriel, too, while likeable enough, falls victim to her genre, which prevents her from being a true stand-out or empowering character. She's intelligent, yes, and more than happy to prove herself capable in the male-dominated world of '70s archeology excavations, but she's also just a little bit too beautiful and too perfect, with no real flaws to make her into a well-rounded person besides the indecisiveness over what she wants from her relationship with Damian.
With an instantly engaging premise and a quick-paced, action-packed ending, Aphrodite's Tears lets itself down in its drawn-out middle where, more often than not, it felt like narrative and plot were swapped out in favour of overly long explanations of olive oil production and other such descriptions. 
Even so, despite its unbalanced structure, Aphrodite's Tears remains an enjoyable story that offers a lot of intrigue, a couple to root for and an ideal read to shake off those January blues.
★★★
Aphrodite's Tears is published by London Wall Publishing on 25 January 2018