Book Review: American By Day by Derek B. Miller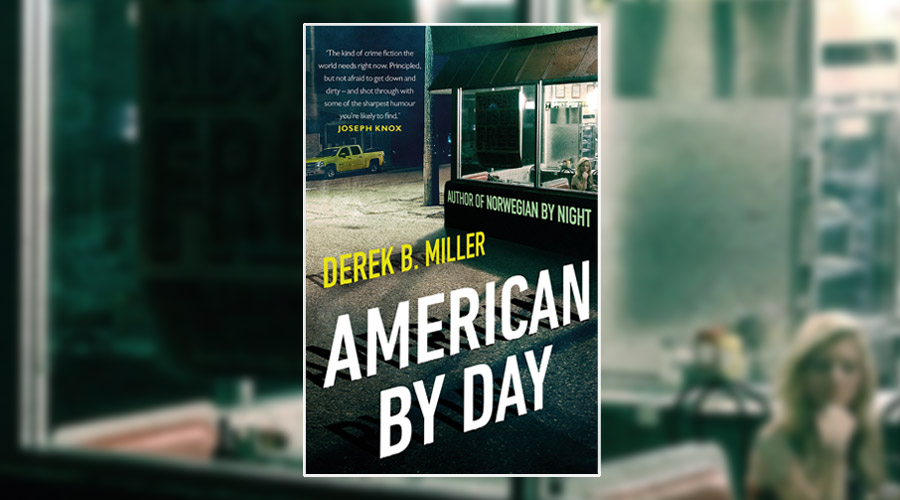 Derek B. Miller's third novel American By Day had a lot to live up to. The author's debut, Norwegian By Night, was awarded the Crime Writers' Association John Creasey Dagger Award in 2013, and his second novel, The Girl In Green, was a Shelf Awareness Best Book of 2017. It would have been easy for Miller to rest on his laurels and bask in the praise, but instead he upped his game even more – delivering a book that's at once a literary meditation on our modern world and a gripping page-turner of a crime tale.
Police Chief Inspector Sigrid Ødegård is still reeling after a hostage situation that resulted in her shooting a man dead. The final report exonerates her, yet Sigrid can't shake the feeling that she could have done more; that perhaps she didn't need to pull the trigger that fired the fatal shot. Taking some much-needed time off, Sigrid travels from Oslo to her father's farm in the Norwegian forests. But instead of the relaxing escape she was seeking, Sigrid's father presents her with a new, altogether more personal problem. Her brother, Marcus, has gone missing in America and her father expects Sigrid to find him.
With no family of her own and indefinite leave from work, Sigrid heads to that 'weird place' across the Atlantic to find her brother. But upon arrival in upstate New York, Sigrid soon realises that her brother's situation is much more complicated than she thought. Not only is he missing – presumed on the run – but he's also implicated in the mysterious death of his girlfriend – a prominent African-American academic whose nephew was previously shot dead by a police officer with white supremacist links.
It's 2008 and the presidential election between Obama and McCain is all over the news. Yet it's not just the election season that baffles Sigrid. She can't believe her gentle brother would murder anyone, but his confession call to the police says otherwise. In order to get ahead of the investigation, she's forced to work with the local law enforcement, chiefly the laid-back, cowboy boot wearing Sheriff, Irving 'Irv' Wylie, and his young, eager deputy, Melinda. In trying to find Marcus before the situation escalates beyond her control, Sigrid is pulled into a political minefield and a clash of cultures, forcing her to question not just her brother's state of mind, but also modern American values and their wider implications on the world.
"We actually do have a lot of guns. There's a lot of hunting in Norway. But there's almost no gun violence."
"Why do you think that is?"
"On a fundamental level," says Sigrid, "I think it's because we don't want to shoot each other."
"That could be our problem right there," says Melinda"
American By Day is a rare type of crime novel that fluidly traverses numerous genres, and does it incredibly well. It simultaneously feels like a high-class literary exploration of race, identity, love and loss, as well as a gritty race-against-time adventure. Miller eschews the scandi-noir feel that might have been present had the story remained in Norway, and instead presents this land of promise, both beautiful and ugly, and how alien it feels to Sigrid. This is where a lot of the droll humour comes in, as Sigrid clashes with Irv's archetypal Americanisms, whilst grudgingly warming to his good-natured, fair-minded spirit. They're both straightforward characters in different ways and their unexpected team-up is a joy to tag along with.
However, it's not all jovial fun and games – Miller ponders thoughtful questions about the shoot-first-think-later attitude prevalent in America, and how state politics puts pressure on those lower down the law enforcement chain, forcing people to make hasty decisions that aren't always just or unbiased. Throughout all this though is the simple story of a sister trying to save her brother and atone for past actions she feels could have been avoided, even if – as readers – we can see that they couldn't.
Sharp, astute and surprisingly witty, American By Day is the kind of quiet, unpretentious novel that sneaks up on you, offering not only perceptive characters and an intelligent look at the world around us, but pure entertainment too.
★★★★★
American By Day was published by Doubleday on 19 April 2018