Book Review: A Girl Made Of Air by Nydia Hetherington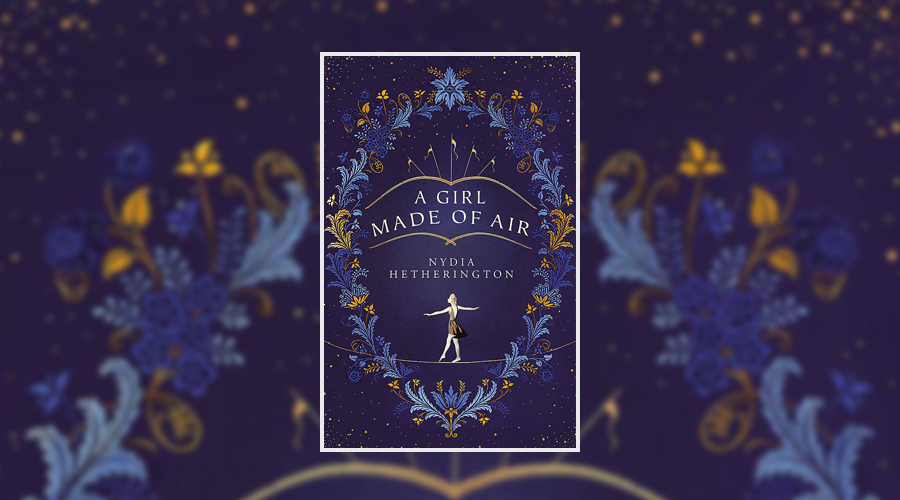 Looking at the cover of A Girl Made of Air, you might be deceived into thinking that Nydia Hetherington's debut novel is another enchanting Night Circus-esque tale. But entering the 'strange and spectacular world' of this particular circus is much less fantastical than you might think, and much more of a human story, with all the pain, regret, love, loneliness and loss that comes with real life.
Set post World War II, we follow an unnamed protagonist as she narrates the stories of her past in a series of correspondence to a New York Times journalist. Billed 'The Greatest Funambulist Who Ever Lived', our protagonist, fondly nicknamed Mouse, recounts her childhood in a travelling circus family. With distant, neglectful parents, she grows up unwanted, ignored and forgotten. Until she meets Serendipity Wilson, a woman whose hair shines like an orange beacon, and who makes the little girl feel loved and accepted. A tightrope artiste herself, Serendipity Wilson sets our narrator on a path of circus greatness but, as we know from the beginning, there's more than one tragedy waiting in the wings.
From her unconventional childhood with the travelling circus in England, to her equally alternative adulthood as a Coney Island street performer, all the way through to the spectacular fall from grace which led her to – intentionally – fade into obscurity, we travel through the years with Mouse, reliving the best and worst of her remarkable life. It's not pride driving her reminiscences though, rather a deep regret; she's searching for a child she feels indebted to, and in telling her story, she hopes they will be reunited.
"Copying this letter for you, might, in some way, help to show you that my life has been nothing but the broken shards of a mirror. I have tried to patch things together, but in the process my fingers have been cut to shreds and there are so many missing pieces."
Interspersed with dark and lyrical traditional Manx fables, A Girl Made of Air is a powerful and atmospheric historical novel steeped in folklore and circus legends. Hetherington paints a vision of circus life that's both grim and magical, full of dizzying highs that are beset by terrible lows too. Yet it's the characters that bring the story to life: poor, neglected Mouse, who grew up with a warped idea of the world and the people who inhabit it, and vibrant Serendipity Wilson, the life raft that Mouse so desperately needed. Then there's Marina and Manu, Mouse's neglectful parents, both of them too wrapped up in themselves and each other to pay any attention to their only child (though the reasons for their selfish, destructive behaviour are later revealed).
These characters and their unusual world jump from the pages like acrobats, tumbling and spiralling, always on the cusp of falling. Their strange, spectacular existence might be what draws readers to this book but the latter part of the novel – which sees the narrator leaving everything she knows and starting over again in New York – is actually the stronger half, giving us a wider perspective from which to view the whole story.
Weaving in the traumatic effects of wartime on ordinary people, A Girl Made of Air is a rich and vividly told melange of harsh realities and dreamlike fables. If this is a debut novel, we should be very excited about what Nydia Hetherington writes next.
★★★★
A Girl Made of Air was published by Quercus on 3 September 2020