Ben Harper and Charlie Musselwhite – No Mercy In This Land Review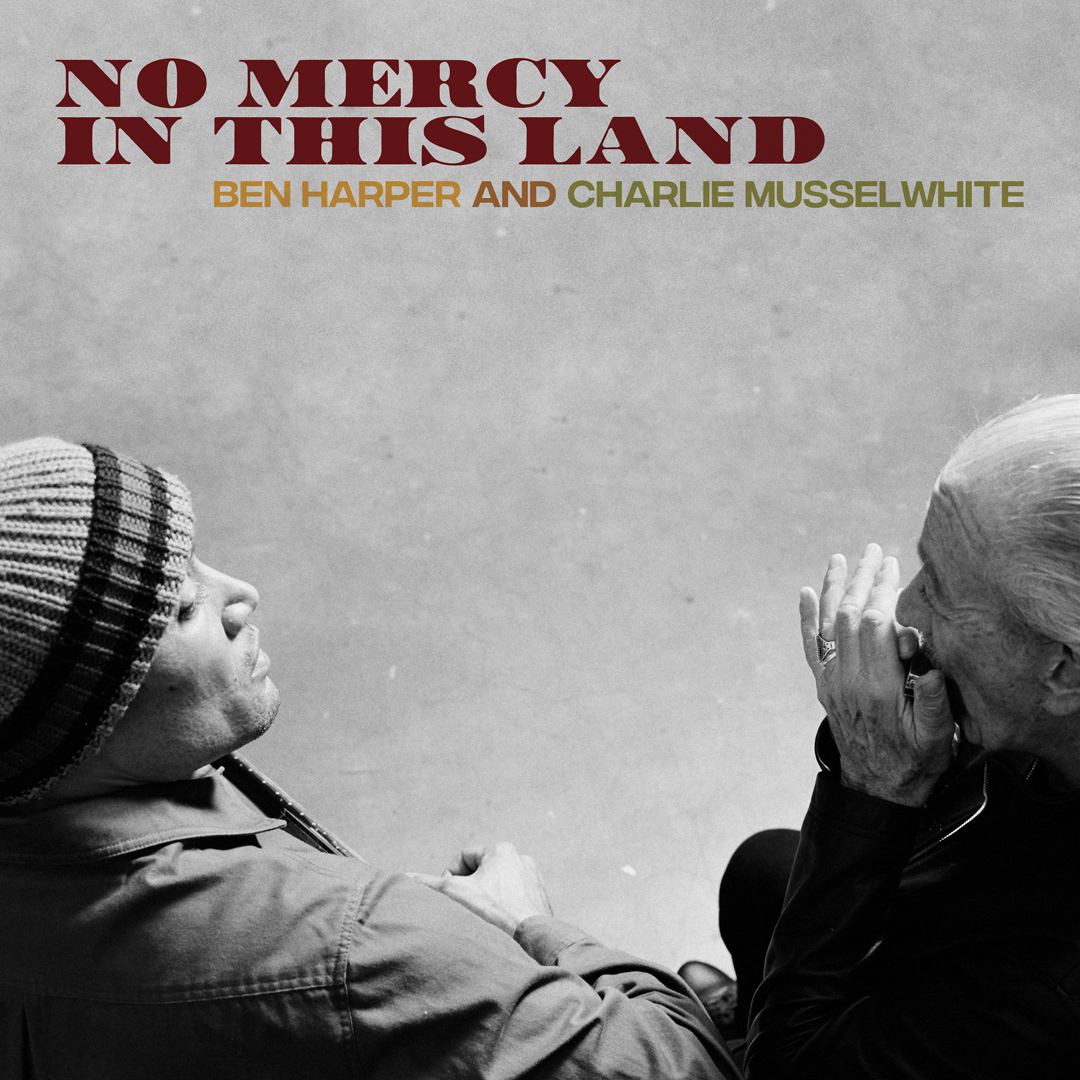 Blues is a funny genre. Once a dominant musical force and refuge of edgy London hipsters, over the years it's slipped from the limelight, settling for making guest appearances on albums by John Mayer and sneaking in under the fingernails of James Bay. You might catch some blues musicians in the cracks between chart darlings on Later…With Jools Holland, but you're not going to see Joe Bonamassa playlisted on Radio 1 any time soon (if you said 'who?', then thank you for proving a point).
But try telling that to Ben Harper and Charlie Musselwhite, the young(ish)blood and the old hand behind No Mercy In This Land. Their second collaboration, it's a straight-up juke-joint boogie-choogling blues wallop. No frills, no pop leanings, no lighter-waving. Barely even any guitar solos. This is the kind of blues that John Lee Hooker and Muddy Waters would recognise, bereft of spangles, made of grit, oomph, sweat and tears. They're not breaking any musical barriers, but Harper and Musselwhite sound like they're having a rockin' good time.
It stomps, it rolls, it drawls. Head-swinging tunes like 'The Bottle Wins Again' are a purist's dream, and in their unapologetic directness lies a reminder of why blues became so ubiquitous in the first place – it's the music of everyman emotion, the late-night sweats and early-morning weeping of average life. Eight-bar blues has your back, whether you want to swagger belt-first into the local bar or cry into your beer.
There are touches of invention here and there, like in the complex acoustic introduction to 'Trust You To Dig My Grave', which sees Harper nodding to the broader tonal palette he's used on previous releases. Opener 'When I Go' leads off with an ominous male-voice choir, setting the stage beautifully for the sullen riff that follows. 'Nothing At All' is the album's only real departure from the tried-and-tested blues format, steering into silky soul territory. It's a sweet moment, but Musselwhite's harmonica sounds a little thin occupying the space where a saxophone should really be.
On the other hand, ballad 'When Love Is Not Enough' lands perfectly. Harper's smooth voice is foregrounded, a lovely croon to make your eyes misty, and when the moment comes for the bar-bore guitar solo, he opts instead for a few choice phrases, all the sweeter for their scarcity. The song clocks in at just over four minutes – a rare feat for a slow blues – and proves the truth of the old adage that you should leave them wanting more.
There's plenty for blues enthusiasts here (the sprightly shuffle of 'Moving On' is a particular joy, lifting the riff from Ike and Tina Turner's 'Nutbush City Limits'), but by keeping a tight leash on the usual excesses of latter-day blues, Harper and Musselwhite have made No Mercy In This Land accessible to newcomers. Instrumental breaks just ain't hip, kids, but good tunes never go out of style.
A fine, well-tuned slice of blues with just a little 21st Century on top.
★★★★