Before You Die – Samantha Hayes Review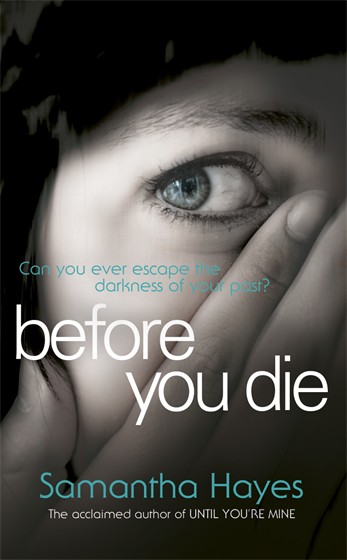 Released: April 2014
From the author of Until You're Mine, comes a new thriller that will have you racing through its pages as you attempt to untangle the mystery embedded at the heart of its plot. Quietly sinister and tense, Samantha Hayes' Before You Die plays on the worst fears we have about losing the ones we love and weaves them into a story that tests the bonds of family and friendship.
Taking place in the Warwickshire village of Radcote, the novel starts when a young, homeless man is killed in a freak motorbike accident. The reader knows it was an accident but the suicide note found amongst the man's possessions tells a different story – one that rocks the seemingly peaceful village that is still coming to terms with a recent spate of teenage suicides. When a second homeless boy takes his own life, people fear the worst. Could history be repeating itself? Looking in on the story from the outside, we can add another question to the mix – one that doesn't seem to have crossed the minds of the characters involved – are these really suicides or are they murder?
Enter DI Lorraine Fisher, who's arrived in Radcote for a summer break with her sister Jo at their family home. Lorraine's relaxing trip away from the city takes a turn for the worse when her nephew, who'd been displaying worrying signs of melancholy and withdrawal, disappears. Lorraine knows she must act quickly, but in a village that's hiding a great many secrets the path to Freddie's whereabouts isn't easily deciphered.
Lorraine's race against the clock to find Freddie is deterred by the shoddy investigation into the past Radcote suicides. There's a link between the teenagers' deaths, and Lorraine has an on-going struggle against the local police who seem content to let crucial pieces of evidence slide. Running parallel to the main plot is the theme of cyber bullying, revealing the effect it has on young and impressionable minds.
Hayes has weaved a story that thrills and mystifies in equal measure. By never giving too much away and always throwing a different suspect and perspective at the reader, the story twists, turns and convulses as it reaches the big finale. The characters are all hiding individual secrets that when combined form the answer to the brooding suicide spate. Though we see the world through Freddie's eyes as well as Lorraine's, we're always one step behind – keeping us guessing is the key to keeping a thriller thrilling and Hayes doesn't disappoint.
Before You Die is a breeze to read and impossible to resist once the murder mystery kicks in. If you're a fan of psychological suspense and books that force you to keep reading – even when it's midnight and your eyes are fighting to stay open – you'll love this.
★★★★