American Horror Story: Cult Episode 1 Review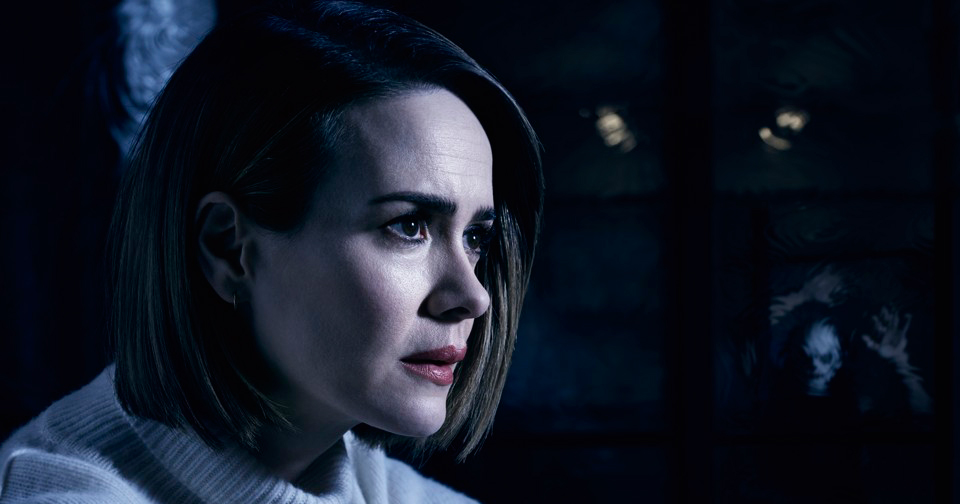 It's hard to believe that it was way back in 2011 that we were first introduced to Ryan Murphy's twisted vision of horror. Who knew the man behind Glee could be capable of something so damaging to our psyches? Well okay, some people would describe Glee like that too but that's not the point. It's when we all fell in love with Evan Peters, years before he started charming everyone as Quicksilver in the X-Men movies, and Sarah Paulson started to get critical acclaim and build one serious worldwide fanbase. Throw in other talents such as Connie Britton, Dylan McDermott, Denis O'Hare and Jessica Lange, and Murphy found a real recipe for success.
Over the years the aim has stayed the same – scare the absolute living daylights out of people as much as possible. Whether it's an asylum, witches, carnivals, hotels or a supernatural documentary, Murphy has managed to throw his twisted vision of horror out there every season to varying degrees of success. What has stayed consistent is the cast with Paulson, Peters and many others returning for each different story – sometimes as different characters and sometimes as the same ones – and they're the true heart of American Horror Story. Viewers return for these names that they've fallen in love with and this year's offering Cult is no different.
AHS's seventh season has its core set well and truly in reality as Murphy recognises there's nothing quite as horrifying as Donald Trump's rise to power. Thankfully Cult is not completely focused on everyone's favourite President and the race to the White House is simply a catalyst for the terror that comes after. Season opener 'Election Night' illustrates this perfectly, kicking off with highlights of Trump vs. Clinton, and sadly we all know how that battle ends. Ally (Paulson) loses her mind as she watches The Donald win, worrying for herself and the future of her life with her wife Ivy (Alison Pill). In stark contrast elsewhere we see Kai (Peters) in utter jubilation, dry humping the television and clearly slightly unhinged. His sister Winter (Billie Lourd) may be family but she's in the opposing corner on Team Clinton and she's just as upset as Ally, which puts a strain on her relationship with Kai but he's such a powerful personality that he may just take her to the dark side.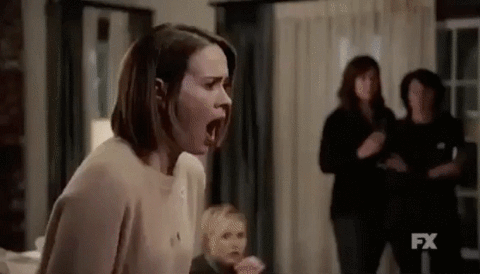 What Cult is really about is the power of persuasion and influence. Whether it's Donald Trump or his followers or the media, it's clear that we're living in a world where we see things and we hear things and they drive us towards unspeakable actions and paranoia, and we all react differently. In Ally's case she's ruled by fear with various phobias including clowns. Trust me, if you even remotely dislike clowns then walk away from this series now. Not only does Twisty the Clown (John Carroll Lynch) make a triumphant return from Freak Show (this time as a comic book legend), but there are clowns EVERYWHERE. One particular scene involving Ally visiting a supermarket is pretty tough going and knowing Ryan Murphy, this is only the beginning and there is so much more to come. He's definitely looking to give IT a run for its money that's for sure.
What's made clear about Trump followers, and is perhaps the most dangerous point of all, is that they're not all just terrible people who don't have logical thought or reason. Kai is presented as someone who's fully capable of engaging in a sensible and well-grounded manner when he wants to. Of course the majority of the time he's more than happy to act like the fool but when the time is right he can step up to the plate like everyone else. Peters does a fine job – as always – of playing a multi-layered part and, along with Paulson, he's unsurprisingly a real highlight of Cult. The most disturbing scene of all may be when Winter becomes Ally and Ivy's new nanny and the power she has over their young son Oz. She's someone that's being pushed over the edge and it's a stark reminder of how impressionable young people are in this media-driven age.
As with any season of American Horror Story, Cult kicks off with a bang but knowing previous seasons it's hard to get completely into the story not knowing where exactly it's going or what Murphy's end game is. With connections to previous seasons and to the real world, Cult is bound to appeal to long-term fans and new ones, but whether it lives up to some of the best remains to be seen. It's not the most subtle of political analysis you'll see in a show but it is perhaps the most important subject matter tackled to date. There's certainly enough here in the opener to make you want to return for more, especially with Paulson and Peters who could sit in silence for an hour and still be completely captivating. Just don't blame me if you find yourself sleeping with the light on.
★★★
American Horror Story: Cult premieres on 8 September at 10pm on FOX UK