Mr Malcolm's List DVD Review

It is a truth universally acknowledged that any period drama that tries to emulate the brilliance of Jane Austen's Pride and Prejudice will inevitably be found wanting. But that doesn't stop Mr Malcolm's List – a story of status, wealth and wounded pride – from giving it an admirable go. Based on Suzanne Allain's historical romance novel of the same name, Emma Holly Jones' adaptation is set in 1800's England and centres on the titular Mr Malcolm (Sopé Dìrísù) as he attempts to find a bride who possesses his prerequisites for a wife.
Enter the unaffectedly pleasant Selina Dalton (Freida Pinto), who's been enlisted by her childhood friend Julia (Zawe Ashton) on a mission of revenge after Malcolm publically rebuffed and embarrassed her. From the moment they meet, it's clear that Malcolm and Selina are well matched, and it's not because Julia is schooling Selina on how to be everything Malcolm desires for a wife. The more time they spend together, the more Selina feels wrong about her collusion to give Malcolm a taste of his own medicine. Yet every time she tries to back out, Julia finds some way to guilt trip Selina into playing along. And so it goes on, until it's not just Mr Malcolm who's at risk of getting hurt.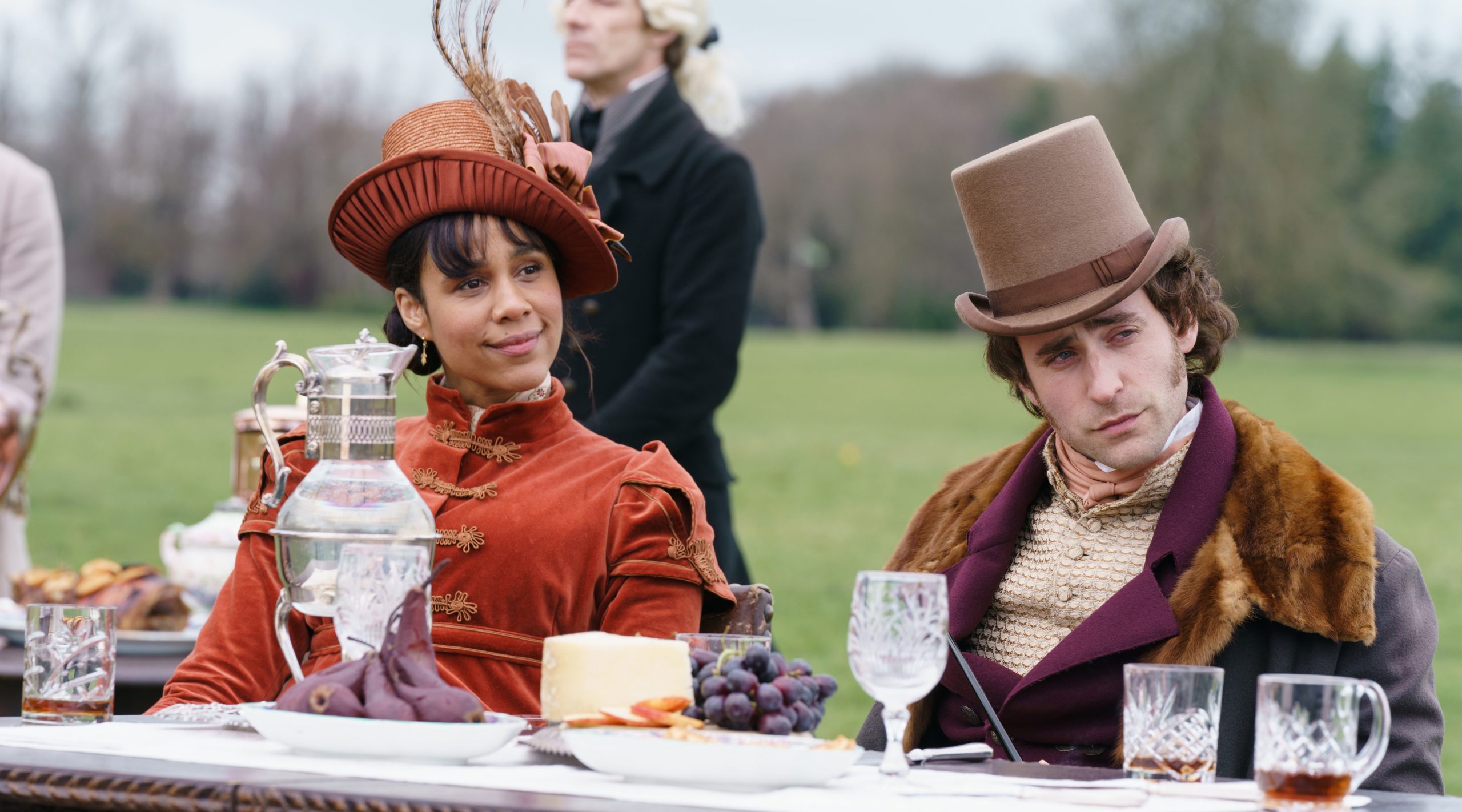 Wearing its period drama inspirations on its sleeve, Mr Malcolm's List is a by-the-numbers regency romance more in keeping with Bridgerton than Austen. And there's nothing wrong with that. Whilst purists might grumble about the lack of originality, both with the plot and the script, Jones' film is a gentle, warm-hearted historical romance with a dash of humour, lavish costumes, beautiful locations and a charismatic cast. The script lovingly borrows lines and recycles themes from better-known period pieces (including the famous 'how ardently I admire you' line) but what it lacks in imagination, it makes up for in frivolous fun – even if the revenge plot feels as if it belongs more to a peppy YA novel than a classy period drama.
The film is visually very pretty too; there are some choice moments of cinematography that are lovely to watch (the dance scene between Malcolm and Selina at the masquerade ball being one of them). Yet what ultimately holds the film together is its diverse cast. The chemistry between Dìrísù and Pinto doesn't exactly sizzle (this is decidedly more PG than Bridgerton), but both actors are charismatic enough in their own rights to make a pleasantly charming central duo. However it's Ashton's Julia and Oliver Jackson-Cohen's Lord Cassidy who win the majority of smiles. They're flamboyant and larger than life characters, Julia's shameless conniving offset by Cassie's well-meaning bumbling. Without Ashton and Jackson-Cohen, the film would have been decidedly less entertaining.
There's a particular recipe for a comforting, genteel Sunday afternoon movie and Mr Malcolm's List has all the right ingredients. It's not going to win everyone over but with its sumptuous production values and light-hearted performances, this is the kind of feel-good film that doesn't take itself too seriously. And there's a certain charm in that alone.
★★★½
Dazzler Media presents Mr. Malcolm's List on Blu-ray and DVD from 14 November 2022