Book Review: Waiting for Callback: Take Two by Perdita and Honor Cargill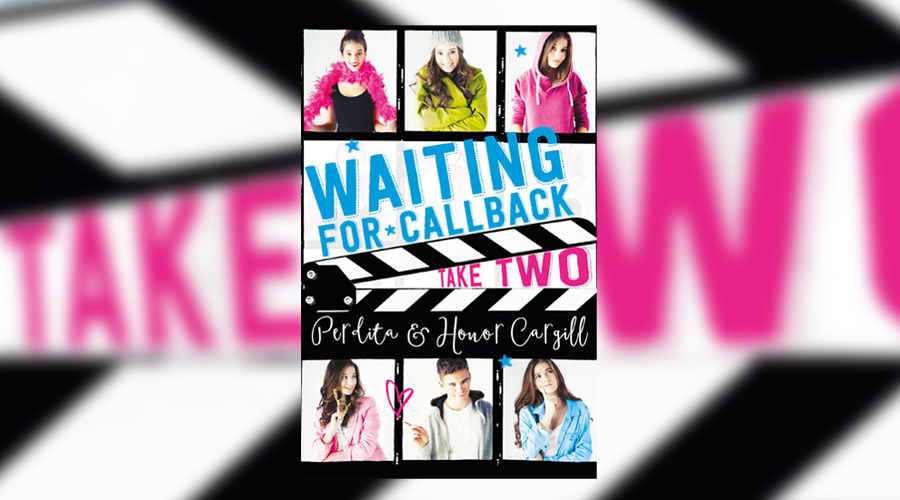 When it comes to quick, fun reads, you can't go far wrong with Perdita and Honor Cargill's Waiting for Callback. There's nothing in Take Two that's too challenging or too fantastical and, perhaps more refreshingly for a YA novel, there's nothing dystopian about it, so what you get is some 350 pages of a lighthearted story that strikes a good balance between the grounded reality of teenage life and the escapist storyline of living life as a working actress in not-quite-Hollywood (Slough, to be precise).
As a sequel to last year's Waiting for Callback, Take Two picks up immediately where the first book left off, with 15-year-old Elektra James being offered the part of the teenage heroine in a big-budget dystopian end-of-the-world movie while her crush-turned-sort-of-boyfriend Archie watches and her mum is so excited she falls in the bushes. With her summer now blocked out to film for her movie debut, Elektra has to juggle the responsibilities of being a working actress on a film that's constantly being rewritten as well as figuring out what it means to be in a new relationship where your boyfriend has moved to Transylvania to film his new role as a vampire hunter in a new BBC drama and is fast becoming the world's newest teen heartthrob to crush on.
Coming into a series with the sequel first is usually a bit of a recipe for disaster and confusion, but Take Two doesn't necessarily need whatever came first to make itself understood. This novel jumps straight into the heart of what you really want to read about when you pick up a novel that sells itself on its protagonist being a teenage actress and it's immersive enough that the failed auditions, callbacks and stresses that undoubtedly made up the first novel don't need to be experienced to appreciate how long Elektra's been working towards this.
And Elektra herself is the true strength of this novel, quickly proving herself to be a fun and relatable character who very much benefits from Perdita Cargill's 18-year-old daughter Honor's influence. Elektra's life is grounded by her school life and impending GCSEs and, like any other teenager, she spends a lot of time talking to her friends on and about pretty much every social network going. And while it sometimes sounded a little bit like the writers were name-dropping apps purely to prove they knew them, the snippets of texts, web pages, emails and scripts included in the body of the text does go a long way towards enhancing Elektra's world.
Of course, such an intense focus on Elektra does mean that many of the minor characters around her felt a bit like stereotypes and caricatures more often than not – the fashion-obsessed best friend with boy trouble, the Godlike Boyfriend, the smooth-talking co-star and the dad on the periphery are all people that played enough of a role in the story to get a bit more screen time, as it were, and probably deserved more time devoted to fleshing out a bit more of their characters. As it stands, though, there wasn't enough of Moss to feel a real interest in her relationship with Torr and not enough of Archie to understand his at times odd behaviour – or why Elektra is so willing to side with her typical Hollywood socialite actress co-star over Archie when things get a bit rocky.
"And, to make it worse, I was going to be wearing it while trying to maintain a long-distance relationship with a boyfriend who was playing a vampire-slaying heart-throb in a flattering range of breeches and tuxedos surrounded by fit maidens (who would not be wearing sacks)."
But none of that detracts too much from the fact that Waiting for Callback: Take Two is simply just an entertaining read and an easy enough way to spend a spare evening. It's never going to be an all-engaging, totally gripping novel-that-makes-you-think, but Take Two is a fluffy, fun and all-round lovely break from reality, held together by a main character you instantly warm to.
★★★
Waiting for Callback: Take Two was published by Simon & Schuster UK on 26 January 2017