Book Review: Sky In The Deep by Adrienne Young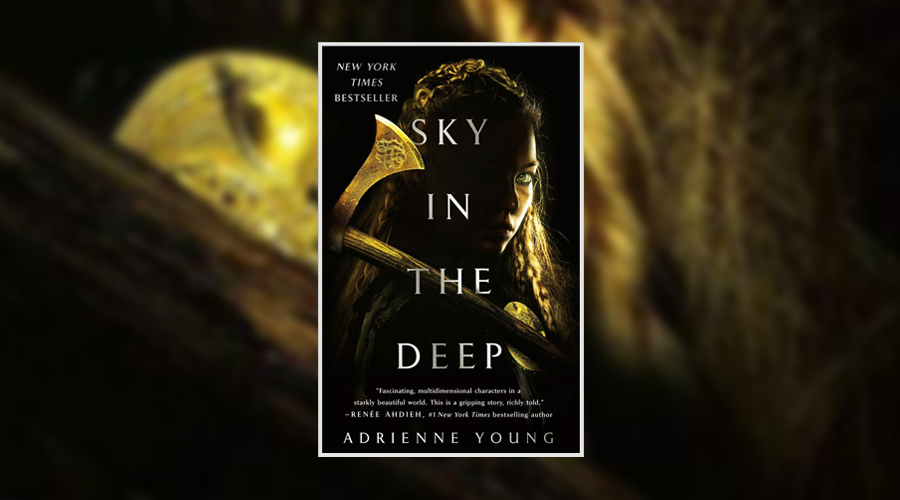 Adrienne Young's YA debut is a fierce tale of love, loss and loyalties forged and divided. Yet there's more to this Vikings-esque story than epic tribe wars and violent battles, though of course that's the immediate draw as the story opens with a breathless fight between two opposing clans hell bent on avenging their ancestors. Once you've calmed your pulse after that explosive opening, there are complicated family dynamics and a delicious enemies-turned-lovers romance waiting to be devoured, which is exactly what you'll do with this book.
Seventeen-year-old Eelyn is a ferocious warrior, trained to fight alongside her Aska clansmen in an ancient rivalry against the Riki clan. Her life is brutal and savage, but uncomplicated. She fights bravely, loves her clan fiercely, and doesn't think twice when it comes to viciously cutting down the enemy. Until the day she witnesses her adored brother Iri, a brother she watched die in battle five years previously, fighting alongside their rivals. Running after a retreating Iri in mid-battle, Eelyn loses focus and is captured by the Riki, who take her to their mountain village as a dýr. A slave.
With the arrival of a bitter winter that traps her in enemy territory, Eleyn must endure her captors until she can escape. She hates the Riki and the Riki hate her, meaning she can never let her guard down. But what stings the most is Iri's defection; his choice to become part of a clan he once fought against and let his family believe he was dead. Eelyn's desperation to escape is magnified when the Riki village is raided by the same ruthless clan that killed her mother, and when news travels that the Aska clan have been attacked by the same horde, she has no choice but to put her faith in the enemy. One enemy in particular: her brother's friend Fiske. The warrior she tried to kill on the battlefield, and who sought to kill her too.
Driven by her instinctive love for her clan, her deep-rooted devotion to her brother, and her growing feelings for Fiske, Eelyn must unite the two clans if they're to stand any chance of defeating the Herja. With the battle lines drawn long ago, she's also wrestling an internal fight, one that forces her to reassess her definition of loyalty, to question the god-decreed rivalry she's been fighting her entire life, and to summon the forgiveness for her brother's betrayal.
"I could still see a young Eelyn standing on the beach turned into the wind, a sword in one hand and an axe in the other. I hadn't lost her. I hadn't buried her. I'd only let her change into something new."
Young merges history and folklore, offering up blood-soaked battle sequences not for the faint hearted. At one point Eelyn rips out a man's eyeball with her bare hand – which tells you exactly the kind of story you can expect here. It's violent, vividly told and heart pounding, all of which is offset by a sweet romance that develops at a natural pace and never once feels forced. It's easy to see how Eelyn, like her brother, is won over by Fiske – a character that's just the right balance between wild warrior and kind-hearted soul. Eelyn has that balance too, with the heart of a lioness who will do anything to protect her tribe.
At its core, Sky In The Deep is a story of love lost, earned and given freely. Of love between siblings, between family – blood or otherwise – and of love for the place and people you call home. It's a standalone too (for the time being at least), which means there's a satisfying ending that successfully wraps everything up whilst still leaving you wanting more. Because how could you not want more when a story is this good?
Keep your eye out for the companion book publishing later this year for another thrilling adventure with a whole new set of characters.
★★★★★
Sky In The Deep was published by Titan Books on 26 March 2019