Book Review: Kissing Emma by Shappi Khorsandi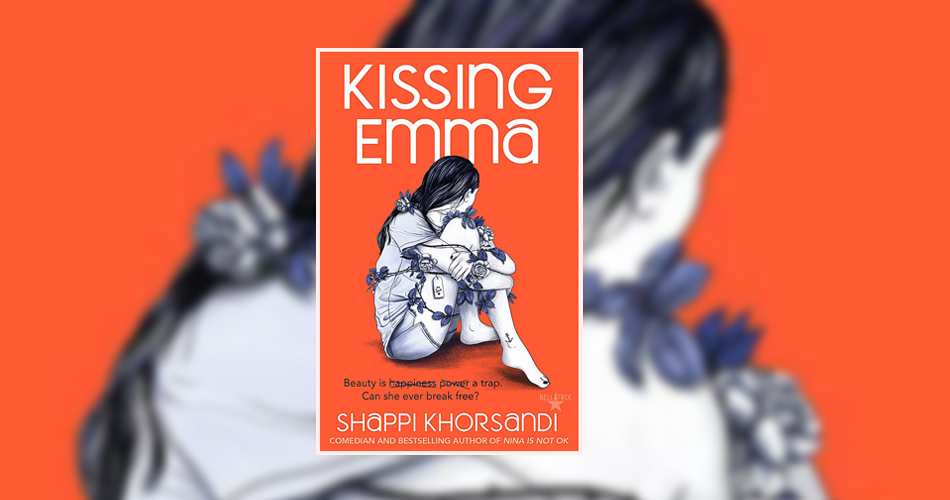 Modern retellings may not be a particularly new trend in literature, but comedian and actor Shappi Khorsandi has uncovered some new ground to explore in her latest YA novel, eschewing the narratives we've seen adapted time and time again to instead draw inspiration from the life of a historical figure whose story may not be as widely known.
The result is Kissing Emma, a retelling of the life of Lord Nelson's mistress Emma, Lady Hamilton, and a dark and gripping story about the rise and fall of a 16-year-old girl growing up in a status-obsessed world. In this novel, Khorsandi explores the darker side of social media, while also putting a spotlight on the dangers posed by those who are only too willing to take advantage of a beautiful, vulnerable young woman.
The book centres on 16-year-old Emma, and it's quickly revealed that life hasn't always been easy for her and her mum. Growing up, Emma's childhood was overshadowed by her drunken, abusive father and his violent fights with her mother, while his shocking, unexpected death ended up casting a long-lasting suspicion over Emma's mother, who was accused of – but never charged with – his murder. By the time Emma is 16, she and her mother are down on their luck, and Emma is struggling with family, with money and with the girls her own age who are quick to bully, judge and torment her – and the boys who only want one thing.
As Emma grows up, she experiences love, heartbreak, prejudices and hardships and it all comes to a head in her final year of school when she becomes determined to get a real job and earn some real money. In doing so, Emma finds herself caught up in a dangerous world with people whose motives are far from innocent, and it's not long before she's in over her head as she realises that some things really are too good to be true. Something has to be done, but can Emma ever take back control of her own life?
I realised I had a choice. I could be the old Emma Lyons, who'd have hunched her shoulders and scurried away, not wanting any trouble – or the new Emma Hamilton, who held her head up high and stared back. So that's what I did."
By its very nature, Kissing Emma is a difficult book to define. It explores a lot of issues, making it a book that lends itself well to discussions and important conversations, but it's also a very heavy read and therefore one that can be difficult to enthusiastically recommend to everyone. It does, however, feel like a book that all teenage girls in particular should read at least once, especially as Khorsandi manages to capture the teenage experience so accurately – so much so that it'll be difficult to find a reader who can't relate to Emma's fallouts with her friends, her giddy experience of getting to know a boy for the first time, or even the helplessness she feels in wanting to be able to help her mum but not knowing how best to do that.
What's also interesting is how Khorsandi translates the life, experiences and injustices of Emma Hamilton from the late 18th Century to the modern day, drawing parallels between both Emmas' lives that reiterate just how far (and how little) attitudes have changed over the last 200 years. In a lot of ways, Kissing Emma reminded me of Sarra Manning's The Rise and Fall of Becky Sharpe but as written for a younger audience. Both novels update the story of a female figure from around about the same time period to the modern day and both of these protagonists have dreams of elevating their stations and not being held back by their social class too. But whereas Becky is shrewd, meticulous and resourceful in her actions, Emma is much more naive and it's this that makes the difference between the light-hearted entertainment of Becky's story and the more raw, heart-wrenching narrative of Emma's.
While there are some much-needed moments of levity in Kissing Emma, a lot of the novel does focus on more of the darker aspects of life and exploring the many ways in which society casts judgement on others. This can make for some difficult and triggering reading, with a content warning list that includes racist comments, discussions of discrimination, social class biases, sexual assault, grooming, bullying, death of a parent and abusive and controlling relationships, among others.
There are a few pacing issues in this novel too, which is more an overview of Emma's whole life than a particularly in-depth exploration of the events noted in the synopsis – and those don't actually happen until more than halfway through the book in any case. At times the narrative feels a little uneven as a result, lingering at some points unnecessarily before quickly moving past some of the events that hold more emotional and narrative weight.
But ultimately this is a book for younger readers, and an audience of 12-15 year-olds will certainly be able to appreciate Kissing Emma as the modern fable it was written as. Emma is a sympathetic lead throughout and you want her to be able land on her feet after everything she's been through. With this story, Khorsandi is also introducing a new generation of readers to the tragic story of Emma, Lady Hamilton, and shining a light on a figure who's often overlooked and only defined in terms of her relationship with men, rather than for her own actions.
The modern day Emma is given agency and choices that the historical Emma was not, and while Kissing Emma doesn't hold back from portraying the hard, desperate and dangerous times of Emma's life, this is fortunately a retelling that gives Emma's story a happier ending and, more importantly, gives her a chance to stand up to all the men who took advantage of her too.
★★★
Kissing Emma is published by Bellatrix on 2 September 2021