This Is Where I Leave You Review
2014
Genre: Comedy, Drama
Directed by: Shawn Levy
Starring: Jason Bateman, Tina Fey, Jane Fonda, Adam Driver, Rose Byrne 
Based on the evidence provided here, it would seem that Shawn Levy's idea of a grown-up film involves banal domestic disturbances and a recurring joke about Jane Fonda's sizeable bust. Still, what should we expect from a director whose back catalogue mainly consists of creatively hollow & puerile headaches. To Levy's credit, This Is Where I Leave You never plunges us to such depths of despair as, say, last year's The Internship, but it also shows no interest in trying to rise above its tired formula.
Once more a dysfunctional cinematic family have been brought together by death. The Altman family to be precise. Papa Altman has checked out, and now siblings Judd (Jason Bateman), Wendy (Tina Fey), Phillip (Adam Driver), and Paul (Corey Stoll) find themselves brought together when they'd all rather be somewhere else. And if that wasn't enough, their mother (Jane Fonda) has demanded they sit Shiva in honour of their father's memory, meaning for the next seven days they must all stew under the same roof "as a family".
Working from Jonathan Tropper's script and bolstered by the talents of his impressive cast, Levy launches a desperate assault on our emotions, fervently trying to tug on our heartstrings with a series of gut punches; Judd's wife is sleeping with his boss, Wendy's husband treats her father's death like an inconvenience to his work schedule, Paul and his wife (Kathryn Hahn) are struggling to conceive. And that's only the start of the story, soon enough complications begin leading to further convolutions as Tropper attempts to combine as many clawing clichés as possible.

Much like August: Osage Country earlier this year, Levy's film relies almost entirely on sentimentality. With an incessant stream of dramatic coincidences masquerading as a narrative, it doesn't take long for the atmosphere to descend into the theatrical. Any moments of real emotion, notably the quieter scenes between Bateman and Fey, are belied by the constant barrage of ancestral bickering that raises the volume far more often than it does your interest.
See Also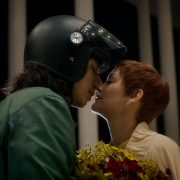 The aptitude of the assured cast combined with Tropper's surprisingly accomplished sense of humour just about swing it round. Jason Bateman draws on extensive past experience to play the forlorn thirty-something hero with ease, Tina Fey proves herself capable of being hysterically funny at times and nicely nuanced at others, and Jane Fonda, complete with her "bionic breasts", shows herself to still be a consummate professional with extensive range for comedy and drama. It's Adam Driver who once more steals focus though. Building on his performance in What If, Driver swaggers around with a magnetic confidence that lights up the screen, but retains enough of a pessimistic attitude to never feel like he's being sidelined as comic relief.
It's all to no avail though. Despite a succession of fine performances, This Is Where I Leave You suffers from a script that shoots for sentimentalism over subtlety and thusly fails to ever truly connect.
★★