Genre: Comedy, Drama
Directed by: Jim Jarmusch
Starring: Adam Driver, Golshifteh Farahani, Helen-Jean Arthur
Jim Jarmusch's latest, Paterson, centres around Paterson local, Paterson (Adam Driver), in a week of his life as he ferries the people of Paterson around his beloved city, spends his evenings pretending to walk his English bulldog while actually enjoying a pint and endlessly attempting to perfect his poetic style.
Driver brings a slight charisma to the role, brilliantly portraying a man who is constantly pondering everything he sees; a man who sees events in life as possible muses for his next poem. Yet it's a simple but uneventful life that quickly becomes repetitive to the point of unwatchable. Even the dog has a mundane routine. Then there is his poetry. If art is a reflection of life, than Paterson's literature is a reflection of his. It's difficult not to get frustrated by the dullness of his musings, its lack of imagination grates on you as he attempts to find a purpose in his poetry.
Paterson's girlfriend, Laura (Golshifteh Farahani), is a one-dimensional character whose most defining trait is that she likes anything monochrome; curtains, guitars or dresses, if it's monochrome she'll like it. That and her endless projects. On Monday she dreams of opening a cupcake shop and by Friday she is dreaming of becoming a folk superstar. The lack of depth to Farahani's Laura undermines any attempt the actors try to instill their relationship with any believability. Despite their apparent love for each other, Paterson feels like he is on a perpetual awkward first date with his girlfriend; the two shuffle around one another, never seeming confident or comfortable in each other's presence. 
The film's most interesting and beguiling character is the city of Paterson itself. Jarmusch perfectly captures the beauty of Paterson (the city) as he follows Paterson (the man) through the old factories emblazoned with their name. The director captures the city in a nostalgic light, concentrating on the manufacturing past that built the city. It's a lovingly delicate view of the city that shines through the monotonous narrative.
See Also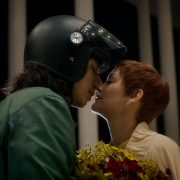 Jarmusch has always been a director capable of conjuring up a divisive film in the same fashion as Terrence Malik or Lars von Trier, and Paterson fits well with the director's filmography. The film's lack of subject matter will lose some as it concentrates on everyday life and humankind in such a low-key manner, the film barely musters anything louder than a whisper. It should feel emotional and touching, yet somehow comes off as annoyingly plotless and endlessly searching for a purpose. In places, Jarmusch's film feels a little like Richard Linklater's Slackers, as it captures snapshots of Paterson's passengers. These brief moments prove to be the most interesting aspects of the film, yet these moments of enjoyment are few and far between.
And that's what the film basically is – a snapshot into someone's life. Not much in Paterson's life changes by the last shot but this isn't the aim of Jarmusch's film. It's simply there to give us an insight into Paterson the place and Paterson the person. Yet, as touching as this may first appear, you quickly learn that the characters in this snapshot are uninteresting. Even when it feels like the film has found something that resembles rhythm, it fails to alter the lacklustre narrative and continues to stubbornly trudge a tedious path.
★★★