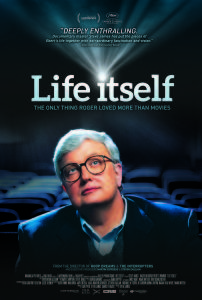 Genre: Documentary, Biography
Directed by: Steve James
Starring: Roger Ebert, Chaz Ebert, Gene Siskel, Martin Scorsese, Werner Herzog
There are many great names emblazoned against the landscape of American cinema, but only a few are ever likely to be considered as interesting or influential as Roger Ebert. This expertly crafted love letter to the commander in chief of film criticism profoundly and poignantly details the prosperous highs and painful lows of Ebert's life, both personal and professional. From the grand successes of his career as a film commentator, to his moving battle against cancer and its subsequent disabilities, director Steve James' documentary is a flawlessly focused study of Roger Ebert that celebrates criticism and companionship in equal measure.
From a young age, Ebert was a man of extraordinary ambition. He was a commanding and confident presence with a deep-rooted love for both cinema and the written word. Emanating that same poised persona from behind the camera, James breaks his documentary down in to two sections; one detailing Ebert's early life and lengthy career through his self-penned memoir 'Life Itself', and another following him during the final months of his fight against metastatic cancer.
Befitting of Ebert's joyous personality, James attempts to retain a jubilant mood for much of the film. There's great laughter to be found in the extended sections that recount his long-lasting run as co-host of the 'At The Movies' review show with professional rival Gene Siskel, a friendship that was forged on the inherent need to disagree with what the other was saying. And there's an eminent joy in watching those who were interested and influenced by Ebert waxing lyrical about how important he was, not just as a film critic, but also as a social commentator.


Indeed, it is the superb use of testimonials that allows Life Itself to flourish so radiantly. Throughout, the film remains squarely focused on Ebert, but James still finds the time to go off and examine various other relatable tangents. The likes of Martin Scorsese and Werner Herzog talk at great length not just about the Ebert's work, but film criticism in general, and how its effected both the medium and industry in different ways.
Like all great stories though, Life Itself is, at its core, a tale of love. A heart-warming ambiance effortlessly radiates from the retelling of Ebert's relationship and marriage to Chaz, who valiantly stayed by his side until the end. But many of these scenes are also permeated with great poignancy. To see a man who had so much drive and ambition valiantly fighting against an unstoppable and unseen foe is inspiring to think of, but utterly devastating to witness.
In the final review he submitted before he died, Roger said that in our pursuit of perfection, "we see what our dreams and hopes might look like. We realize they come as a gift through no power of our own, and if we lose them, isn't that almost worse than never having had them in the first place". Even on the screen in his weakest moments, Roger remains a motivating presence, and through this extraordinary documentary he leaves a legacy that inspires you to follow your own hopes and dreams, whatever they may be.
★★★★★