Cirque du Soleil: Alegria At The Capital FM Arena, Nottingham
10/11/13
Trapeze artists, fire dancers and clowns are normally found under a big plastic tent in a field with mediocre acrobats, overpriced candyfloss and a sparse and shivering audience. In stark contrast, Cirque du Soleil's performance of Alegria at the Capital FM Arena was as far removed from the average travelling circus as possible. As we arrived, the arena was packed, the air was electric and whilst we took our seats clowns tottered past us in oversized overalls muttering high-pitched gibberish.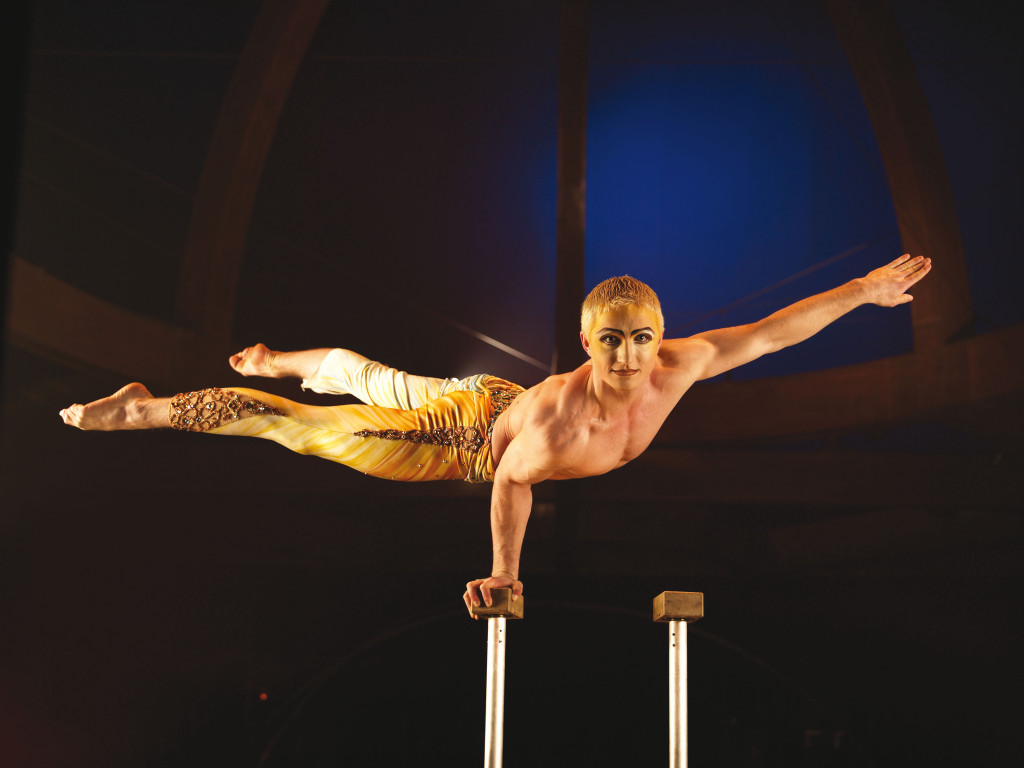 And the night was only going to get more bizarre. We were welcomed to the evening by a repulsive ringmaster with a protruding belly, flanked by a collection of sad-masked musicians who snaked after him as he strode around the stage shouting Alegria – the name of this Cirque du Soleil show.
My heart spent most of the show in my mouth, as acrobats swung on trapeze above the audience and somersaulted and flipped across the stage on an inbuilt x-shaped trampoline. There was an act where a man formed himself into some incredible positions, all whilst balancing on one hand on a cane a metre high, and another called 'Russian Bars' where acrobatics were thrust into the air from flexible bars steadied on the shoulders of other gymnasts, landing gracefully on another bar several metres away.
Although Asian circuses are renown for their flexibility, nothing could have prepared us for the positions the two female contortionists managed to twist their bodies into. We couldn't help but wince as they literally folded themselves in half backwards and balanced on each other's hips and ribs. It was both amazing and disgusting, and I can only imagine the back problems they will face in later life.
Yet there were two undisputable highlights of Alegria. The first was mesmerising fire dancer Micah Naruo from Hawaii, who spun and danced with flaming batons, running the fire across his skin and holding flames in his palms as he energetically burst around the stage. The other was an act called Cyr Wheel where an artist propels himself around the stage using and encircled by a large metal hoop. It is more elegant than it sounds and was so beautiful and effortless when accompanied by the classic Alegria soundtrack.
Of course no circus would be complete without light relief in the form of clowns, and the three we'd seen wandering around before the show began were only too happy to oblige. They bullied each other for the audience's entertainment, including a wonderfully simple sketch based on outdoing each other's paper airplanes and generally provided lovely light-hearted links between the acts.
Of course, when you take a moment to appreciate the number of performers you begin to realise the effort that goes into putting on a show such as this. Alegria includes 55 performers. It takes 21 trucks to transport all the equipment from city to city, and they travel with everything from washers and dryers for the costumes to a fully equipped gym to allow the performers to keep fit. There are over 400 costume pieces, each handmade in Montreal (some taking as long as 200 hours to make) and a wardrobe team travels with the show to maintain the costumes on the go.
Cirque du Soleil has come a long way since its beginnings in 1984 as a group of 20 street performers in Quebec and now it employs performers from across the world, including the 55 performers in Alegria.
Alegria – meaning elation, joy and jubilation in Spanish – is sadly retiring this year after 20 years to make way for new Cirque innovations. The irony of this should not be lost on anyone who knows the story underlying the circus tricks. The Old Birds, dressed in heavily jewelled costumes with elaborate masks, represent the older generation who are keen for the kingdom to remain the way it is rather than handing over to the younger generation of acrobats who represent the new ideas and a determination to change the world.
Although Nottingham hosted their British swan song last week, the show will be taking a bow in December at Antwerp, Belgium – so if you have the opportunity to experience one of the final shows, I highly recommend it.
★★★★