16 Most Disappointing Movies of 2016: Suicide Squad, Warcraft and More
It is said that life is full of disappointments, and it's certainly safe to say that there was a fair few to be had in the cinema this year. Some would even go so far as to label 2016 a weak year for film, but as our Best of the Year list proves, they clearly haven't been looking in the right places. It would be hard to call it a stellar slate though, with big-budget blockbusters like Batman v Superman and Suicide Squad leaving us equally as disillusioned with the medium as awards-worthy titles like The Revenant, and more recently The Birth of a Nation.
All of the films listed below offered plenty of promise, but each one failed to provide audiences with the payoff they were expecting – perhaps not the worst films of 2016, but certainly the most frustrating.
The Revenant
If you're one of those lucky people who managed to avoid The Revenant earlier in the year, don't let the numerous award wins oversell it to you now. For like Birdman, Alejandro González Iñárritu's latest film is also no masterpiece! Essentially, it's just an extended episode of Born Survivor, but with Bear Grylls replaced by Leonardo DiCaprio wearing a big furry poncho and doing battle with Tom Hardy, who himself is preoccupied with trying to combat his own fluctuating accent. – James McAllister
Independence Day: Resurgence
Without Will Smith to steer the film in the right direction, Resurgence was never going to live up to the Roland Emmerich's first Independence Day. But nobody could have foreseen just how spectacularly it would fail in trying to recapture the 1996 film's adventurous spirit and fun in the face of alien disaster. Even with Jeff Goldblum back for a second round of extra terrestrial fighting, Resurgence couldn't muster any semblance of intelligence. Sure it's a visual spectacle but the film has such a feeling of been-there-done-that (and done it much better), that there's nothing worth investing in. And the less we say about the dull characters/dialogue the better. – Natalie Xenos
Warcraft
The prospect of Duncan Jones taking on one of the gaming world's biggest franchises was something to be savoured. Here was a grand fantasy of epic proportions with warring armies and a rich, luscious world full of detail and wonderment – a fantasy that had the potential to rival Lord of the Rings. Could Warcraft finally be the movie to break the video game movie curse? Alas, 'twas not to be. Despite the pedigree of Jones and the level of skill behind the camera, the first cinematic foray into the world of Azeroth is a near incomprehensible melange of cartoonish CGI, bland, one dimensional characters and a plot that only the most ardent of WoW fans would be able to comprehend. Whilst the Orc segments were by far the more interesting, they can't save this mess of a movie. It's a real shame, as I wanted to love it. I really did. Oh, and Paula Patton in green Orc makeup just looked silly. – Nick Savvides
Bad Neighbours 2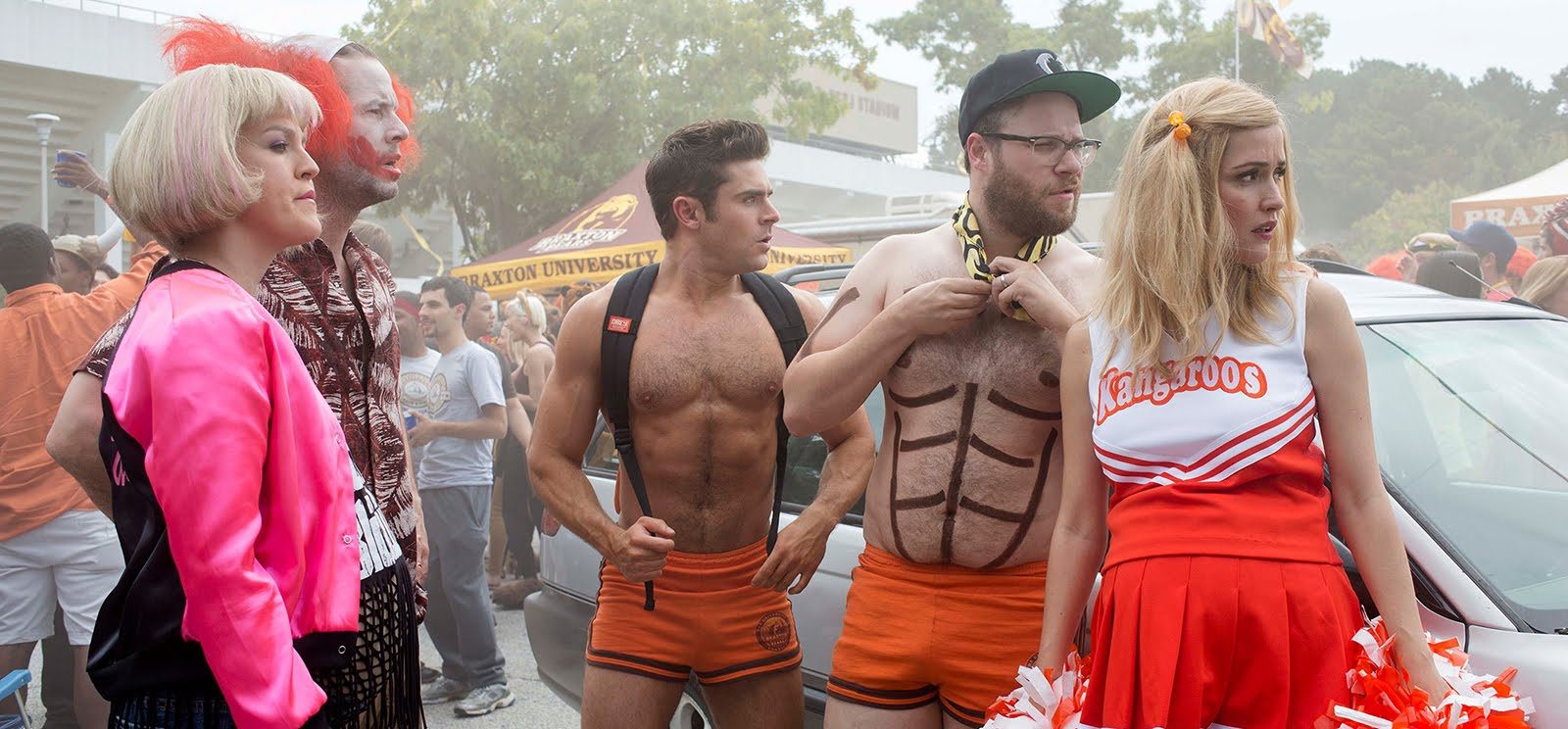 I liked Bad Neighbours, when it first came out, but let's face it, it was no cinematic masterpiece and was just a good one-time watch. I liked it enough to give Bad Neighbours 2 a chance but boy was that a bad decision! Nothing about the movie works, from the storyline, to the characters and the execution. Chloe Grace Moretz is a new addition to this franchise but she fails to add anything substantial to it. The old gang – Zac Efron, Seth Rogen, Rose Bryne and Dave Franco – try to instil some life into this hot mess but fail to salvage it. Best to avoid this one. – Rabeea Saleem
My Scientology Movie
It was the documentary we'd all been waiting for: Britain's most daring and entertaining journalist takes on one of the most secretive cults in the world. And yet when Louis Theroux finally made it across the Atlantic to add his own unique effort to the now rather weighty canon of media on the subject of Scientology, the results proved to be far less revelatory than expected. My Scientology Movie works fine for those with no prior knowledge of Scientology, but anyone that has even dipped their toes in the vast pool of documentary footage on the organisation will be disappointed by its inability to provide any new information. Theroux uses admittedly humorous but essentially cheap gimmicks to make up for a lack of real investigation, and even his familiar oddball charm wears thin after about an hour, failing to carry a documentary lacking in real substance. – Louis Roberts 
The BFG

2016 has left us with many questions like, why did we vote to leave? Trump, really!? And, why is Craig David back on the radio? But one of the most baffling questions is: how did Steven Spielberg manage to get Roald Dahl so wrong? The man who made Jurassic Park somehow managed to create such a dull, lifeless adaptation that smoothes all of Dahl's rougher edges. Not only that but the BFG is a serial kidnapper who uses nightmares to make kids never want to leave him. Stick to David Jason's 1989 animated version. – Saul Masters
Batman v Superman: Dawn of Justice
After the first couple of trailers, I couldn't help but be excited for Warner Bros and DC's ultimate superhero smackdown. Nothing, however, could prepare me for the galumphing mess that was supposed to be the crowning glory of the DC cinematic universe. Ben Affleck's Batman was one of the few saving graces in a film that was so staggeringly misjudged it was almost inspired. An incoherent plot that barely made sense, a woefully miscast Jesse Eisenberg as Lex Luthor, and the titular showdown culminating in nothing more than a boring slugfest quickly resolved by one of the most ludicrous realisations in this or any other year. The Ultimate Cut released later on DVD did little to improve on things, resulting in one of the oddest and most unsatisfying superhero movies in years. Here's hoping that Gal Gadot's Wonder Woman fares better in her own solo effort. – Nick Savvides
Suicide Squad
Marginally better than DC's soulless superhero smackdown Batman v Superman – while that was overbearingly portentous, Suicide Squad is, in its few finer moments, infectiously peppy. But from the beginning, every element of director David Ayer's execution is dismal; a film that's lazy, lacklustre and largely forgettable. And despite the command of Margot Robbie's performance, it's a shame to discover that the camera only ever seems interested in capturing the curves of her figure in order to leer at them like a horny teenager. – James McAllister
Hail, Caesar!
Before watching Hail, Caesar!, remind yourself that this is directed and written by the film makers who brought us Inside Llewyn Davis, No Country for Old Men, Fargo and The Big Lebowski. Between the ensemble cast, multiple story strands and Hollywood setting, Hail, Caesar! doesn't know where it's at. Unfocused and smugly self-assured, I suspect the February release (dodging awards season) meant that Ethan and Joel were well aware of its shortcomings. A bag of money, a kidnapping, a Hollywood studio chief who doubles as a "fixer" and George Clooney in a sprawling sword-and-sandals epic is a bunch of hooey that never sits right. There are better films (see Robert Altman's The Player) about the Hollywood system. – Simon Columb
The Legend of Tarzan
David Yates' action-adventure based on Edgar Rice Burroughs' fictional character isn't entirely terrible. There are some good elements – mainly the rousing animal-filled finale and Margot Robbie's charming Jane – but nothing can detract from the film's painfully lethargic pace and Alexander Skarsgård's uninteresting Tarzan, who looks the part with muscles to spare but is as bland as a boiled potato. When compared with Disney's animated Tarzan, this doesn't even come close. – Natalie Xenos
Jason Bourne
Fans were no doubt thrilled when it was announced that Matt Damon and director Paul Greengrass would be returning to the Bourne franchise. The original trilogy still remains a masterclass in blockbuster filmmaking, shaky cam and all. It was inevitable then, that this latest entry would never live up to the lofty expectations that many had set aside for it. Not a terrible film by any stretch, merely a mediocre one. With a story that is horribly uninteresting (something to do with Bourne's long deceased father), the film lacked the energy and smarts that made the original trilogy so memorable, despite a couple of notable set pieces. As a piece of suitable time killer popcorn entertainment, Jason Bourne is perfectly functional, but honestly, this really should've been so much more. – Nick Savvides
X-Men: Apocalypse
Initially I was quite satisfied with this instalment in the X-Men film franchise. However, upon reflection, I can see why many were left unsatisfied. From over-utilised characters to under-utilised characters, X-Men: Apocalypse had the potential to be one of the better films in the X-Men cinematic universe, with some strong performances from James McAvoy and Michael Fassbender, as well as the standout moment with Quicksilver. Unfortunately, instead we were given something that was a hit or miss with fans. Plus the film pretty much sealed its own fate by stating "The third one's always the worst." – Tara Folkes
David Brent: Life On The Road
From the start, David Brent: Life On The Road struggles to overcome the wafting stench of stale self-indulgence that follows Ricky Gervais across the screen. Brent was a character of his time, but the reason The Office remains such a significant cultural milestone is because of its tragic undertones, which tapped into enduring universal frustrations of watching your life slip away. Sadly, this rambling reboot only realises this in the final act when it suddenly sets off in desperate search of a meaningful conclusion; something it ultimately fails to find. – James McAllister
High-Rise
J. G. Ballard likes to make it difficult for filmmakers to adapt his work, which may be why Ben Wheatley's adaptation of his 1975 novel doesn't hold together. Changes to the source material are expected when adapting literature for the screen but Wheatley's decision to transport the original setting to a faux-70's one is a bizarre alteration that makes everything in the film feel off-kilter. It's disappointing because Ballard's dark, twisted novel is an underrated masterpiece. Let's hope we are still getting that Concrete Island adaptation. – Saul Masters
Ghostbusters
Plagued by internet trolling of the worst kind long before its release, I so wanted Paul Feig's reboot of Ghostbusters to work. With a cast that included the likes of Kristen Wiig and Melissa McCarthy, the 2016 reboot of Ghostbusters had all the makings of defying the trolls and coming out on top this past summer. Alas, like so many of the films this year, it was not to be. While there were some laughs, the film just never reached the heights it was supposed to. Flat jokes, a lacklustre script and the second lamest villain of the summer (after Suicide Squad), Ghostbusters failed to inject spirit into its lifeless proceedings. Not as bad as the trolls would have you believe, but far and away not that great either. A true disappointment. – Nick Savvides
The Birth Of A Nation
Given the media furore surrounding Nate Parker in the months since his historical slavery drama, The Birth Of A Nation, premiered at Sundance, it is crucial to ensure that the art is separated from the artist when offering an analysis. But while he makes a profound impact in front of the camera – playing Nat Turner, the slave who once led an uprising that many believe expedited the coming of the Civil War – behind it he proves himself to be a frustratingly immature filmmaker who blithely treats his female characters as plot pawns, suffering solely for the sake of the story, and settles simply for arresting spectacle instead of mustering any real fury. A story of such magnitude deserves a far more commanding voice. – James McAllister